With so many of our favorite shows available via streaming services these days, it's no wonder that more people are wondering if they can live without cable altogether. After all, outside of a few key programs and events, almost everything on cable can be viewed online with the right service.
...which brings us to this guide. Here we'll detail everything you need to know about which devices and services you need to ditch cable and still watch your favorite channels live. From live sports to broadcast and local news, there's almost nothing you can't stream online these days.
Here's everything you need to know.
How do I stream local broadcast TV?
For starters, the first two things any cord-cutter should get is a TV that has a digital tuner and some kind of antenna. Assuming you live somewhere near a metropolitan area, you should be able to pick up broadcasts from your local TV stations. For most people, that means you can get stations like PBS and your local CBS, NBC, ABC, and FOX station or affiliate.
Now, everyone's mileage will vary here, but if you live within range of those stations and get the antenna set up correctly, that means you'll get those stations in crystal clear HD for free. To see what kind of broadcasts you receive and what kind of antenna is recommended, you can use the mapping tool at Channelmaster.com.
For most strong channels within a 35-mile radius you should be fine with something like the ClearStream Eclipse Indoor Antenna. It goes for just under $50 on Amazon and I found that it worked great in my house. It's easy to move around, very highly rated on Amazon, and it is also the top pick of our friends at The Wirecutter.
If your station of choice is somewhere from 30-50 miles away, then I'd recommend nabbing the 50-mile version for just under $75, which has a simple signal amplifier. It helps pull in those fringe channels and I found it also gave me more freedom in placing the antenna in places where I could more easily hide it, such as behind a curtain.
How do I stream cable channels?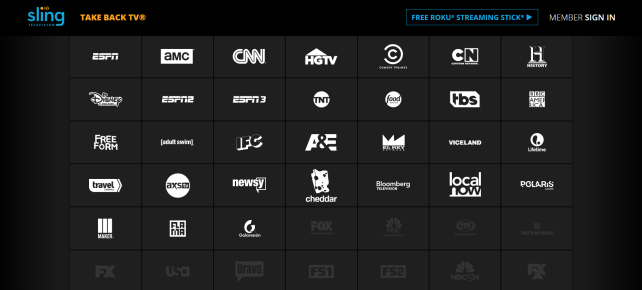 With broadcast TV, you're pretty much stuck with whatever is available in your area. That's not the case with what you typically consider your "cable" channels, like TBS, TNT, MTV, Comedy Central, Discovery, Bravo, and E!. These stations are all available live through a variety of services and, like cable, there are a number of different bundles you can pick from at different price points.
It's confusing, but it also means there is a lot of direct competition, so services are improving all of the time. Before we get into which channels are on which services, here's a quick breakdown of all the major options for streaming live TV:
Sling TV
Cost: $20-40/mo depending on bundle, $5 and up for add-on packages
Available on: Windows, Macs, Apple TV, Roku, Amazon Fire TV, Chromecast
Streams on mobile?: Yes, on Android, Windows, and iOS with restrictions on some sports
Local Broadcast?: Some markets and some plans only
Premium channels?: Yes, HBO is $15/mo
DVR and On Demand?:Limited DVR functionality available now, On Demand is available for some channels
Hulu Live TV
Cost: $40/mo
Available on: Apple TV, Xbox One, Chromecast
Streams on mobile?: Yes, on Android & iOS apps
Local Broadcast?: Yes
Premium channels?: Yes, Showtime is $9/mo
DVR and On Demand?: Yes: 50 hrs DVR standard, 200 hrs DVR for $15/month
DirecTV Now
Cost: $35-70/mo depending on bundle selection
Available on: Windows, Macs, Apple TV, Amazon Fire TV, Chromecast
Streams on mobile?: Yes, on Android, Windows, and iOS with restrictions
Local Broadcast?: Yes, but only in a few markets and no CBS
Premium channels?: Yes, HBO and Cinemax are $5/mo extra
DVR and On Demand?:On Demand is available but delayed and DVR is coming in 2017
Playstation Vue
Cost: $29.99-64.99/mo depending on bundle selection
Available on: PS3/PS4, Windows, Macs, Apple TV, Roku, Amazon Fire TV, Chromecast
Streams on mobile?: iOS and Android, but heavily restricted outside home
Local Broadcast?: Yes, but only in a some markets
Premium channels?: Yes, HBO and Cinemax are $15/mo each and Showtime is $10.99/mo
DVR and On Demand?:Cloud-based DVR and On Demand are available
What channels do I get?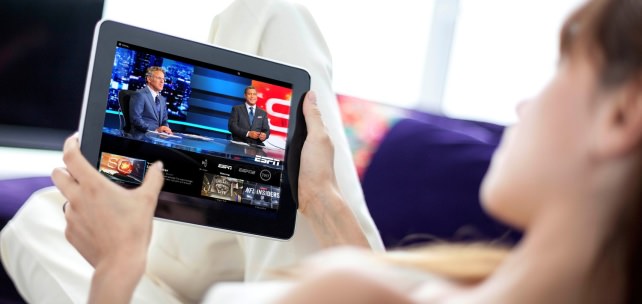 Here's where things get tricky. As you can see above, every service has a basic "skinny" bundle of 20-45 channels and then you can add some money to your bill to essentially unlock extras, just like your cable bill.
For the most part, your most popular basic cable channels such as TNT, TBS, USA, Freeform, National Geographic, Animal Planet, Discovery, E!, Bravo, ESPN, CNN, CNBC, MSNBC, Food Network, Fox News, HGTV, Syfy, and TLC will all be included in the basic bundle, along with some number of other channels.
CNET has a decent guide that covers the channels are available and what tier you have to pay for in order to access them, you can see that by going here.
Which service is best for live TV?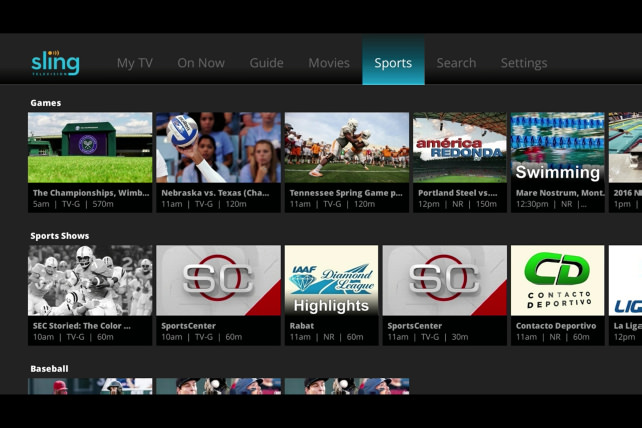 Obviously, which station is right for you depends on your needs. The most difficult stations to get over the internet are the local broadcast stations, though if you live within range of a tower they're actually the easiest. Assuming you can get those, here's how we break down the rest of your options:
If you just watch the basic cable channels: Sling TV is the cheapest way to get the basic cable channels online right now, and it's a very flexible service. The one weird thing is the difference between the basic Blue ($20/mo) and Orange ($25/mo) plans. Blue has ESPN and Disney, while Orange has Fox Sports 1/2, NFL Network, NBC Sports Network, and a couple other random channels. It costs $40/mo for the Blue+Orange plan, at which point DirecTV Now becomes a better value.
DirecTV Now's current offer of 100+ channels for $34.99 is easily the best value.
Tweet It
If you want the best value: DirecTV Now's current offer of 100+ channels for $34.99 is easily the best value right now, especially because you can add HBO for just $5 more per month. That covers all the major channels, HBO, and (depending on your market) local sports and broadcast stations. You're definitely paying to get in early, though, and there are still lots of bugs to work out and no DVR, which won't launch until next year at the earliest.
If you like premium channels like HBO: DirecTV Now is definitely the best choice. You have a number of bundles to pick from and HBO is $10 cheaper per month to add on than with any of the other services or if you bought HBO Now as a standalone. And with DirecTV you still get access to HBO Go, so it's the same as any other HBO subscription.
If you watch a lot of local sports: Playstation Vue and DirecTV Now (at the $50/mo and higher tier) are probably the best options, though Sling TV makes up most of that gap in some markets. There are lots of bugs with blackouts on DirecTV Now right now, but both give you access to Comcast SportsNet, Fox Sports, and local broadcast stations in select markets. Some markets won't get anything, however.
If you have a Roku: Skip Playstation Vue for the time being. The app is really poorly done on Roku, with no visible channel guide and sketchy On Demand access. You're much better off going with either Sling TV or DirecTV Now or moving to something like an Amazon Fire TV.
If you want to watch NFL games on the go: You may need to use a laptop, as the NFL has an exclusive agreement to stream games to Verizon phones right now. There are some exceptions, but for many of these services NFL games will be blacked out if you watch from your phone.
If you're already a Hulu user/subscriber: Hulu Live TV may be a great choice, assuming you can access it (it's currently only available on Apple TV, Xbox One, and Chromecast). However, for $40/mo you get over 50 live channels and 50 hours of DVR, including all standard Hulu Plus shows, movies, and original content. You can also add Showtime for another $9/mo.
Related Video
Our editors review and recommend products to help you buy the stuff you need. If you make a purchase by clicking one of our links, we may earn a small share of the revenue. Our picks and opinions are independent from any business incentives.