televisions
Vizio M55-C2 (M Series) 4K LED TV Review
This 4K TV lineup starts at just $599, but competes in quality with much pricier sets.
$949.00 at Walmart
55 in.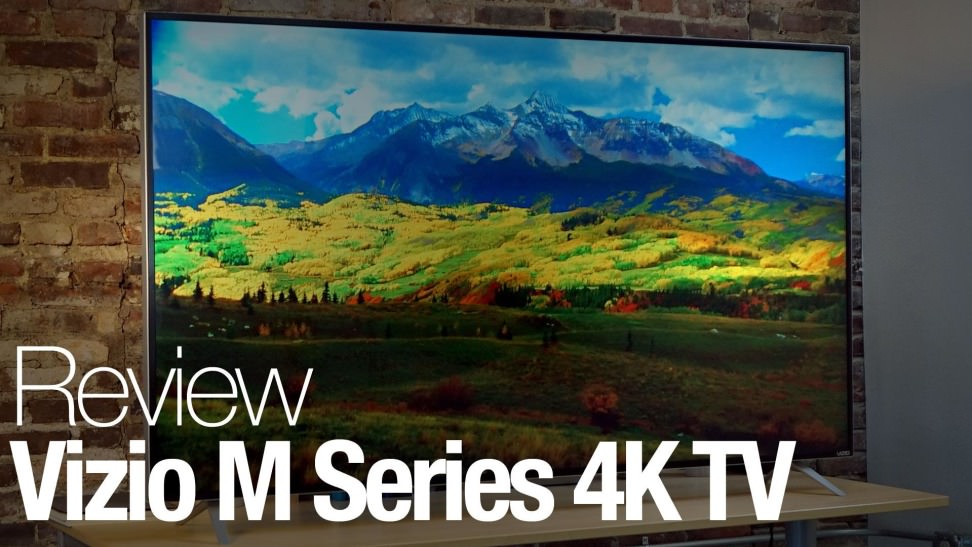 The Vizio M-Series (2015) represents a fantastic value for big-screen buyers looking for maximum screen size and performance without breaking the bank. The Vizio M Series is a great choice if you're looking for your first 4K TV, as the combination of price, size, and performance means this is one of our top picks for the money.
To see what the M Series could do we put the 65-inch model to the test in our test labs. You can read the M65-C1 review for a detailed breakdown of the picture quality, design, and hands-on experience with the smart TV software.
The 55-inch version we're discussing here is very nearly identical to the 65-inch version we tested. It's 10 inches smaller, obviously, but it has the same look, feel, panel type, and user interface across as all of the other M-Series televisions.
Series Information
There are nine sizes in the Vizio M Series
Vizio's 2015 M Series features nine 4K televisions:
a 43-inch (model: M43-C1, MSRP $599)
a 49-inch (model: M49-C1, MSRP $769)
a 50-inch (model: M50-C1, MSRP $799)
a 55-inch (model: M55-C2, MSRP $949)
a 60-inch (model: M60-C3, MSRP $1,299)
a 65-inch (model: M65-C1, MSRP $1,699)
a 70-inch (model: M70-C3, MSRP $1,999)
a 75-inch (model: M75-C3, coming soon)
an 80-inch (model: M80-C3, MSRP $3,999)
Smart features, upscaling engines, processors, and HDMI ports are identical between models.
All of the M Series TVs have 32 local dimming zones except for the 43-inch, which has 28 zones. All of the M Series TVs use VA (Vertical Alignment) type LCD panels, except for the 49-inch, which uses IPS (In-Plane Switching). Sizes 55 inches and smaller use 60 Hz native refresh rates, while sizes 60 inches and larger use 120 Hz native refresh rates.
The M65-C1 model that we tested in our labs was received brand-new on loan from Vizio, and given roughly 16 hours of warm-up and break-in time prior to evaluation and review.
What's Unique to the 55-inch M-Series?

The 55-inch Vizio M55-C2 has the same 32 active LED zones as the M65-C2. That means that you can expect excellent contrast ratio, with each zone able to dim or brighten independently depending on what the content is calling for.
In fact, because those LED elements are spread across a smaller area you might even get a more effective local dimming experience. We don't expect a major difference, but occasionally it'll be more true-to-life. Otherwise you can expect the same processing, 4K upscaling engine, color performance, etc. as the 65-inch that went through the rigors of our labs.
However, the 55-inch is not quite identical to the 65-inch. For one thing, a smaller screen makes it a little less likely that you'll really notice the difference between 4K and high definition, especially if you're sitting at a distance of more than 10 feet. Also, the 55-inch version has an effective refresh rate of 120Hz, while the 65-inch and larger models have 240Hz. Most of the time this won't mean a thing, but for sports lovers you might want to consider upgrading to the larger models if it's within your budget.
Either way, the entire Vizio M Series represents stellar value for the price. A few years ago a smart, 50+ inch TV would've cost an absolute mint. And yet, even though it's a newer 4K TV, the Vizio M Series delivers that, 4K video, and a straightforward streaming experience for well under $1,000 at most sizes. It's a bargain, for sure.
Comparable Products
Before you buy the Vizio M55-C2, take a look at these other televisions.
Our editors review and recommend products to help you buy the stuff you need. If you make a purchase by clicking one of our links, we may earn a small share of the revenue. Our picks and opinions are independent from any business incentives.