televisions
VIZIO E552VLE LED TV Review
An inexpensive, mid-range LED TV that's odd in every way.
$1,099.00 MSRP
55 in.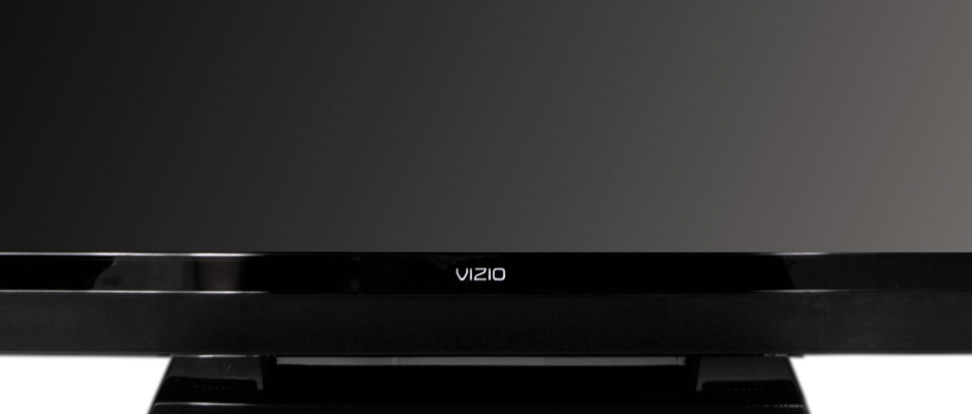 Introduction
The Vizio E552VLE is an oddball. It's as thick as some plasmas, gets as hot as some plasmas, consumes more energy per year than some plasmas, and is as dim as some plasmas... yet it's a relatively inexpensive mid-range LED TV.
It has very good color production, but its contrast ratio is feeble. For what you're paying—the MSRP is $1099 and sale prices bring it down even further—it's a fair deal. Despite the tacked on feel of Vizio's "wireless internet apps" (are there apps you have to plug in that run off usenet?) the TV is a solid performer and has the cutest little remote we've ever seen.
Design
Vizio's smart TV lacks the sleek, thin design that so many other 2012 HDTVs flaunt.
The Vizio E552VLE is an LCD HDTV that debuted in 2012. It features a slew of apps, widgets, and modern picture and sound options. That being said, it certainly doesn't look like any of the other thin, big screen LCD TVs we've covered this year. It's about four inches thick at the sides and sits proudly atop a pedestal-like stand that screws into the bottom of the TV, allowing for no swiveling or tilting. Even its on-set controls are unusual, featuring buttons in an L-shape that can be pressed from two different, perpendicular angles. The 2VLE features a decent port selection, but the screen's girth—combined with the stand's inability to swivel—makes its connectivity options a little tricky to access.
The side ports offer two USB inputs for photo/music/video playback and a single HDMI input. The back, left-hand side of the TV features a slightly recessed area for the rest of the E552VLE's port options. Here, you'll find ports for an Ethernet cable (wired connection), a coaxial jack for cable/antenna connection, optical (SPDIF) or stereo (3.5mm) audio outs, 3 more HDMI (BEST) inputs, a shared component/composite AV input, a VGA input (for PC), and an audio in jack for your PC audio.
Personally, I find there's something endearing about this TV. Like a proud bachelor, it lets it all hang out and doesn't care. However, underneath all the Cheeto crumbs and crushed beer cans, most users will find it to be clunky, inflexible, and cheaply "designed" by Vizio's accounting department.
Smart TV Features
Like its exterior design, the Vizio E552VLE's virtual menus are also clunky and oversized.
The Picture/Sound/Settings menus are laid out on a 3×3 grid over the left half of the screen, with small pictograms that represent each category. It's easy to navigate them with the infrared remote, but the time it takes for your cursor to move from one picture to the next is a little slower than we'd like. Still, if you can get past the cursor speed, the menus are presented in a comprehensive way, and feel very easy to work with.
The TV's smart content is just the opposite. Rather than organizing all content providers into an accessible hub in a manner similar to LG and Samsung, Vizio has laid out each separate app/widget on an infinite loop with submenus layered over submenus. Confusing though it may sound, its easy to work with after some cursory "messing around."
Comparable Products
Before you buy the VIZIO E552VLE, take a look at these other televisions.
Picture Quality
The Vizio E552VLE's color scores were defiantly strong for a TV in this price range.
We were very impressed with the E552VLE's picture quality. While its maximum contrast ratio (870:1) is a lot narrower than other TVs released this year, its color accuracy is spot-on. We tested great RGB curves and a fairly accurate gamut, as well as some very consistent color temperature. It also scored well in the arena of picture dynamics.
We were very impressed with the E552VLE's picture quality.
What this means for the viewer is that almost all content on this TV will look both accurate and good, striking a modicum of harmony between tested scientific quality and romantic aesthetic appeal upon first glance. Rarely is that the case for a TV with an MSRP of $1099.
Conclusion
An investment in this smart TV would be a smart choice.
If you can get past the E552VLE's hefty size and inflexible stand design, you might find you enjoy its big buttons and port layout. If you don't feel too confounded by the Mutt-and-Jeff-ness of a giant TV with a tiny remote control, you'll probably discover that the little fellow's dedicated app buttons are quite useful. And if you can shake off the fact that this HDTV doesn't offer the sleek appearance, energy efficient power consumption, or streamlined menus we've come to expect from modern LED sets, you'll discover a product with a few unique advantages: above average audio, great color production, and vigilant contrast dynamics.
For an MSRP of $1099, the Vizio E552VLE is a relatively cheap TV that requires the viewer turn a blind eye to its numerous design flaws. Just remember that you watch the screen and not the case, and this VIZIO's picture quality will outshine far more expensive LCDs.
Our editors review and recommend products to help you buy the stuff you need. If you make a purchase by clicking one of our links, we may earn a small share of the revenue. Our picks and opinions are independent from any business incentives.