televisions
Toshiba 50L2300U LED TV Review
This no-frills Toshiba is simple, intuitive, and capable of producing a stellar picture.
$999.00 MSRP
Buy now at Amazon
50 in.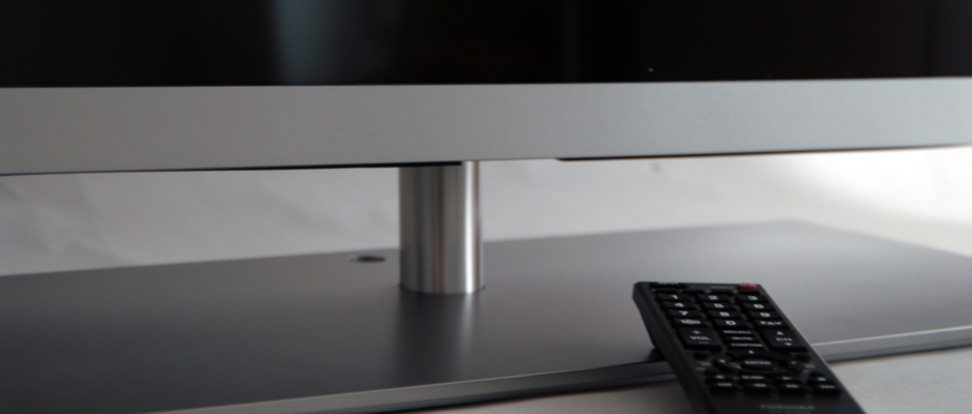 Overview
The L2300U is an entry-level series from Toshiba, and thus is priced very modestly. This series is neither smart nor 3D-capable, and is one step up from the bottom within Toshiba's 2013 lineup. The 32-inch L2300U is priced very cheaply at $399; the 39-inch iteration at $529; and the 50-inch at $999. The low price is only a steal, however, if the TV performs as it should.
Fortunately, it does. The L2300U has a simple design and offers bare bones usability, but bolsters its value by producing a high-quality picture. Color integrity and fine details were especially well-preserved, and anyone but the most strict picture perfectionist would find no flaw with the images produced by this TV. For its sale price—the 50-inch version is currently $749—this is a solid, frills-free display.
The Looks
Ah, the simple elegance of... gray plastic?
From the get-go, I was excited to unbox this TV and set it up. It appeared to be fashioned from beveled steel, shimmering gloriously, a single seamless object. Boy, was I wrong.
"The stand is particularly flimsy, and kept popping open..."
The Toshiba L2300U is certainly metal "looking," but it's almost entirely plastic. The stand—a simple rectangle—is particularly flimsy, and kept popping open on the bottom while I was taking pictures. The semi-thin bezel around the screen is fitted rather poorly, leaving a few unsightly gaps between itself and the screen.
In short, this TV is cheap. It comes with a single other object, a very basic infrared remote, which is fitted with some entirely useless Play, Pause, and Stop buttons as though the TV had a built-in DVD player. Though, at this price point, I'd more expect a built-in VCR a la Magnavox. I suppose you could use them for USB playback.
As far as usability goes, I can't knock the L2300U. It features a standard array of ports, and easy-to-find on-set controls. One advantage of its cheap build is that it's very lightweight, and hefting it about didn't feel like hefting. More like toting, or even nudging—it's only 37 pounds. The 50-inch version we used for a test sample may have just been having a bad day, but it seemed chintzy. I guess for a $749 sale price, high-end design is what you (don't) pay for.
The Experience
Simple selection, A-plus audio
After recently reviewing a slew of higher-end 2013 TVs (Panasonic VT60, Samsung F8500, Sharp 757U), I went into my time with the L2300U expecting the most basic software and features; it still didn't really prepare me for just how "dressed down" this thing is.
"The L2300U really delivers all of the basic display necessities."
Not that that's a bad thing, by any means. If you're not looking for some kind of home-integrated media manager, the L2300U really delivers all of the basic display necessities. The software at work here allows for picture and audio management, USB playback of photos and music, and even a "game timer" so your kids don't spend the entirety of their waking hours in front of a screen.
I truly feel this TV's biggest non-performance based asset is its Audyssey-brand integrated speakers. Toshiba's been partnered with Audyssey in this regard for a couple of years, but before now they've never really impressed me. The speakers on the L2300U are—for whatever reason—very clear, crisp, and loud; we played back some of the album Rush (by the band Rush), and those particular MP3s sounded particularly excellent (minus Geddy Lee's banshee-like screeching).
"I truly feel this TV's biggest non-performance based asset is its integrated speakers."
Poor audio often accompanies egregiously expensive televisions, and has been a complaint from audio-video connoiseurs for years. Finding such speaker power in this cheaply priced, entry-level TV is like finding that the sliced bread you just bought is actually a series of pre-made sandwiches. I'd even be so bold as to say that an investment in this product as a TV could double as an investment in living-room audio; you can turn the screen off and use it strictly for audio playback. Suddenly, those Play/Pause/Skip buttons on the remote seem a lot more useful.
The L2300U features a full suite of audio EQ options, complete with multiple surround options that allow you to adjust the speaker performance and output to the TV's particular living space. Color me impressed.
Outside of the stellar audio, there's not much else to this thing. You've got three HDMI inputs and a single USB input, and the usual component/composite cluster of ports on the rear of the panel. The stand doesn't allow for panel swivel, and the IR sensor (which is placed far to the right of the lower bezel) is a little finicky; you have to really aim the remote to get consistent, fluid feedback on-screen.
Comparable Products
Before you buy the Toshiba 50L2300U, take a look at these other televisions.
The Picture
For the price, great picture quality
If you've laughed, cried, and nodded in agreement while reading through the previous two sections, you'll know by now that the Toshiba L2300U series is severely simple in its presentation and features. The design, a little on the chintzy side, is equal in simplicity to the on-board software. Really, the only thing this TV has to offer—at this point—is high-quality picture.
The Toshiba L2300U possesses stellar high-ambient picture quality—it's bright, vivid, and crisp, and looks best in medium to high room lighting. Like years past, Toshiba's engineers seem to know what they're doing, as this TV's color accuracy and integrity is very good for an entry-level LCD.
"Toshiba's engineers seem to know what they're doing."
We've found that the quality of this TV's picture matches the praise-worthy audio detailed in the above section. While its contrast ratio is not terribly large—it's about average—the L2300U possesses a powerful luminance, lighting a path between its relatively gray black level to provide ample black/white differentiation to human eyes. Its color gamut is very accurate, meaning the billions of colors it displays will be properly saturated, maintaining the look and detail intended by the director or designer of whatever content you're watching.
The L2300U fights to reduce garish glare simply by virtue of its brightness, but it also boasts a fairly commendable horizontal viewing angle for a liquid crystal TV. We found its unassisted motion performance to at least not drag down its final tally—while there's the usual blurring to be expected from an LCD with no motion smoothing abilities, it's definitely a usual, palatable amount.
"The L2300U fights to reduce garish glare simply by virtue of its brightness."
If you're looking for an accurately-colored, bright-pictured TV, the L2300U is a good choice; it makes up for its lack of extraneous features and exhasutive menus by supplementing its simple presentation with objectively and subjectively pleasing picture quality. Good job, Toshiba. The L2300U is a rare haven for those consumers who are tired of frills and "all-in-one" aspiring smart TVs.
Final Thoughts
For the price, a good deal
The Toshiba L2300U series may be entry-level, but its picture quality is not. It seems like Toshiba has taken pains to avoid trapping consumers in a feature fight: "This one is 3D but not smart, this one is both, this one feeds your dog, this one is 3D but doesn't come in 1080p," etc. The L2300U doesn't do anything extra except play back USB content. Its on-board software is basic, and cheap. The design? Also cheap. The result, though, is that you're only paying for the sweet, sweet panel embedded inside.
For the prices across the series—they range from about $400 to a little under $1000—this is a decent deal. While Panasonic's S60 series is probably the best deal if you want a frills-free 2013 plasma with the deepest black levels possible, the Toshiba L2300U series is a slightly less expensive, LCD option better suited for brighter rooms. As a plus, this entry-level model has great audio quality, definitely above average. Consumers just looking for the basics, seeking solid picture and sound that won't pick your pocket, should keep this series in mind.
Our editors review and recommend products to help you buy the stuff you need. If you make a purchase by clicking one of our links, we may earn a small share of the revenue. Our picks and opinions are independent from any business incentives.