televisions
Toshiba 65L9400U 4K LED TV Review
Toshiba's 4K flagship has been stripped of industry relevance by serious competition.
$1,299.99 at Amazon
65 in.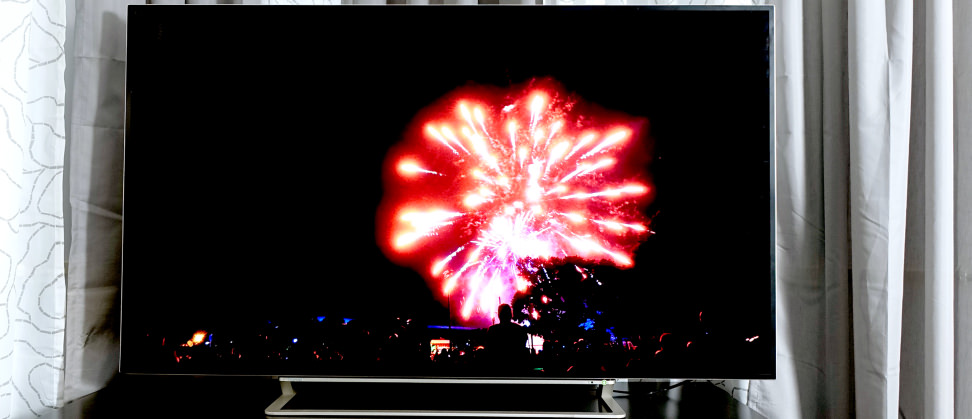 With all the talk surrounding 4K TVs from the likes of Samsung, Sony, Vizio, and LG, the Toshiba 65L9400U (MSRP $3,999) is somewhat of an unsung hero within the 2014 4K landscape.
Currently available for $2,499 online, it's priced very competitively, and it delivers a laundry list of features that sound very promising on paper. For example, the so-called Radiance panel offers full-array backlighting, a design element the Toshiba shares with some of the best LCD TVs we've ever tested.
Unfortunately, the L9400U proves that 4K resolution with full-array local dimming isn't some magic formula for picture quality. While it's a strong performer in terms of contrast, the L9400U suffers from truly horrid backlight uniformity, often ruining the dark, shadowy scenes that it ought to excel at. Like the Toshiba L7400U before it, the L9400U's sole redeeming quality is that it's very bright overall.
This TV could be a decent choice if you want to enjoy crisp 4K content in a well-lit room, but it's simply bested in almost every other category—including price—by the current champion of 4K value, the Vizio P Series.
The Picture
Too radiant for its own good
The L9400U ticks a lot of the right boxes on its spec sheet, but the final product is worse than the sum of its parts. Good color accuracy and motion performance are buried beneath issues created by the TV's lackluster hardware, which is totally unacceptable considering the quality exhibited by its closest competition.
Uneven luminance between the LEDs behind the screen results in dark, round splotches that interrupt the picture's overall uniformity, painting the L9400U into a low-quality corner. I also spied pink and green tinting on opposite halves of the screen, which is a drawback of the TV's super bright, overdriven lights.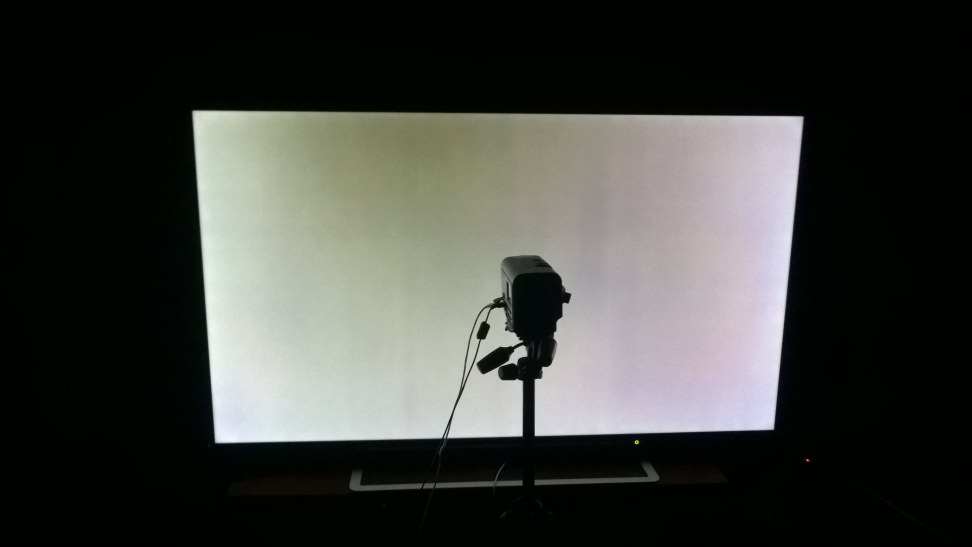 The L9400U is an extraordinarily bright television. It's so bright, in fact, that you really shouldn't buy it unless you know you're going to use it an equally bright room—it simply doesn't flourish in the dark. To achieve these intense levels of luminance while maintaining saturated colors, the L9400U has to overdrive its LEDs in such a way that balancing them into neutral shades like gray and black is simply impossible.
To achieve these intense levels of luminance while maintaining saturated colors, the L9400U has to overdrive its LEDs in such a way that balancing them is simply impossible.
The L9400U has some redeeming qualities, but none of them stand out past the uniformity problems. The motion performance and input lag won't elicit any complaints, and color production is similarly agreeable. This Toshiba struggles quite a bit to keep neutral tones like gray and white where they belong, however, tending to exhibit a reddish tint in dark, shadowy areas.
You can correct some of its calibration issues using the TV's on-board controls, which is always nice. Unfortunately, there's simply nothing to be done about the backlight issues, putting a significant ding into this Toshiba's resume right from the beginning.
The Looks
A classic look that plays it safe
Like most of Toshiba's 2014 lineup, the L9400U steers clear of an ostentatious or ornamented design. A slim panel depth, narrow bezels, and a hollow, aluminum stand lend this 4K flagship a breezy look and lightweight build that's refreshing compared to most other top-of-the-line 2014 models. The matte-silver stand and black bezels put all the emphasis on the screen. It's a look that feels understated rather than cheap.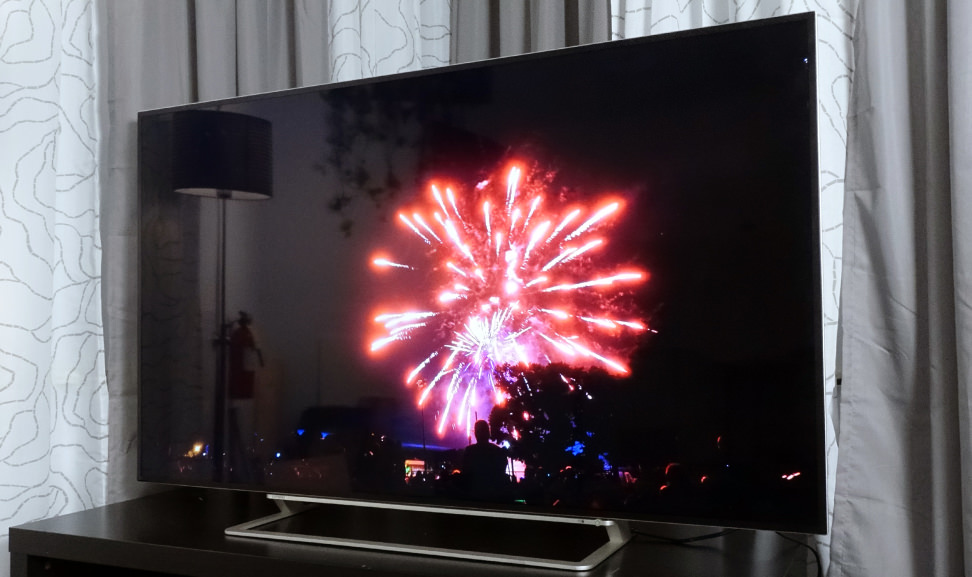 The rear side of the panel is equally dressed-down. 'Round back, you'll find the L9400U's audio and video ports within a tundra of charcoal-colored plastic. The L9400U offers up a simple connectivity suite that includes four HDMI inputs, two USB 2.0 inputs, shared component/composite inputs, a coaxial jack for cable/antenna connection, VGA and PC audio inputs, digital audio out, ethernet (LAN) in, and a port for an IR blaster.
In the box you'll find the usual Toshiba "universal" remote (which is not actually a universal remote, but it works just fine). Because it's wider than average, the remote's buttons are generously spaced and sized, and the silver-and-white color scheme complements the TV's design.
If Toshiba would just add a backlight to light up the keys in the dark it would be far more useful for most home theater setups. Of course, given this particular panel's image quality issues when viewing it in a dark room maybe it's for the best.
Comparable Products
Before you buy the Toshiba 65L9400U, take a look at these other televisions.
The Experience
A good effort that's obscured by sluggish software
Toshiba's CloudPortal 2.0 platform is so named because cloud-based processing is at the heart of its functionality: Rather than upping the TV's price by adding internal processing components, most functions are tasked to an external "cloud" server. Like so many things about the L9400U, it's a great idea on paper, but is executed poorly.
When I first jumped into CloudPortal, I liked the look. It's similar to the Windows 8 or Windows Phone designs, featuring small transparent app boxes that allow you to peek at the wallpaper behind them (you can choose from different wallpapers, like textured solid colors or fields of flowers). There are a few "tool" style apps already installed, like weather and a clock, as well as the usual players: Netflix, Hulu Plus, and Facebook.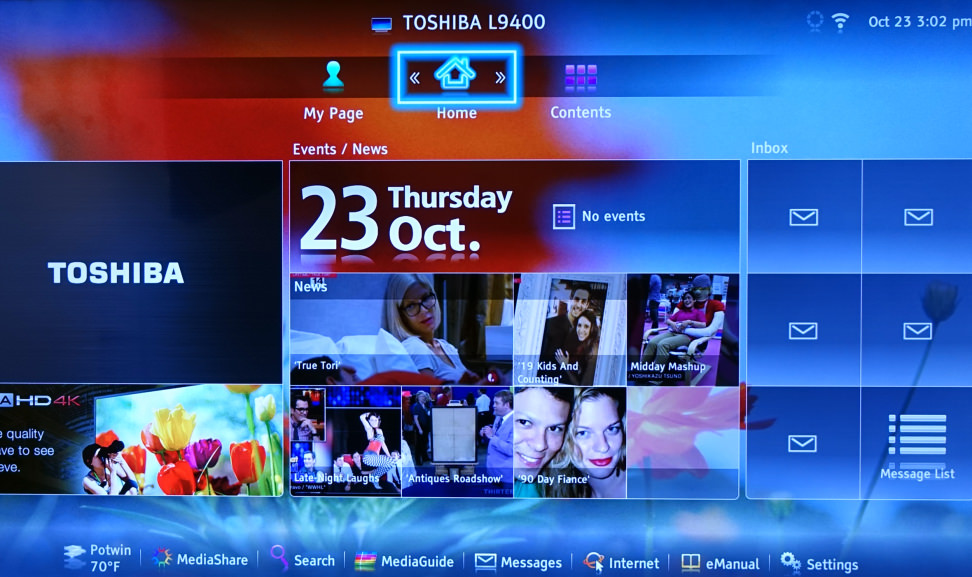 As soon as I tried to navigate over to Netflix, however, the visual spell was shattered. CloudPortal is unnervingly sluggish; it runs like a program that's over-taxing your PC's processor. There are major delays between when you push a navigational arrow on the remote and see something happen on-screen. The sluggish quality would've been par-for-the-course in 2012 or 2013, but LG's webOS platform—that company's 2014 smart TV platform—has raised the bar considerably.
The L9400U's only saving grace, as far as the software goes, are its extensive calibration controls. Hobbyists, home theater enthusiasts, and D.I.Y. calibrators will relish the color tuner (full Color Management System), 2- and 10-point white balance controls, and built-in test patterns. There's still no gamma slider, but considering how bright this TV gets there's little reason to change the default gamma curve.
The Verdict
A day late and a dollar short
When the L9400U was announced during CES in January, it caused a bit of a buzz in the home-theater community. A 65-inch smart TV with 4K resolution, full-array backlighting, local dimming, and a 240 Hz refresh rate for $3,999 sounded like a killer deal at the beginning of the year. Online prices have dropped an almost unprecedented amount, to $2,499, giving this Toshiba an even greater edge compared to a premium, high-price option like Sony's $8,000 X950B.
Something happened on the way to market, however. Toshiba has seemingly canceled production of the 58-inch L9400U, and if our test unit is any indication, shaved the price of the 65-inch down by taking a lax approach to backlight engineering, resulting in a TV that exhibits some very ugly traits in a dim or dark room. That relegates the L9400U to bright-room-only territory, which doesn't really jive with its size, cost, and feature-set. The L9400U could have been a prime choice for high-quality movies, but in reality it's only suitable for video games, web videos, and sports, while hardly being ideal for anything.
Given that it's less than half the cost of similar 4K-ready TVs on the market, we'd certainly forgive the L9400U's issues in the name of value. Of course, given that we also just reviewed Vizio's superb P Series, we're less forgiving.
The Vizio P-series also cuts costs compared to the high-end competition, but it did so in areas that don't effect overall picture quality. That would've been a smarter move by Toshiba, which finds itself with a 4K LCD TV that just doesn't compare to the Vizio lineup's promise of better performance, in a wider range of sizes, for less money.
Our editors review and recommend products to help you buy the stuff you need. If you make a purchase by clicking one of our links, we may earn a small share of the revenue. Our picks and opinions are independent from any business incentives.