televisions
Toshiba 50L1400U LED TV Review
The price tag looks great, but the picture doesn't.
$649.00 MSRP
Buy now at Amazon
50 in.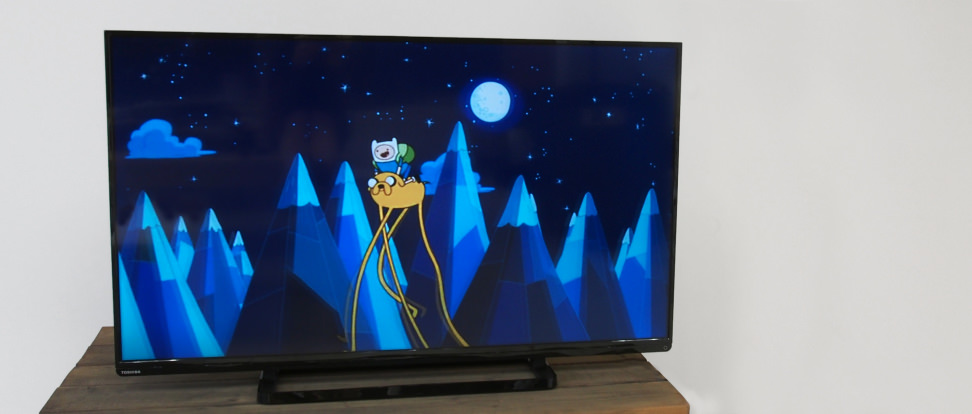 Our first Toshiba of 2014 is a member of the company's entry-level series, which means it's the most basic option for consumers.
At $649, the Toshiba 50L1400U is more affordable than most of the competition, but it's also from the bottom of the barrel. For its asking price, you're getting a large screen, a remote, and not a whole lot else.
Without properly calibrating the L1400U, there are too many picture issues for this cheapo LCD to be worth your while. And even after calibration (which helps tremendously), you can still find plenty of better options.
The Looks
A ribbon-thin rectangle
The 50L1400U may be an entry-level HDTV, but it still offers a rather modern look. Those unfamiliar with current TV design trends will be highly impressed by the flat panel and almost invisible bezels, but even TV gurus like us have to admit that the L1400U is very slim.
This Toshiba also has a hollowed-out stand—a welcome flourish on such a basic product. It doesn't add much in terms of function, but it's at least a slight improvement to form.
The super-slim form factor may make you want to reach for a wall mount kit, but it might make for some cramped cables. Almost all of the L1400U's port options live on the rear of the display, and they're horizontally oriented, to boot.
Even TV gurus like us have to admit that the L1400U is very slim.
Toshiba treads lightly with connectivity: There are just two HDMI inputs, shared component/composite, a cable jack, and a single USB input. If the sofa eats your remote, there are also basic on-set controls below the ports.
A simple remote takes the form of a standard black controller that's stuffed with the usual buttons: volume, channel, and input selection. There aren't any smart features here, so the most complicated task you might encounter is USB playback of music or pictures.
The Experience
A step above basic
Devoid of any smart TV features whatsoever, the 50L1400U is the most basic big screen experience you can have—and there's absolutely nothing wrong with that.
Toshiba's menu interface is simple, yet looks much nicer than what you'd find on entry-level TVs from Insignia or Westinghouse. When the Menu button is pressed, a pleasant white box pops up with access to all of the sub-menus: Picture, Sound, Options, Installation, Timers, and a help option.
Settings are what you'd expect for a TV this inexpensive, although the L1400U's color management system (called ColorMaster) is a huge surprise. Without getting too technical, this feature gives users the ability to tweak all primary and secondary colors, and is typically something found on higher-end displays. As you'll see on our science page, we were able to vastly improve the L1400U's picture quality with the help of this feature.
This menu interface doesn't give us much to complain about, but controlling it with the bundled remote does. Unless you point the controller at the IR sensor, which is located at the bottom-right corner of the screen, your button presses will do nothing. Nada. Zilch. If you're trying to raise or lower the volume, the shoddy remote reception will assuredly cause frustration.
Comparable Products
Before you buy the Toshiba 50L1400U, take a look at these other televisions.
The Picture
The good, the bad, and the fugly
Out of the box, the Toshiba 50L1400U has an impressive black level… and that's about it. Of course, we'll be the first to admit that a great black level is probably the most important aspect of any display.
Unfortunately, nothing else really shines. The TV's colors are acceptable, but by no means accurate (seriously, take a look at our Science Page to see what we had to do in order to calibrate the L1400U).
The L1400U's terrific black level is nearly wasted because of uniformity issues.
Worse still, the L1400U's terrific black level is nearly wasted because of uniformity issues. Our review unit showed light-leakage from the top-right and bottom-right corners. This will be noticeable when watching letterbox content especially; instead of a border that fades into black, little splotches of unwanted light mar the edges of dark scenes—very distracting.
We tested the motion performance as well, and the results are mixed. Action-heavy scenes look pretty good, with only a slight amount of blurriness—typical for LED TVs. But when the camera zooms out and pans around (think nature documentaries), scenes noticeably shake and judder.
And if you purchased the 50-inch L1400U in anticipation of events like the Super Bowl, The Masters, or the NBA Finals, be ready for a real downer: Its viewing angle is paltry at best. LCD TVs usually struggle in this category, and Toshiba's newest entry is no better. Even though it's 50 inches, you and your friends will be fighting for the center seat.
The Verdict
Outperformed, outpriced, and outclassed
For its MSRP of $649.99, the Toshiba 50L1400U is a tempting purchase. Sure, this TV has some quality features: a thin profile, a dark black level, and even a good menu interface. But unfortunately for Toshiba, it's 2014 and the TV market is more competitive than ever.
You can find this 50-inch display for as low as $500, but there are better deals out there. Take a look at Vizio's latest E-series: The 48-inch model is slightly smaller, but it produces unparalleled picture quality and smart TV features for just $589.99. At the moment, this Vizio is the display to beat, and the L1400U doesn't come close.
While Toshiba certainly made an honest effort with its entry-level big screen, we can't recommend it unless you find an incredible Black Friday doorbuster sale.
Our editors review and recommend products to help you buy the stuff you need. If you make a purchase by clicking one of our links, we may earn a small share of the revenue. Our picks and opinions are independent from any business incentives.