televisions
TCL 50FS5600 LED TV Review
Avoid this television at all costs, even very low costs.
$599.99 MSRP
Buy now at Amazon
50 in.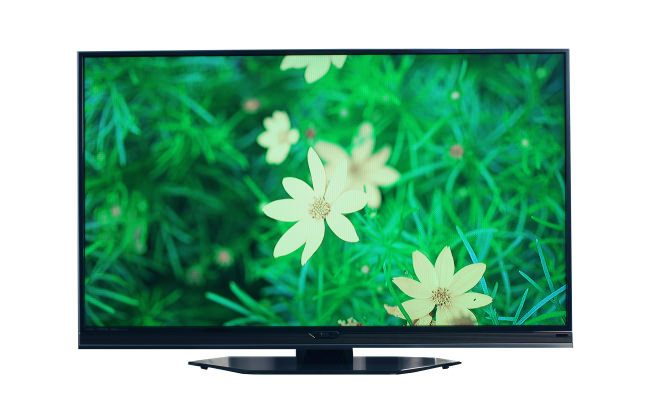 If a 50-inch, full-HD TV for a hair under $600 seems like a good deal, it's only because there might not be a worse 50-inch full-HD TV on the market today than the TCL 50FS5600 (MSRP $599.99). With no smart platform to speak of and a variety of technical woes, the FS5600 isn't recommendable.
There's almost nothing positive to say about this TV. Based on the panel's size and price, it's clearly aimed at budget shoppers in need of big TVs—but the performance I found doesn't even satisfy entry-level standards. There's no justifiable reason to recommend this TV to anyone, regardless of what their criteria might be. Simply put, there are much better options on the market.
Looks & Experience
Design features that range from "elegant" to "boring"
The FS5600's 50-inch panel rests on a smooth, hexagonal glass stand. This is a nice choice compared to the ubiquitous black-plastic stands that dominate the rest of the market.
The rest of the TV is disappointingly milquetoast; charcoal-on-black plastic and a run-of-the-mill remote control. On the back of the television is an L-shaped indent for various connections. There are three HDMI inputs, composite and component inputs, an SPDIF audio output, a VGI port, a headphone jack, a coaxial connector, and a USB port.
Other than the stand, the rest of the TV is disappointingly milquetoast.
Without smart features or extensive customization options, the menu software is sparse. This is probably for the best, though, because navigating the menu is an exercise in trial-and-error.
The Picture
From bad to worse
Watching a movie on the FS5600 is not a pleasant experience. The first thing you'll notice is just how poorly its color production is. Skin tones, foliage, and clouds appear sickeningly blue (find out why on the Science page). Nature documentaries in particular (or anything portraying a reality as we see it) will undoubtedly look "off." It's not unusual for lower-end TVs to struggle with blue-, green-, or red-shifted color palettes, but the FS5600 is particularly bad in this regard. In fact, there's no doubt in my mind that even the most casual viewers will notice something is amiss with this TV's color.
Even the most casual viewers will notice something is amiss with the FS5600's color.
Despite the FS5600's respectable black level, shadows still appear flat and nondescript. The glossed-over details are a result of the TV's luminance handling, which turns darker regions of a picture (the wrinkles in clothing, for example) into swaths of muddied, homogenous goop; instead of conveying a convincing, deep-looking scene, this panel's images appear flat and unrealistic.
It would appear as though this TV does not have a native 120Hz refresh rate.
Even more off-putting is the FS5600's inability to display smooth, fluid motion. Again–it's not unheard of for TVs to struggle with motion, but the FS5600 is downright nightmarish in this regard. I winced my way through an action sequence in The Hobbit with bleary-eyed, slack-jawed wonder: How does a television proclaiming a 120Hz refresh rate look this bad? Well, we used our signal generator to send an 120Hz signal to the FS5600, and lo and behold, it didn't receive it. It would appear as though this TV does not have a native 120Hz refresh rate. The motion is strobe-like; the flailing arms in a sword fight resemble those in a flip book. It was enough to give me a pressure headache.
Comparable Products
Before you buy the TCL 50FS5600, take a look at these other televisions.
The Verdict
Move along, nothing to see here.
This TV has no smart features, shoddy motion, and very skewed color. I cannot stress enough how much of a chore it is to watch content on the FS5600, and if your television isn't fun to watch, what's the point? The flaws are deep enough to miff even the most casual viewer, and no bargain price is worth that.
Should you happen to be in the market for a TV of this size, there are much more palatable options. Vizio's 48-inch E480i-B2, for example, comes in at $10 less than the FS5600, and it actually manages to produce a brilliant, accurate picture.
Our editors review and recommend products to help you buy the stuff you need. If you make a purchase by clicking one of our links, we may earn a small share of the revenue. Our picks and opinions are independent from any business incentives.