televisions
Sony KDL-40W600B LED TV Review
Entry-level TVs look better than ever in 2014, and Sony's is no exception.
$499.99 MSRP
Buy now at Amazon
40 in.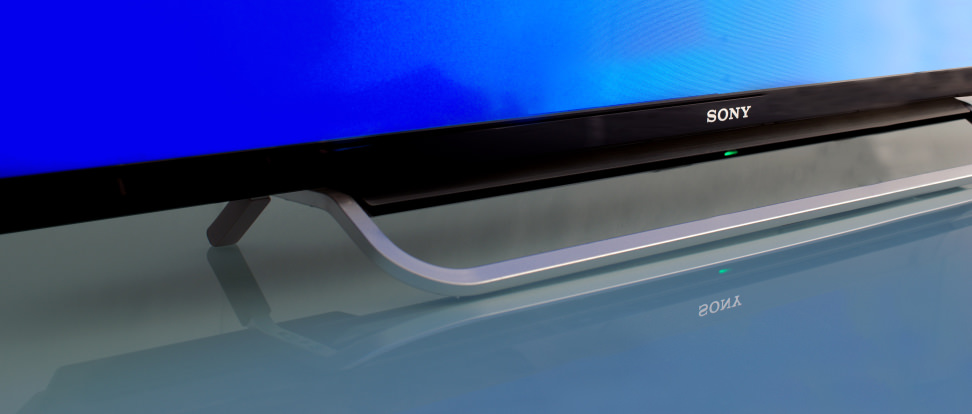 Lately, the theme in the TV business has been go big or go home: bigger price tags, bigger screens, bigger resolutions.
If you're trying to escape the big-TV bandwagon, take a look at the Sony KDL-40W600B (MSRP $499), the company's least-expensive 2014 offering.
This isn't the TV to please 2014's bargain fanatics, though. With great design inside and out, the W600B is for the quality driven consumer.
Smart commodities like Netflix and Hulu increase this TV's value, but don't expect a full-fledged smart platform experience. The remote control is too bare bones to make typing anything but frustrating, and there isn't a full-fledged web browser either. The W600B ships in 40- and 48-inch sizes.
The Outfit
An entry level TV with a mid-tier outfit
Sony knows how to dress a TV. This little display isn't as novel as the company's 2014 flagship entry, but the W600B definitely dresses beyond its lowly class.
Downloading a smartphone remote or buying a Sony touch controller is always an option.
While the screen's dark borders are very thin and minimal, the stand is something of a statement piece. Similar to last year's Sony TVs, a slim, silver stand courses down and around the front. The metallic flourish gives this display a high-quality look.
To hook up and get going, just peek around the back left side: Shared composite/component ports, a headphone jack, two USB ports, four HDMI inputs, an ethernet in, a digital audio out (optical), and a coaxial jack are all included. Buyers will also find a standard remote. The navigation wheel is such that you're always clicking Home by accident, instead of clicking down. Typing isn't much fun with this thing either, so downloading a smartphone remote or buying a Sony touch controller is advisable.
The Extras
Great streaming apps and a remote from yesteryear
Sony's W600B series offers a handful of great streaming apps, just like last year: Amazon, Hulu, Netflix, YouTube, Crackle, and so on. Just click the + button to add a favorite to your home page. HBO Go is the only major omission.
Users can browse for basic flash games, music apps (Pandora), news apps, and more—just hit the SEN button (Sony Entertainment Network) and flip through the main tabs to explore the possiblities: Movies, Album, Music, and Apps.
Additionally, if you have movies and shows that you already own, Sony will integrate those into SEN, so that you can browse all content in the same, streamlined place—just connect your content via USB or DLNA. You can do the same sort of thing with personal videos and photos under the Album tab, but you'll have to create a Sony cloud account and a SEN account first.
We should mention the remote one more time: Unless you purchase a sold-separate touch controller, or download a Sony smartphone remote, you'll lose your marbles trying to type "Fast Times at Ridgemont High" into Netflix with the included remote.
You'll lose your marbles trying to type "Fast Times at Ridgemont High" into Netflix with the included remote.
Smart features aside, the W600B also sports an excellent menu set. There are heaps of picture settings to tinker with: two-point white balance, a gamma slider, color temperature, brightness, contrast, etc. You can also find a batch of motion enhancement features, a full audio EQ, and surround sound modes. Good luck in the rabbit hole.
Comparable Products
Before you buy the Sony KDL-40W600B, take a look at these other televisions.
The Picture
Big performance from a low-end contender
Great news: Despite its entry level status in the 2014 Sony lineup, this TV performs admirably. From its color performance, to its black levels, and beyond, the lab results are largely positive. Expect great quality from this low-end W600B.
This TV really delves into shadow tones, which lends the picture a sense of depth and detail.
For an edge-lit LED display, this television's default black level is quite impressive—though this does limit the TV's peak light output to a degree. In short, this panel really delves into shadow tones, which lends the picture a sense of depth and detail; but it's also bright enough to hold up in a sunlit room, thanks to those dazzling LEDs.
The TV nailed our color tests, too. It produces lush, accurate colors without any calibration at all. That's right, it razzle dazzles you right out of the box. Highlights looked great as well, so that pure-white areas of a picture carry no unwanted blue or reddish hues.
The W600B produces lush, accurate, colors without any calibration.
You may have noticed the W600B's 60Hz refresh rate, but don't let that scare you off completely. In fact, I was pleasantly surprised by this television's motion performance: Scenes looked mostly smooth and detailed, with only mild blurring and juddering during intense horizontal panning. There are numerous motion settings to play with, but truthfully, none of them made a particularly visible difference. All in all, this motion performance is much better than other 60Hz TVs I've seen in the past. All the same, if you're looking for something to game on, you're better off with Vizio's full-array 120Hz E Series.
If you're looking for a cherry on top, the viewing angle certainly isn't it. The W600B, like so many LED LCD TVs before it, does not look great from every angle. You need to sit head-on to avoid a drop in contrast and ugly areas of blotchy light spots from the LEDs along the TV's perimeter.
For more details about this television's test results and calibration, head to the science page.
The Bottom Line
If you care about quality design, this may be the panel you're looking for.
For all its great qualities, Sony's KDL-40W600B still faces a tough bottom line. As Sony's least-expensive offering, this series is head-to-head with 2014's barking, biting, unavoidable underdog: Vizio.
Vizio offers a higher scoring full-array LED E Series in 40- and 48-inch sizes—and the prices are lower than Sony's. If you're a bargain shopper, Vizio is here to make you an offer you can't refuse. The E series even boasts a 120Hz refresh rate, whereas the W600B's is just 60Hz.
So the bottom line is this: The Vizio E Series offers slightly better performance and a smaller price tag, but it looks and feels very cheap, unlike this Sony. That means that for many shoppers, the comparison is really one of price versus quality design.
Our editors review and recommend products to help you buy the stuff you need. If you make a purchase by clicking one of our links, we may earn a small share of the revenue. Our picks and opinions are independent from any business incentives.