televisions
Sony Bravia KDL-55W900A LED TV Review
Sony's top-tier HDTV marries excellent picture quality with beautiful design
$3,299.99 MSRP
Buy now at Amazon
55 in.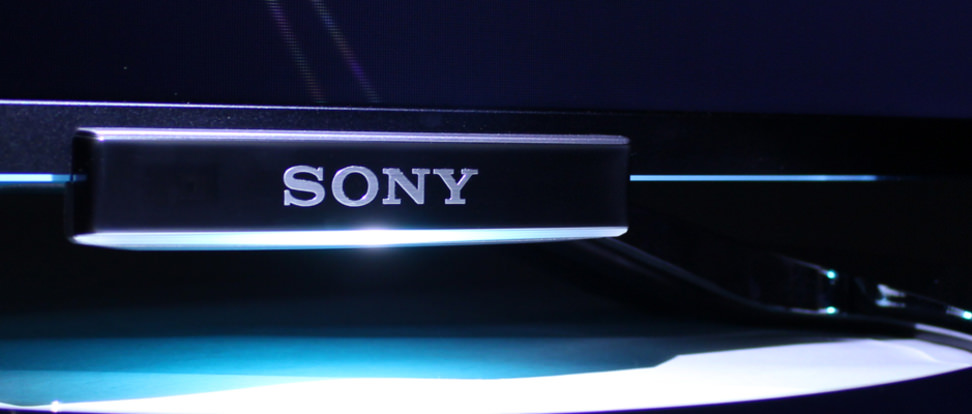 Overview
There is no doubt that Sony can manufacture an appealing product. Just look at its latest LED TV, the W900A, which is the company's highest-tier non-UHD television. Upon receiving the 55-inch model (MSRP $3,299.99), we drooled over its spectacular design and fancy new remote. But underneath all the glitz and glamor, were we going to find anything that justifies its high price tag?
In terms of internet connectivity: not really. Sony is still playing catch-up with its smart platform—even though it is an improvement over last year's iteration. In terms of picture quality, however, the Japanese electronics giant has produced an excellent display. In addition to its killer design, the W900A comes with incredible color accuracy and customization galore.
TV nerds and deep-pocketed buyers alike will fall in love with this one.
Design
Much like the mid-tier W802A, but with quality
When I reviewed the mid-tier W802A (which has a decidedly high-end price tag), I fell in love with its design. Its slim profile and thin bezels—complete with a teal-blue strip surrounding it—gives the W802A a touch of sophistication. Sony's unique circular stand also adds to the appeal.
The W900A looks identical to the W802A, except for one key detail: build quality.
So why spend so much time talking about the W802A? Because the W900A looks identical to it, except for one key detail: build quality. My only real gripe with the W802A was its cheap, plasticky construction, but the W900A mostly corrects this. Gone is the chintzy backside, which is replaced with lightweight metal. The stand, though, still feels cheap. Maybe Sony should take a page out of Panasonic's playbook and start using way more metal. Yes, it can be heavier, but for the exorbitant price, consumers deserve better quality.
Speaking of quality, Sony packaged a new remote with the W900A. The strikingly handsome One Touch NFC remote is what we like to call Sony's "smart" remote. Most high-end TVs come with some kind of smart remote that does additional functions aside from power and volume control. The One Touch remote has your basic TV buttons—although an input button is frustratingly missing—and includes an NFC tag that allows you to mirror content from your Xperia phone to your TV. Unfortunately, I don't have an Xperia phone, nor does anyone in the office, and this feature will not work without one. Still, this remote is a looker.
Interface & Smart Features
The menu interface is an upgrade, but the smart features still aren't quite "smart"
Kudos to Sony for completely dumping its archaic XMB (XrossMediaBar) interface, which it used on its 2012 smart TVs. The PS3 uses the same interface—and it works well coupled with a controller—but Sony's new menu style just seems tailored for a television: simple and to the point.
Don't confuse "simple" for "dumbed down," though. Just take a look at some of the options Sony offers within its picture menu: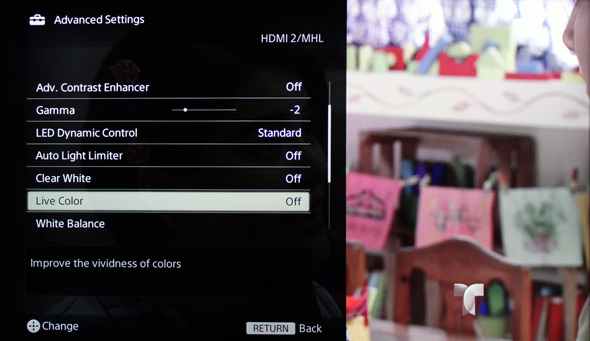 And not only are picture options easier to find—smart features are too, although you shouldn't get too excited yet. Pressing the SEN (Sony Entertainment Network) button on either of the included remotes takes you to Sony's refreshed smart platform, which is a screen with a smattering of apps. All the big boys are there, like Netflix, Amazon, Hulu, and YouTube, but don't expect anything beyond apps. Yes, Sony makes a big deal about smartphone interactivity, but unless you own one of its Xperia products, you won't be able to take advantage of this feature.
For a full breakdown of Sony's 2013 smart platform, check out our article here.
Comparable Products
Before you buy the Sony Bravia KDL-55W900A, take a look at these other televisions.
Performance
A true powerhouse
Let's get this out of the way: The W900A continues a long tradition of Sony TVs with poor viewing angles. A "poor" viewing angle simply means decreased contrast when viewed from an off-angle, which leads to a less detailed picture. You will absolutely be able to see content on the W900A's screen from a wide angle, but don't expect it to blow you away.
Now that we've got that out of the way, let's discuss everything else, because this Sony does everything else so well.
The W900A has some of the best color accuracy we've seen in a television.
The W900A has some of the best color accuracy we've seen in a television. Reds, greens, blues, and white look exactly the way they should, and content will benefit from this. There are no unnaturally vibrant reds or blues to be found… unless you want that. Sony has an option called "Live Color" which exaggerates the TV's colors. If that makes you happy, go for it. For picture purists, though, the W900A's colors are fine without this option.
Contrast is also a delight on this display. Don't expect the same inky black levels that Panasonic's ZT60 has—try as it might, the W900A cannot reproduce those. You will find that its black level is decent, and coupled with an extremely bright white level, this Sony can produce a fantastic contrast.
One setting, called Impulse, produced perfect motion performance... with a few caveats.
For all the praise we heaped on this TV's color and contrast, we need to point out its impressive motion performance. Without any motion enhancement settings on, performance is about average for an LCD. Sony bundles plenty of options, and most give way to the dreaded Soap Opera Effect. One setting, called Impulse, produced perfect motion performance... with a few caveats. In Sony's words, the Impulse setting is a "[T]rue reproduction of original picture quality. Flicker may appear." This setting will severely diminish the TV's brightness (and also the black level, which is good), but flickering only occurred on screens that were solid white. If a dimmer screen seems like a fair tradeoff for near-perfect motion performance, you'll be pleased with the W900A.
The Finale
Stellar design and stunning picture quality, with the price tag to match
Sony still doesn't "get it" in terms of smart features, but proves it knows exactly what it's doing in regards to picture quality. Color accuracy, motion performance, contrast—they're all superb on the W900A. And don't get me started on design, which is becoming a staple of Sony's products.
So what's there to dislike? As mentioned before, this TV's viewing angle isn't terribly wide. Then there's the whole issue of price: With an MSRP of $3,299.99, the 55-inch W900A is not for those short on cash. As of this review, Sony is selling this display for about $1000 off, which is more likely clever marketing than an actual price drop, but still a more palatable price point. And for $2,299, the W900A is easily worth the price of admission.
Our editors review and recommend products to help you buy the stuff you need. If you make a purchase by clicking one of our links, we may earn a small share of the revenue. Our picks and opinions are independent from any business incentives.