televisions
Sharp Elite PRO-60X5FD LED TV Review
With the Elite PRO-60X5FD, Sharp resurrected a fabled name in the prosumer TV realm.
$5,999.00 MSRP
Buy now at Amazon
60 in.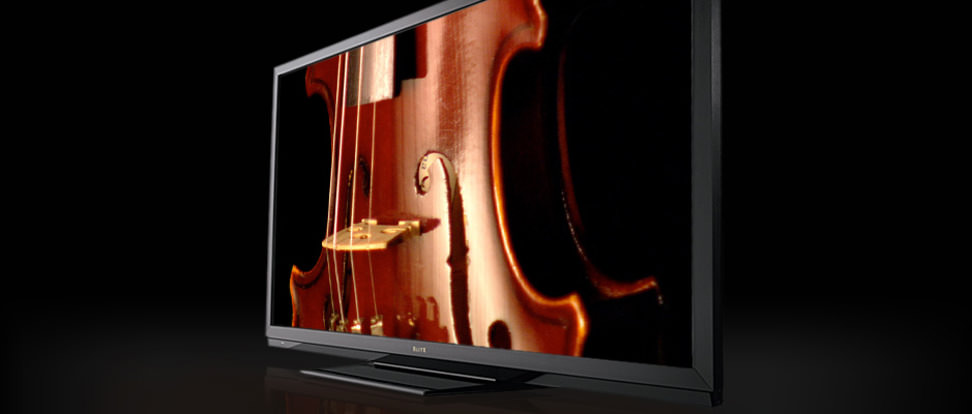 Introduction
With this TV, Sharp resurrected a fabled name in the prosumer TV realm. Unfortunately, they also brought back a price tag that will have you wondering if it's 2008.
If you're shopping for a TV with a $5999 MSRP, you probably already know the backstory of how the Elite brand resurfaced. Otherwise, it helps to know the history of this television's storied life. Calling this TV the "Sharp Elite" is technically correct, but only by scrutinizing the fine print on the TV's website—www.elitelcdtv.com—do you see any mention of the Sharp Electronics Corporation. It also mentions that the "Elite" name is trademarked by Pioneer. What's the deal?
Back in the mid-2000s, Pioneer released a series of Elite-branded plasma TVs that achieved incredibly deep black levels for the era, and TV reviewers loved them. In 2008, Pioneer unveiled its magnum opus: the Kuro Elite (Kuro means "black" in Japanese). This plasma made a name for itself at trade shows by exhibiting a black image that was darker than some LCDs that were turned off. Unfortunately, 2008 was a bad time for the economy and many consumers could not afford to shell out $6,000 for a television. Pioneer got out of the TV business in 2009 and sold its plasma patents to Panasonic.
Fast-forward to 2011, when Sharp released the Elite series. Turns out that since Sharp hitched its TV train to the LED-comotive, it could license the Elite name for its highest-end TVs. The Elite PRO-60X5FD is an LED-backlit LCD television that lives up to the reputation of its namesake, with strong color performance and superb contrast. I can confirm that it can get so dark, you might think it's turned off.
Ah, but there is more to the story; despite some very impressive positives, the Elite only marginally outperforms models that cost thousands less. Thus, aside from pride of ownership, there are few rational reasons to purchase the Elite PRO-60X5FD.
Design
This Sharp is wide, dark, and handsome.
The name of the game is dark; the bezels are a deep matte black, the stand is a smooth and reflective black, and the strip of plastic between the bezel and stand is—well, it's technically translucent, but it appears black by virtue of being sandwiched between these two. Notice a theme here?
Connect a cable box, two HD video game consoles, a 3D Blu-ray player, and a computer…at the same time!
Dark color scheme aside, the Elite PRO-X5FD is a handsome television. Sony markets its Bravia line for its "monolithic design," but Sharp one-ups them in that department. With its thin profile, pronounced corners, and concert-piano-inspired color scheme, the Elite is truly monolithic.
On the flip side, the main attraction is a column of five HDMI ports. What this means for consumers is that you can now connect a cable box, two HD video game consoles, a 3D Blu-ray player, and a computer…at the same time!
Smart TV Features
The Elite PRO-X5FD offers just the bare minimum in terms of apps.
Thankfully, Sharp opted to give the Elite PRO-X5FD a minimalist menu instead of making it look like a GeoCities webpage circa 1999. The grey panel that pops up on the left-side of the screen has a textured appearance that matches the bezels on the TV. Navigating the menu interface is quite simple.
In total, there are only five apps, but rest assured, Netflix is included.
In regards to apps and internet content, Sharp cuts right to the chase: This TV is meant for high-quality content viewing, not for browsing the internet or playing horrible Flash games. In total, there are only five apps, but rest assured—Netflix is included.
Sharp also touts its Elite Advantage remote diagnostic service, a feature only available to Elite owners. After clicking "support" in this diagnostic app, users get a four-digit connection number and a phone number for service. I decided to try this out. After about seven minutes, I was connected with a Sharp technician who used my four-digit connection number to take control of the TV, adjusting settings remotely and checking for errors. I was told that this service is not intended to help with calibration, though, and while the Elite Advantage service worked well, users could easily hire an installer to calibrate and troubleshoot a TV set with the money saved on a less expensive model than this Elite.
Comparable Products
Before you buy the Sharp Elite PRO-60X5FD, take a look at these other televisions.
Picture Quality
The Elite is capable of producing average colors and extraordinary contrast.
One of the Elite's selling points is the addition of a yellow sub-pixel, which Sharp calls RGB+Y technology. Once again, this all sounds so familiar…
Yes, the technology in question is just Sharp's patented Quattron technology, rebranded to sound more "elite." If the marketing hype still sways your opinion, we suggest you read this article explaining the futility of adding a yellow sub-pixel to the standard mix of red, green, and blue sub-pixels. It's written by Dr. Raymond Soneira, creator of the DisplayMate software that we use to test and calibrate TVs.
The Pure settings produced darker black levels and yielded a better contrast ratio, while our calibration settings produced better color accuracy and consistency.
Interestingly, I was able to determine the major difference between the Elite Pure settings and our calibration settings: The Pure settings produced darker black levels and yielded a better contrast ratio, while our calibration settings produced better color accuracy and consistency. Thus, using our calibration settings, the Elite PRO-X5FD showed a wide range of colors. They weren't perfect, but the TV could smoothly transition between different shades. With the Elite Pure settings, however, color performance was not nearly as successful. When it came to viewing angle, the reverse was true: Our calibration settings gave an average viewing angle, while the Elite Pure settings managed to produce a very wide viewing angle for an LED TV.
Next, this Elite showed decent motion performance with our calibration, which doesn't use any motion processing features. The Elite Pure mode uses Sharp's FluidMotion setting, which gives movies a noticeable dose of the Soap Opera Effect. This was clearly visible while watching the movie Selena: scenes where Jennifer Lopez dances appear unnervingly smooth. We know she's good, but she's not that good.
3D
Crosstalk rears its ugly head and spoils the show.
The total 3D experience was just mediocre.
The Elite PRO-X5FD never wowed with spectacular 3D effects—the total experience was just mediocre. While I wouldn't say that the Elite handles 3D poorly, there is definitely room for improvement. And for the record, we tested 3D with both our calibration settings and the Movie THX settings (there is no Elite Pure mode in 3D).
Regardless of which settings we chose, there was always noticeable crosstalk—which refers to when an image meant for one eye appears in the other. This annoying effect ruins the immersion that 3D is supposed to create.
Sharp includes two pairs of active 3D glasses with the Elite. Everyone loves when 3D glasses come with the TV, but Sharp's (model AN-3DG20-EL) are on the heavier side—again distracting from the immersive 3D experience.
Conclusion
This is one tall, nearly 6,000-dollar order.
When a TV costs $5,999 and licenses the name of a fabled set from ages past, you expect it to have a "perfect picture." Unfortunately, the definition of a perfect picture isn't set in stone these days. Some say that contrast—the ratio of how dark a TV gets versus how bright it gets—is the most important factor for a perfect picture. Using the Elite Pure settings, which emulates the picture of the Pioneer Kuro Elite plasma TVs, I witnessed some truly top-notch contrast ratio.
Here at TelevisionInfo, we think that color accuracy and consistency are also crucial factors. Using our calibration methods, the Elite was able to produce very good colors—not flawless, although the way it smoothly transitioned from different shades was superb.
This set's biggest failing is that it doesn't blow away the competition.
So the Elite PRO-X5FD fell short of perfection, but that's not what bothered us most. This set's biggest failing is that it doesn't blow away the competition. As good as the colors were, and as good as the contrast could get, most consumers wouldn't be able to tell the difference between these results and the excellent performance from two of our top-rated TVs: the Samsung E8000 and the Panasonic VT50. Those TVs cost thousands of dollars less than the Elite, which makes justifying a $5,999 MSRP very difficult.
If money is no object, you'll enjoy owning the Elite. No matter what the calibration mode, there were no major faults, aside from mediocre 3D. The audio was among the best we've heard from a television, there were plenty of connections on its backside, and the design is stunning. The included Elite Advantage service is also top-notch. Unfortunately, all these positives just don't add up to $5,999.
Our editors review and recommend products to help you buy the stuff you need. If you make a purchase by clicking one of our links, we may earn a small share of the revenue. Our picks and opinions are independent from any business incentives.