televisions
Sharp Aquos LC-60LE847U LED TV Review
Sharp takes the age-old adage of "go big or go home" very seriously.
$2,700.00 MSRP
Buy now at Amazon
60 in.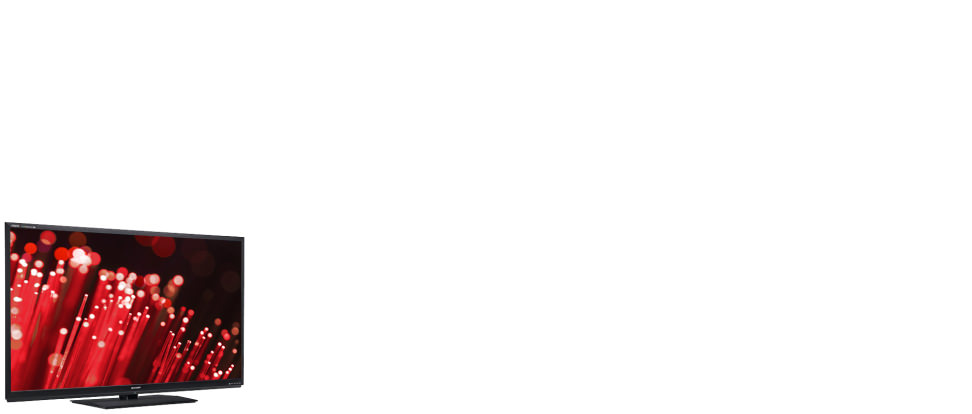 Introduction
Sharp took the age-old adage of "go big or go home" very seriously. The LE847U series only comes in 60-inch and 70-inch sizes. Clearly, Sharp is not going home. The question here is whether that other proverb, "bigger is better," still applies.
The LE847U is equipped with all of the features that are required for high-end HDTVs these days. 3D? Check. Internet? Check. Fancy technology that may or may not do anything useful (Quattron)? Check.
What we really care about is how well a TV can handle basic functions like watching a movie or a sports game. The Sharp LC-60LE847U (MSRP $2,700) can do that, but this behemoth runs into trouble in areas like color quality, 3D crosstalk, and its Smart TV platform, SmartCentral.
Design
Sharp keeps this big TV slim.
We were pleasantly surprised when we saw how thin the 60-inch 847U is, which measures in at a mere 2.2 inches thick. Aside from its slim figure, this Sharp Aquos is just average looking. The TV could benefit from having thinner bezels, but with so much screen real estate, its hard to complain about looks.
The Sharp LC-60LE847U has ample ports. There are four HDMI ports, two USB ports, a VGA port, an Ethernet jack, an analog audio input, an analog audio output, a digital audio output, two composite inputs, one component input, and an RS-232C port, which is used for home automation systems.
Smart TV Features
Sharp's lack of content holds back the SmartCentral platform.
Sharp's interface is very basic, and not in a bad way. When the menu button on the remote is pressed, it brings up a menu bar on the top of the screen. There is another vertical bar on the right-side that shows each menu category's options. The whole menu interface navigates very smoothly. There is no lag when switching between options and everything is clearly labelled. The text and some of the colors used in this interface have an unintentionally retro feel to them. This isn't necessarily a bad thing since it does not affect the overall performance of the interface, but it would be nice to see Sharp update their menu for the 21st century.
Sharp's smart TV interface, called SmartCentral, is an overly simple approach to the whole "internet on a TV" concept. There is a featured app section which actually contains every app available. This is not as difficult as it sounds since there are only 12 apps total.
Sharp is in desperate need of apps.
Even though Sharp is in desperate need of apps for their platform, my experience with SmartCentral wasn't completely negative. Navigating the interface is smooth and easy and key players like Netflix and Hulu Plus are represented. If Sharp can solve its content woes, SmartCentral could evolve into something great. For the time being, it can't compete with the likes of LG and Samsung.
Comparable Products
Before you buy the Sharp LC-60LE847U, take a look at these other televisions.
Picture Quality
Contrast and viewing angle excel, while everything else is quite average.
Images produced by the Sharp Aquos LC-60LE847U are good, but not great. This TV has some color issues, specifically with color accuracy. Blue colors do not transition from one shade to the next properly, while images generally have a cooler tone to them.
Conversely, the LC-60LE847U has a great contrast. Blacks are very dark on this TV and white levels are decently bright, which means that more detail can be shown in blacks and darker colors. The viewing angle—an important attribute on a large screen—is also modestly wide.
The basic motion performance on the LC-60LE847U was average. We noticed some motion artifacting, such as blurry images and straight lines turning jagged when moving across the screen. While none of these effects were horrible, they weren't anything to brag about, either.
3D
Good quality 3D is hampered by crosstalk.
Sharp's active 3D technology produces a decent experience: there is added depth and images frequently appear to pop out of the screen. We would describe this 3D effect as great if it were not for the appearance of crosstalk.
Yes, crosstalk makes an unfortunate appearance here. A ghost image can be seen at times and it does hold back the otherwise good 3D. Another thing that Sharp should address in the future is their bulky 3D glasses. While they are large enough to fit over prescription glasses, they feel too loose and they definitely won't win an award for their looks. Samsung has done an excellent job making lightweight active 3D glasses—other companies should take note.
Conclusion
A decent LED TV, but there are some issues that need to be addressed.
The LC-60LE847U runs into problems in three key areas: color quality, 3D, and its smart TV platform. The colors produced do not justify the asking price of $2,700. The 3D experience is decent, but there is some image ghosting and the bulky 3D glasses do not make the experience any more pleasant. Then there is SmartCentral, Sharp's internet TV platform. It looks clean and performs well, but it has a severely limited amount of content that will hinder its usefulness in the long run.
This Sharp is not all cloudy days, though. The contrast ratio was excellent and the audio was decent for built-in TV speakers. For $2,700, though, there are better options available. We would recommend that you look around first before settling on the Sharp LC-60LE847U.
Our editors review and recommend products to help you buy the stuff you need. If you make a purchase by clicking one of our links, we may earn a small share of the revenue. Our picks and opinions are independent from any business incentives.