televisions
Samsung UN40ES6100F LED TV Review
For just $1199, the ES6100 provides Samsung's excellent Smart Hub, plus great color production and contrast ratio.
$1,199.00 MSRP
40 in.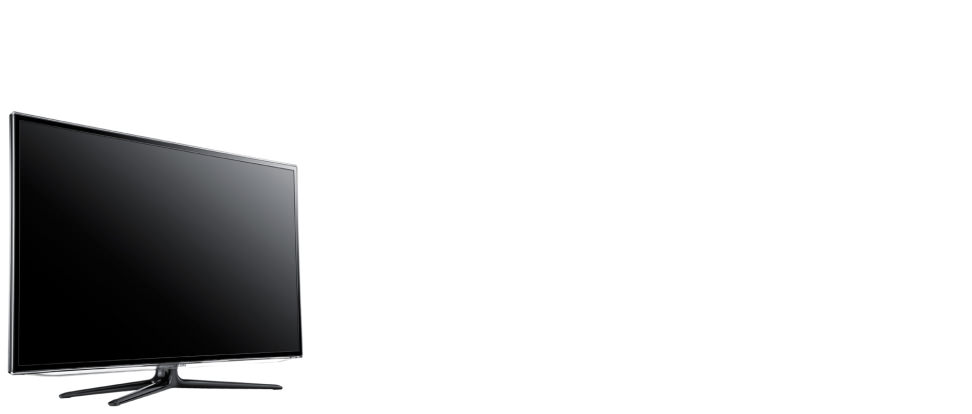 Introduction
Samsung's 40-inch ES6100 series is a slim, attractive TV that brings a decent amount of connectivity options and backs it up with solid core performance. Samsung's Smart Hub, one of the best smart platforms currently available, is also included.
For its $1199 MSRP, users are getting a TV that's of smaller size, but one with great color production and contrast ratio. Unfortunately, nothing about this model is perfect: yet the fact that it carries the Samsung brand name and the inclusion of smart features boost its price considerably.
Design
The Samsung ES6100 is smartly built and maintains the company's excellent design ideas for 2012.
Samsung's ES6100 series features a slim profile, a minimalist bezel, and a plastic version of the X-shaped stand also used with the ES6500 and E8000 series TVs. The stand allows for about 20° of swivel in either direction. The on-set controls are allocated to the Jog Stick, which is on the back, right hand side of the TV, below its ports. While the plastic stand isn't as impressive looking as the metallic version found amongst more expensive models, the ES6100 looks great, and it's very lightweight too, making it easy to tote around.
The ES6100 looks great, and it's very lightweight too, making it easy to tote around.
On the back, right hand side of the TV, you'll find a sensible selection of input and output ports. There are 3 HDMI inputs, with one inclined to the side of the TV, and two more located on the back. The 3 USB inputs are split as well, with the side offering two inputs, and the back area housing a third. Users also have access to a shared component/composite input, an EX-LINK port for service updates, audio inputs for DVI (PC) and analog (3.5 mm) devices, a LAN input for a wired internet connection, digital output for SPDIF (surround system) audio, and a coaxial jack for antenna or cable input.
Smart TV Features
Samsung's fantastic smart features are present on the ES6100.
The ES6100 is a great way to access streaming content.
Our first look at Samsung's 2012 smart platform, which is organized into the Smart Hub, revealed that it's one of the best—if not the best—smart platform available amongst this year's line-up of internet-enabled TVs. The ES6100 is, therefore, a great way to access streaming content, various apps, and your own personal media via USB or wireless-connected devices.
The standard menus utilized by the UN40ES6100 are the same ones found on Samsung's other 2012 TVs. They hug the left side of the screen and feature a stack of sub-menus for Picture, Sound, Settings, etc. The menus are intuitive and load quickly: Navigating them with the ES6100's standard infrared remote is a painless process.
Comparable Products
Before you buy the Samsung UN40ES6100, take a look at these other televisions.
Picture Quality
First and foremost, the ES6100's picture quality is quite good. We tested a maximum contrast ratio over 3500:1. Color accuracy wasn't perfect, however, showing mild yet visible temperature errors.
You'll probably need to utilize the swiveling stand if you want to use this TV in a large room.
Furthermore, even though this Samsung displayed a large contrast ratio, its ability to maintain that contrast across a wide angle of viewing proved lacking. We tested a total viewing angle of around 30°, which is about 15° lower than we would consider flawless. While this doesn't pose a huge problem for anyone watching this TV head-on, it does mean you'll probably need to utilize the swiveling stand if you want to use this TV in a large room.
Conclusion
The Samsung UN40ES6100 is a solid performer with just a few minor flaws.
If you go with this TV, you're paying a few hundred dollars more than you would for a Vizio or a Dynex TV of the same size, but that's largely due to the fact that Samsung's giving you access to its Smart Hub and plenty of streaming options for movies, TV, and music. Expect fairly average performance in the areas of audio and motion: nothing terrible, but nothing mind-blowing. Black/white differentiation and colors are good and motion performance is above-average.
We can't brand a TV of this size and caliber as the cream of the crop, nor as a good choice as the central hub for a home theater set-up, but it's a great option if you want a quality, fairly affordable smart TV for a small room or office, or even to tote around from dorm to dorm.
Our editors review and recommend products to help you buy the stuff you need. If you make a purchase by clicking one of our links, we may earn a small share of the revenue. Our picks and opinions are independent from any business incentives.