televisions
Samsung UN29F4000 LED TV Review
This entry-level series is notably cheap and offers decent performance at the cost of reduced resolution.
$269.00 MSRP
29 in.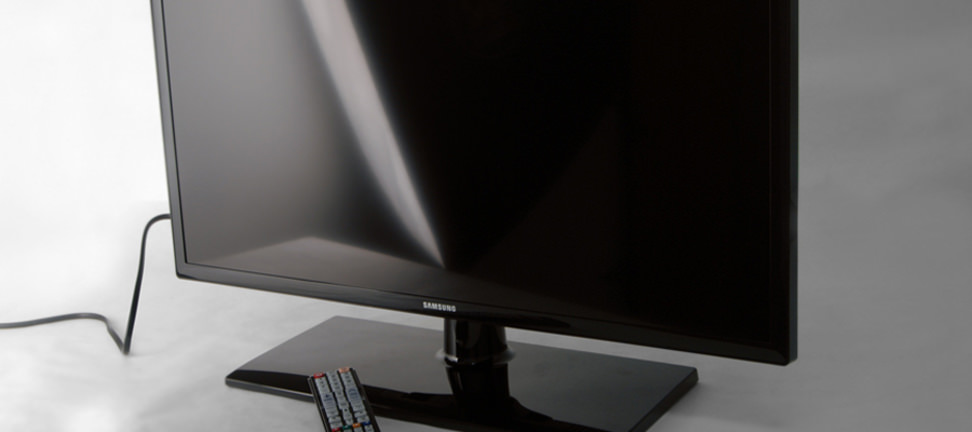 The Story
Every TV manufacturer needs a "bottom line." Samsung's is the F4000 series, which is made up of two truly tiny screen sizes: 19 and 29 inches. Both are 720p, 60Hz, and cost $170 and $270, respectively.
At that price, you might be thinking... Whoa nelly. Gots me a deal. And really, you do—Samsung has priced this series cheaply because it's "only 720p." The reduced resolution means almost nothing lost at such small screen sizes, however, and the F4000's contrast and color performance are decent enough that—should you need a tiny TV—it's worth looking into.
The Looks
If black rectangles are cool, this TV is Miles Davis.
It's a well-known fact that some of what you're paying for with any expensive product is design. Be it a stainless steel exterior, champagne-hued hardware, or a beveled set of bezels, you (usually) get what you pay for. Well, by modern TV standards, the UN29F4000 is cheap—and it looks that way.
By modern TV standards, the UN29F4000 is cheap—and it looks that way.
Like most other Samsung LCDs, you'll find the F4000 to be particularly lightweight. It's molded out of generic black plastic, and does nothing to stand out; then again, it isn't really supposed to. A 29-inch TV is for serving up content, not hosting a spotlight in your living room. The remote that's included is similarly simple, though it has more buttons and control keys than average.
From a functionality standpoint, this little TV cuts the mustard. Alongside two HDMI inputs, you'll find a USB port, a shared component/composite cluster, an RF jack, and an analog-out for headphones. That's not much, but it's certainly enough for a smaller display like this one. Put it on your desk, plug in your favorite cans, and voila, personal viewing station.
Looking Further
The Experience
Using this TV feels very... "traditional"
Having just messed around with the Sharp Elite, the UN29F4000's menu feels particularly bare bones. In short, this is absolutely not a home theater kind of TV: There is no CMS (Color Management System) on board, so what you see is what you get. There's more to the menu than in previous years, though.
Beyond basic Picture and Sound controls, the F4000 only does a little. Users can, of course, select the usual settings like Backlight, Contrast, Brightness, and Tint, but defaults in the Movie picture mode are pretty much perfect out of the box. There's a motion smoothing setting buried in the menu, options for power saving, and processing functions such as noise reduction—nothing too wild, but at least Samsung gives us a few things to tweak.
As for extras, the only thing the Samsung UN29F4000 really does is play files off of a USB stick. Movies, photos, and music can be played, though tampering with menu settings within the playback menu is not possible—kind of a silly software design, if you ask me.
Comparable Products
Before you buy the Samsung UN29F4000, take a look at these other televisions.
The Picture
Not great, but good enough for general use
Really, the breakdown here is simple: This entry-level model does exactly what you'd expect it to. Television scientists (yes, they exist) insist that each TV ought to produce a certain range of colors, and that they should be just so colorful. I agree with that point, but I also think it matters a lot more on an 80-inch TV than it does on a 29-inch unit like this one.
That's not to say the F4000 doesn't perform decently—it's just not the powerhouse of color production and black level you might get for a few-thousand dollars. Tests revealed decent color saturation, an even balance throughout the grayscale, and only mildly shifting color temperatures.
Tests revealed decent color saturation, an even balance throughout the grayscale, and only mildly shifting color temperatures.
One place where I was particularly impressed by this little Sammy was its motion performance. While there is a backlight scanning motion enhancement setting, its unassisted motion was quite good. Further, the 720p resolution is not as much of a deterrent as you might think—"Just Scan" aspect ratio over an incoming HDMI signal eliminated overscan and improper bit-mapping.
All in all, don't expect plasma blacks or graphics monitor colors, and you'll be well-satisfied.
The Verdict
A decent budget buy
The Samsung UN29F4000 is a good choice if you need a smaller TV for your bedroom, a guest room, or even sheltered poolside—it's certainly bright enough to combat some sunlight. Cable content is going to look best here, as 1080p Blu-ray discs won't have room to breathe at this resolution. The F4000 would make a decent companion for playing games off of Steam or a PS3, too, as its motion responsiveness is better than average.
At $270, you're still paying more than you would for a similarly sized TV or monitor from another manufacturer, but the F4000 has the performance chops to make plenty of content look good. If you're going to buy a small display anyway, spring a few extra bucks for the F4000.
Our editors review and recommend products to help you buy the stuff you need. If you make a purchase by clicking one of our links, we may earn a small share of the revenue. Our picks and opinions are independent from any business incentives.