televisions
Panasonic TC-L65WT600 UHD TV Review
Color me so-so.
$5,999.99 MSRP
65 in.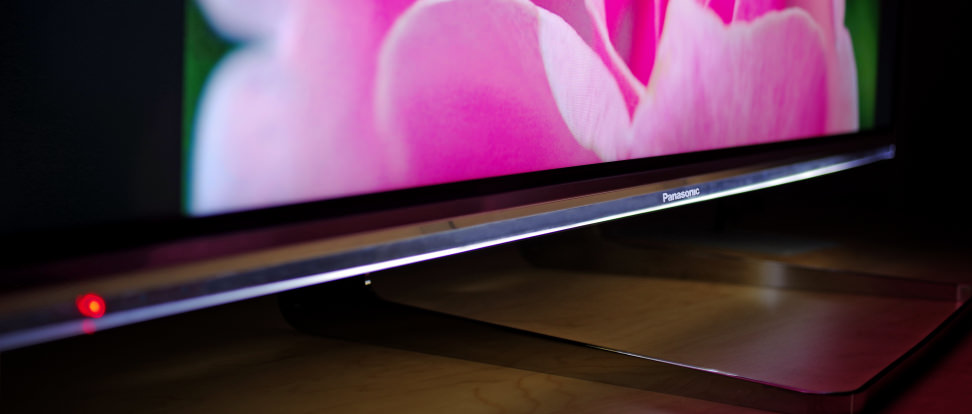 The TC-L65WT600 (MSRP $5,999.99) is Panasonic's 2013 entry into the UHD (Ultra High Definition) TV battle. This titanic, 65-inch display is huge in terms of both size and pixel count, with four times the resolution of regular HD. It's also smart, 3D, and fully future-proofed—its ports are prepared to accept native 4K signals.
Yet the WT600 doesn't exactly feel next-gen. Its picture quality is decent, and Panasonic's Hexa upscaling engine makes most content look good. But the fact is, an astronomically expensive UHD TV should also offer a wider, more impressive array of colors—and the WT600 struggles to match yesterday's standards.
Once again, we recommend waiting for the 2014 crop of UHD models rather than jumping at a 2013 debut 4K TV.
The Picture
Somewhere under the rainbow
The TC-L65WT600 does a lot of things right. Dark black level? Check. Smooth motion? Check. Good white balance? Double check. Unfortunately, people tend to prefer color TVs in this day and age, and color production is one area where the WT600 falls a little short.
Color production is one area where the WT600 falls a little short.
Testing revealed that this huge Panasonic struggles to meet the minimum requirements for TV color. Basically, its colors are just a little less vivid than they should be, which gives it a somewhat washed-out look. It's not necessarily a deal breaker, but it's still a shame—especially for what you're paying.
This 4K display found success in plenty of other areas, though. It's pretty much perfectly suited for a home theater, producing solid black levels and maintaining good screen uniformity, meaning areas of shadow in an image are richly detailed and lifelike, and the light spreads evenly over the panel without any unwanted splotches. It also gets bright enough for normal living room lighting—but it really does flourish in a dark room.
Sports fans will find something to cheer about in how this TV handles motion.
Sports fans will find something to cheer about in how this TV handles motion—we tested very little blur during action scenes and noted only mild juddering during panning, though you'd never have these issues with a plasma. Gamers will also be happy to know that Panasonic's Game mode is still alive and kicking, and does a stellar job reducing input lag.
Finally, the WT600 would be a great choice for wall-mounting, but we have to warn you: The viewing angle is quite narrow, so mount with care. You won't want to watch this TV from extreme off-angles, as you'll notice a serious drop in picture quality if you stray too far from the center.
Be sure to check the Science Page for my final calibration settings, and all of the test results.
The Look
The King on the Wall
Panasonic knows how to craft a handsome TV. The company's displays are usually a mix of durability and style, and the WT600 is no exception. Clean silver bezels frame the massive 65-inch screen, which terminates into a glowing plastic lip below. The WT600 is heavy and imposing; in fact, it's a little too big for its minimalist silver stand. If you can, go ahead and wall mount this TV—it was made for it.
If you can, go ahead and wall mount this TV—it was made for it.
If you do decide to toss the WT600 on a wall, just be sure you install it carefully so as not to block any ports: There's a baker's dozen of them. On the TV's left side, you'll find no less than three USB inputs, three HDMI inputs, and an optical audio out jack.
Then we get around back, where things get even crazier. You'll find a fourth HDMI—this one tasked specifically for an HDMI 2.0 cable (meaning 4K-compliant). There's also a 4K-capable DisplayPort input—what planet is this thing from? DisplayPort is a video connection standard capable of higher resolution and color depth usually found on graphics monitors. Last but not least, all of the usual offenders: a shared component/composite input, LAN (ethernet) hookup, and a coaxial cable jack.
Finally, alongside the hulking panel and equally heavy stand, Panasonic includes two remote controls. One is a standard, button-heavy affair, silver and immodest, with a steep learning curve. The other—the Viera Touch Pad controller, as it's called—is much simpler. A mouse-like silver pad with just a few buttons, it works especially well with the TV's web browser—but more on that in the next section.
Comparable Products
Before you buy the Panasonic TC-L65WT600, take a look at these other televisions.
The Experience
What kind of features are worth $6,000?
This TV's price is the hardest part to swallow—at least figuratively. To remedy your almost inevitable buyer's remorse, Panasonic throws in everything but the kitchen sink: Active Shutter 3D, the Viera Connect smart platform, voice command functionality, and a built-in camera, to name a few.
My biggest gripe is with Viera Connect, specifically the 2013 iteration available on this TV. It's sluggish, bloated, and overblown. There are too many options, too many windows on screen, and too many different ways to interact with it: Two remotes with completely different buttons and uses, plus voice commands via the Smart Touch remote's microphone, and facial recognition software built into the camera's functionality. It sounds fun, but it complicates simple tasks like jumping into an app or even finding the web browser.
Viera Connect 2013 is sluggish, bloated, and overblown.
Viera Connect 2013 isn't equal to this TV's weighty price tag, but you know what is? The Hexa processing engine, Panasonic's proprietary upscaling chipset. We were able to sit down and play Super Smash Bros. at 480i resolution and—after tweaking the picture settings a bit—it looked just fine.
What this confirms is that the upscaling process really works. UHD (Ultra High Definition) TVs have a resolution of at least 3,840 x 2,160—twice the horizontal and vertical resolution as 1080p. To be backwards compatible, almost all UHD TVs are built with upscaling processes that "guess" at how to stretch sub-UHD content based on pixel properties. Thus, the Hexa engine makes content at 720p looks almost as good as native 1080p, and content at 1080p looks almost as good as native 4K. Everything from media content popped onto the TV via Swipe & Share and websites in Viera Connect's web browser are optimized for 4K resolution. No, they don't look amazing—it's still an early adopter's technology—but they don't look any worse than they would in 1080p, either.
Videophiles will be glad to know that picture customization is the WT600's bread and butter.
Die hard videophiles will be glad to know that picture customization is the WT600's bread and butter. Like the vaunted ZT60 before it, the menu here is loaded with all of the fixins: 2- and 10-point white balance, a Color Management System, 10-point Gamma control, and even the Panel brightness pre-sets from Panasonic's 2013 plasma line-up. You also get the usual picture mode presets, including Cinema, Home Theater, and ISF Professional.
While half of this TV's features are potentially gimmicks, the other half will certainly find fans. Even the most casual viewers can enjoy the easy access to Netflix, while those of you with piles of Blu-ray discs get to twiddle with sub-pixel balance and grayscale gamma to your heart's content. Most importantly, the only feature that owners of this TV really need—the upscaling engine—works just fine.
The Verdict
Not quite up to par, like every other 2013 UHD we've tested
The TC-L65WT600 has a lot going for it. It's a huge future-proof 4K TV that supports 3D, smart features, and a bunch of cool extras like voice control and facial recognition. But from a picture quality perspective, it does alright—and "alright" isn't good enough when you're paying $6,000. One of the top two highest rated TVs we've ever tested is on sale for a similar price right now. If you spend big, shoot for killer picture quality.
Truly great UHD TVs ought to offer more than just four times the pixel count of 1080p. They should also provide rich, vivid colors that put the last generation's TVs to shame—and that's where the WT600 falls short. Panasonic is hot on the trail of something great, but the WT600 just isn't quite there yet.
Our editors review and recommend products to help you buy the stuff you need. If you make a purchase by clicking one of our links, we may earn a small share of the revenue. Our picks and opinions are independent from any business incentives.