televisions
LG 55LM9600 LED TV Review
A great TV overall, but smart buyers might want to wait on a price drop.
$2,999.00 MSRP
Buy now at Amazon
55 in.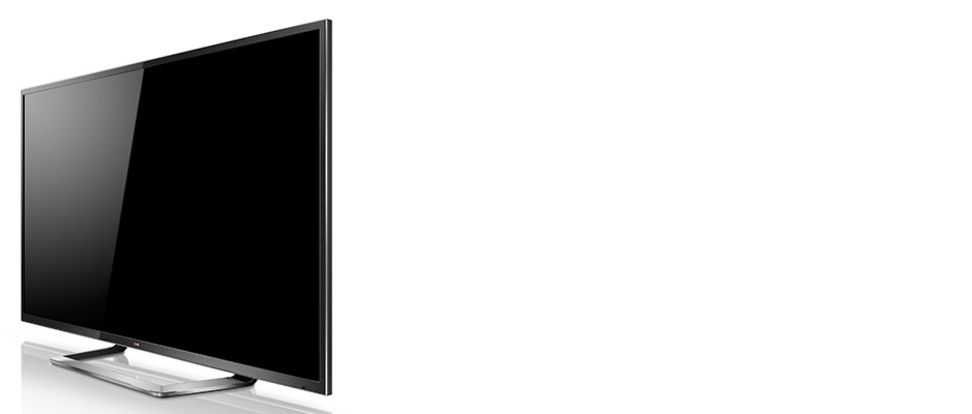 Introduction
Our staff's first experience with LG's 2012 lineup was the 47LM6700 and it was a revelation when it came to internet content, 3D application, and a space-age appearance.
With that experience under our belts, we weren't at all surprised when the 55LM9600 turned out to be no slacker, either. The 3D is still excellent, with comfortable glasses, useful content and no issues with crosstalk. Likewise, the Magic Remote is still present, making it extremely easy and intuitive to navigate LG's content-heavy Home menu, use the built-in internet browser, and change settings and inputs on the fly.
Like the LM6700, the LM9600 is also a strong core performer, though not quite as effective as its sister model. It has a good selection of ports, a sensible design, and the same great menus and software features that we found so pleasing about the LM6700 series. The whole TV makes for a winning package and if you can get past its somewhat irregular appearance, the LM9600 may be one of the smartest buys of early 2012.
Design
A futuristic design that may not appeal to everyone.
The LG 55LM9600 has a very similar—if not identical—design scheme to the 47LM6700, which also debuted in 2012. Highlights include a thin silver bezel, a minimalist stand, a slim side profile, and LG's signature Magic Remote, a Wii-like device that allows the user to point and click at the screen.
A defiant paradigm shift from the boxy TVs that clutter store shelves.
These features combine into a futuristic frame that houses and draws attention to the LM9600's screen. While this design might be a bit sci-fi for some users, I personally find it to be an attractive, defiant paradigm shift from the boxy TVs that clutter store shelves.
Despite their new design schematic, LG has not made changes to the more subtle aspects of the LM9600's build. The stand allows for forward and backward swivel, as well as a very mild amount of tilt. A good selection of ports grace the back and side, which are easily accessible and clearly labeled.
The LM9600's HDMI and USB inputs are located along its left side. There are four HDMI ports and three USB ports, with the USB ports serving different functions: one is designated for a hard drive connection, the second is for a media device, and the third for apps updates. A recessed area on the back of the TV houses the rest of the ports: component and composite inputs, PC input, cable/RF input, PC audio input, optical/digital audio input, and a wired (LAN) input can all be found here.
Smart TV Features
More content than we could ever watch
We got our first taste of LG's all-inclusive content mega-station while reviewing LG's LM6700 series. Let me just say that I'm glad I've already gotten some practice in navigating through it: there is a lot here.
That's not necessarily a bad thing, however. It's definitely better to have more stuff than you have time to use. The sheer enormity of possibilities—and yes, that includes the entire internet—make the LM9600 (and numerous other 2012 LG TVs) feel more like a neatly packaged media station than your classic TV set plugged into a cable box. Combine that with the whole fourth-dimensional space age look of this TV and it's easy to see LG's potential influence on the entire HDTV market.
There are more apps available every week and a plethora of LG-hosted 2D and 3D streaming content to be found, meaning that since we reviewed the LM6700, the amount of available apps and content has at least doubled. The highlights of the Home menu still include its browser function, app store, quick-access app menu, 3D World, USB playback access, and the usual heavy hitters: YouTube, Hulu Plus and Netflix.
Comparable Products
Before you buy the LG 55LM9600, take a look at these other televisions.
Picture Quality
Underneath the flashy design and internet content, the LM9600 is still a decent performer.
The 55LM9600 is bringing a lot to the table, including a huge amount of smart content, a motion-based infrared wand remote, and a pretty sizable screen at 55-inches.
However, one of the most important aspects of any TV is its core performance. In this case, the LM9600 did well enough. It didn't have a massive contrast ratio, but over 2000:1 is plenty of black-white differentiation in our book. In the same vein, its color accuracy and color temperature weren't perfect, but they were still quite good.
Smart content is not an excuse to skimp on core performance.
It's great that LG has delivered such a solid model as a base for so much content and so many extra features because at $3000, anything less would be a huge party foul. For that money, though, we still expected a little more from this TV in contrast and color performance. Smart content is not an excuse to skimp on core performance.
3D
LG's 3D continues to be subtle and high-quality.
We've spent a good amount of energy and eyesight meticulously testing each company's 3D as it's been refined and refurbished. So far LG has proven to be one of the best. LG's passive 3D glasses are minimalist in their set-up, which I personally prefer over an active set that needs to be charged. Active glasses also tend to feel heavy when worn over long periods of time and often aren't included with the purchase of a TV.
The best thing about LG's 3D setup, though, is that it's easy to forget you're watching it. LG's glasses are lightweight and comfortable, and don't dim colors as much as some of those we've tried in the past. More importantly, the crosstalk is very minimal if it's present at all, leaving the brain and eyes to comfortably settle on a tastefully rendered series of 3D images.
For us, the headache effect is entirely absent while viewing 3D content on the LM9600, though we could definitely feel the effects of the differentiated technology.
Conclusion
We had high expectations for the 55LM9600 and it didn't disappoint. The 3D is still as crisp and subtle as it was when we tested the LM6700. Since then, LG has added even more original 3D content to their 3D World content page and included a large number of 3D-ready apps.
While we knew the 3D and internet features would still be as effective and well-implemented as they were earlier in the year, our biggest concern was the set's core performance: how it handles color, screen dynamics, and how it handles black/white contrast. Though it isn't perfect, the LM9600 does alright with color fidelity and has a wider viewing angle and larger maximum contrast ratio than the LM6700—good things, no matter how you slice 'em.
For around $2999, users are getting an awful lot. A load of apps and built-in content, solid color and contrast performance, a sizable 55-inch screen that handles motion with the best of them, and the highly effective Magic Remote to control it all. Also, LG has arguably the best 3D technology on the market.
It'd be hard to go wrong with an investment in the LM9600 based on these reasons, but we're not sure there are enough added or improved features to give it the edge over the LM6700 or the LM7600, which consumers could get for less money. The LM9600 is a great TV overall, but smart buyers might want to wait on a price drop.
Our editors review and recommend products to help you buy the stuff you need. If you make a purchase by clicking one of our links, we may earn a small share of the revenue. Our picks and opinions are independent from any business incentives.