televisions

Since its advent, Ultra High Definition (UHD) resolution has caused a buzz—and how could it not? Offering four times the resolution of 1080p HD, UHD is the next step for TVs in terms of pixel count. Unfortunately, that's where the technological advancement ends for 2013 buyers.
LG's 55LA9700 is the South Korean company's mid-tier UHD TV. Some may balk at its $4,000 price tag, but compared to the 84-inch LM9600 series (MSRP $15,999), it's a bargain. Besides its UHD resolution, the LA9700 features nano LED backlighting and a drop-down sliding speaker that forces a smile to your face every time it activates.
Unfortunately, the LA9700's design and features outshine its basic performance. Resolution aside, this LG's contrast performance is quite poor, and its got some serious picture flaws out of the box. It's also fitted with a standard motion processor, and thus suffers from the same refreshing problems common to LCDs. Once again, we recommend waiting for performance aspects to catch up with resolution enhancements.
Picture Quality
Four times average is still average.
The big deal about UHD is pixel count. More pixels means a higher amount of detail per square inch, a sharper-looking picture, something that's just a little more like real life. Unfortunately, resolution is also the last category within the hierarchy of picture quality, and the LA9700 doesn't perform well outside of that.
The major determinant of picture quality when dealing with video and film is minimum luminance level, or black level. Unfortunately, with or without its local dimming option enabled, the LA9700's black level is largely disappointing—it's simply too "bright" to properly imitate the appearance of actual shadows and darkness. Thus, from a contrast perspective, this LG is entirely average: While bright enough to imitate the searing white of sunlight, the overall appearance of depth and contrast is unimpressive. Extra pixels just don't make up for this shortcoming.
From a color perspective, the LA9700 adheres to standards beside the finest TVs.
From a color production perspective, the LA9700 adheres to international standards beside the finest TVs we've tested this year. Its red, green, blue, cyan, magenta, and yellow are all quite accurate—unfortunately, without a good black backdrop, they can only look so vibrant and rich. Expect a picture that's beautifully colorful and balanced, but does not instill a sense of depth and scope.
Another place where the LA9700 could be improved is in motion performance. It may have four times the pixels of regular HD, but its motion processor is still built with yesterday's technology. It's not bad by any means, but LCDs like the LA9700 have never been great at preserving detail during on-screen motion. LG's TruMotion mode offers a number of settings for improving/tweaking the TV's detail retention, but it can only go so far. Finding the perfect line between blurry scenes and the soap opera effect is tricky, and changes from content to content.
For all of the hard data and scientific details behind our assessment of the LA9700's performance, click here.
Design & Features
A decent build, and one of the coolest gimmicks ever.
The 55LA9700 is a handsome TV. Its rectangular metal stand matches the width of the panel almost exactly, making for a very sturdy product that emphasizes the screen above all else. The stand's hollow design also leaves room for what is probably the coolest design feature we've seen all year: a long speaker that dramatically descends from within a hidden cavity when you turn on the TV.
The hidden speaker doesn't dramatically improve the overall experience.
The first time I powered on the LA9700, I watched the silver speaker bar come sliding out in almost reverent silence, before rushing to alert some co-workers of the "coolest TV thing ever."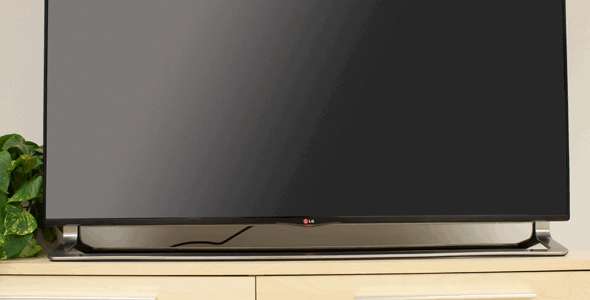 It is, of course, kind of a gimmick: The hidden speaker doesn't dramatically improve the overall experience. That said, it impresses passerby and allows the speakers more room to vibrate, which means slightly better stock audio performance than you'll find on other TVs.
From a usability standpoint, the LA9700s on-set controls and connectivity suite are traditional and well-established. Users will find a healthy port selection: three HDMI and three USB on the left side, and shared component/composite, LAN in, analog and digital audio, and a coaxial jack just behind. Overall, the LA9700 is sleek, trim, and modern-feeling—we've nothing but praise for its design.
Comparable Products
Before you buy the LG 55LA9700, take a look at these other televisions.
Software & Interface
Smart, 3D, and fully loaded
One place where the LA9700 excels—or at least meets expectations—is the extensive options and goodies offered by its software and smart features. This TV features LG's 2013 smart platform, which includes a web browser, plenty of apps, streaming partners, and all the connectivity features a media center would need.
The Magic Remote makes every aspect of the software much easier when compared to a traditional controller.
LG's strong suit is still the Magic Remote, which produces a motion-controlled cursor on screen via infrared signal, exactly like the Nintendo Wii. The Magic Remote makes every aspect of the software—browsing, typing, fiddling with settings—much easier when compared to a traditional controller. LG's menus are even tailored to making this little wand the center of attention, featuring big, oversized buttons that are easy to click on.
Something included here that's not yet standard to HDTVs is full picture calibration control—gamma, a full color management system, two- and 10-point white balance, and customizable motion correction settings for video- and film-based content. These controls were a boon when calibrating the LA9700—unfortunately, their actual impact on the TV's picture was somewhat limited, as you'll see on the science page.
Click here for a video and our full breakdown of LG's 2013 smart platform.
The Finish Line
Not quite good enough
The 55LA9700 is certainly a decent television, but it's not worth $4,000 for two major reasons:
The first reason is pretty much ubiquitous to all UHD TVs from this year: There's just no reliable source for native 4K (3840x2160 resolution) content right now. Sony offers an optional content player for the X900A, but even that is another $700. Meanwhile, Samsung offers no options for its UHD F9000, and LG's in the same boat here. We can produce full-res test patterns, but why should you pay for UHD if you can't fully make use of each individual pixel?
The second reason is one of picture quality: While the LA9700 is outfitted with some terrific software and smart features—and has an awesome hidden speaker—its foundational picture quality just isn't all that impressive. Upscaled HD content suffers, but not because of upscaling: The TV's out-of-the-box calibration is quite poor, and its unimpressive black level robs images of the depth and drama we expect from a display in this price range. This is sub-par performance any way you cut it—and upping the pixel count doesn't come to the rescue. If you're considering the LA9700 in preparation for the UHD future, you're not going to find the kind of performance you deserve for 4,000 big ones.
Our editors review and recommend products to help you buy the stuff you need. If you make a purchase by clicking one of our links, we may earn a small share of the revenue. Our picks and opinions are independent from any business incentives.