televisions
LG 42LB5800 LED TV Review
The battle of the 2014 TVs is in full swing, but this LG isn't in it to win it.
$699.99 MSRP
Buy now at Amazon
42 in.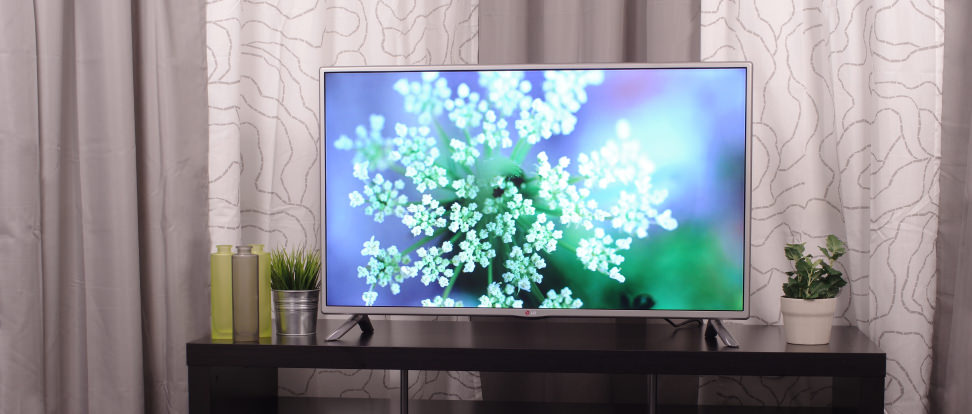 The LG 42LB5800 LED LCD (MSRP $699) is an absolute looker. Its main selling points are certainly its snappy gray design and its healthy batch of streaming apps—and it also ships in a slew of sizes ranging from 32 to 47 inches. Unfortunately, the LB5800's picture quality is another matter.
This year, competition in the TV market is truly hotter than ever. We've tested beautiful plasmas, opulent OLEDs, and dynamite LCD values. At the end of the day, this sharp little entry from LG just doesn't have what it takes to keep up. It might suit nonchalant viewers, but the LB5800 just doesn't meet home-theater standards.
The Looks
A fresh take on TV
This dapper display's cool-gray design is enough to brighten any modern room. The look is refreshingly light and simple, with thin, matte bezels and two Y-shaped feet that hoist the panel up on both ends.
Be sure to take your measurements—the LB5800's wide stance means it may not fit on every table.
On that last note, be sure to take your measurements—the LB5800's wide stance means it may not fit on every table. Everything else is just as it should be: Three HDMI and three USB ports line the television's left side, and an ethernet hook, composite/component port, coaxial jack, and optical digital audio out occupy a square on the same backside.
The traditional remote is responsive enough, though not as textured as one might hope. It doesn't light up, either, so channel changing and menu alterations aren't fun to deal with in the dark. Shortcut buttons for apps, smart home, inputs, and quick menus are helpful additions, at least.
The Experience
No frills, bows, or whistles
As to the LB5800's smart platform, it's nothing like what you'll find on the company's higher-end models.
Expect bare-minimum smart offerings and a difficult remote control.
Although the LB5800 offers lovable staples like Netflix, Amazon, Hulu, and YouTube, the overall functionality just doesn't compare to LG's webOS platform. Expect bare-minimum smart offerings and a basic remote. Internet browsing is just deplorable, and searching titles on Netflix is a complete drag.
At least the menus are great. The layout is simple and easy to read, and navigation is straightforward. Users can play with basics like Brightness, Contrast, and Sharpness, and the Expert Menu has even more muscle: customizable motion sliders, gamma, 2- and 20-point white balance controls, and a full CMS.
Comparable Products
Before you buy the LG 42LB5800, take a look at these other televisions.
The Picture
Black levels that just aren't dressed to impress
I flipped this TV on for the first time and immediately saw a visible problem: This display's black levels are too bright, which makes cinematic content appear more dull and shallow than it ought too. For this reason, shoppers considering this TV should only do so for casual viewing—like daytime talk shows and sports. This TV just won't cut it for movie night.
This display's black levels are too bright, which won't cut it for movie night.
Without compelling shadow tones, low-light details don't pop. Dramatic scenes that should look inky-black appear gray and a bit flat. To make things worse, the black bars that sandwich 16:9 content glow more than they should, which is very distracting when you're watching films in the dark.
The color performance is mostly acceptable, though not without some key issues. For instance, the cyans and greens lack a bit of saturation, while yellow and magenta wander into incorrect hues. The errors aren't severe—many viewers will sit down in front of this TV and never see a problem. Yet side by side with our reference model, the LB5800's issues with green and cyan are certainly visible. If you scoop up this TV, be sure to check out our calibration settings to improve this TV's color performance.
Considering that this LG handles motion rather adeptly (despite its 60Hz panel), and considering its viewing angle is wider than most LCDs we test, the negative results are a real shame. Daytime viewing is one thing, but be sure to consider the competition if you're looking for a movie-night companion.
The Bottom Line
This TV can't handle movie night.
Unless you're just an easygoing daytime viewer, maybe you want a kitchen TV to watch Top Chef on, consider your options before investing in the LG 42LB5800 (MSRP $699). From value, to quality, to design aesthetics, there are other TVs on the market that outdo this series.
This LG just won't do as a home-theater centerpiece.
You could spend $150 more and get the same head-turning design, slightly better performance, and a vastly better smart platform in LG's own LB6300 series, for instance. Or, you could spend a few hundred less for vastly better picture quality with this Vizio E series. Samsung has competition as well, and the online markdowns make it competitive with this LG.
However you cut it, one thing is sure: This LG LB5800 isn't the clear winner of its 2014 class, and it just won't do as a home-theater centerpiece.
Our editors review and recommend products to help you buy the stuff you need. If you make a purchase by clicking one of our links, we may earn a small share of the revenue. Our picks and opinions are independent from any business incentives.