televisions
JVC BlackCrystal JLE47BC3500 LED TV Review
Despite JVC's best efforts, this 2012 LCD asks a little too much and delivers much too little.
$799.00 MSRP
47 in.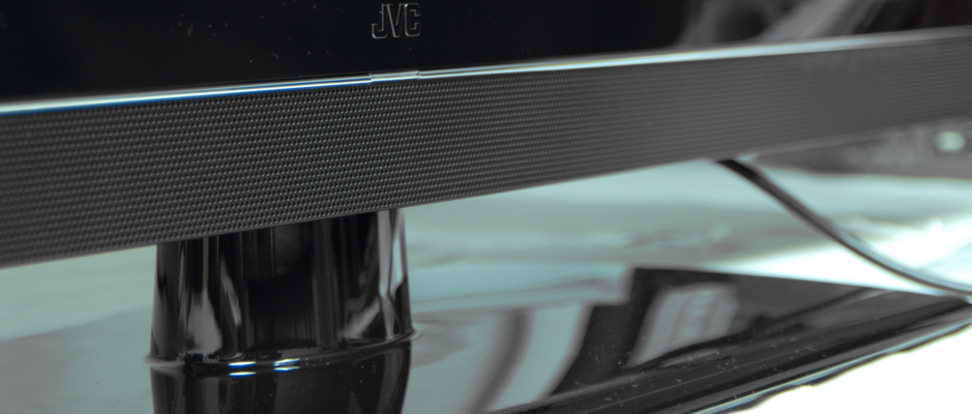 Overview
Victor Company of Japan—better known as JVC—has a long and storied history, spanning almost a century, spawning multiple brand names and varieties of consumer electronics. Our friends at CamcorderInfo.com can attest to the quality of some of JVC's Everio-branded camcorders, but our own history with the company's televisions has been brief. So brief, in fact, that we've only reviewed one other JVC television before this one, and we weren't particularly impressed. Time for Round 2.
The JVC JLE47BC3500 is a 2012 model that retails for $799 (but is almost always on sale at big box retailers). This 47-inch JVC costs $200 less than the previous year's model of the same size, which means that—hopefully—JVC has found a way to decrease its already low prices while maintaining the same apparent quality. Our last JVC television was a no-frills, quality-focused model that tested with strong performance, but we felt it was asking too high a price for a non-smart, non-3D off-brand television. For $200 less, however, the JLE47BC3500 makes the grade.
Put up against the competition, this JVC is a viable option. Its color integrity, motion performance, and viewing angle are actually above average for its asking price. The one big drawback here is that its black levels are approaching more dark gray than true black, which is a big turn-off for many cinephiles. However, it will look just fine in a well-lit room. The JLE47BC3500 is an improvement over its 2011 counterpart for sure, and if you can abide its plain design, poor uniformity, and lack of features, you'll find yourself with a decent TV.
Hardware
Screen? Check. Stand? Check. Yup, it's a TV.
My first impression of this JVC TV is that it's not very impressionable. Not to say it's ugly—it just doesn't stand out from the crowd in any way. The stand and bezel are a cheaply-made black plastic, and the panel itself is of an entirely average thickness. Also, the stand doesn't allow the panel to swivel. The cause for this is usually a standardization of basic parts and design, which is a big part of the TV's modest price tag. The only aesthetic touch is a silver strip running along the front of the TV, above the speakers. However, if you don't want to pay for fancy stands, hyper-thin panels, or other design frills, the JLE47BC3500 is a good choice.
"If you don't want to pay for design frills, the JLE47BC3500 is a good choice."
As far as usability goes, the BC3500 certainly won't stump you. Its ports are located in the usual L-shaped cutout on the back of the TV, just above the on-set controls. Users will find inputs for 2 HDMI cables (one on the side, one on the back), USB A, a shared component/composite input, analog audio out, VGA and PC audio in, and a coaxial jack for a cable or antenna source. There's enough here to cover the basics, at least, but this isn't really a home theater spread. The included remote is barely worth mentioning—it works, case closed.

Performance
For an entry-level HDTV? Not too shabby.
As far as color integrity goes, this JVC is quite capable. Its adherence to color standards is very close to perfect, and the range of colors it comfortably displays is right up there with the big names, like Samsung and LG. There's a standard amount of error we tend to see, and while this JVC isn't free of it, it also doesn't have any glaring problems. We were even able to tweak its average color temperature to within one degree of perfect by using a simple sub-menu.
One thing that might put you off this TV is its contrast ratio, which is below average. The JLE47BC3500 is plenty bright, but its black levels—even at half maximum backlight—are simply not very dark. Contrast is a very subjective phenomena, however, and you're only going to notice graying of blacks when you're watching in a dim or dark room. This TV also has uniformity problems, with edge-LEDs bleeding into the picture along the top of the frame. It's truly ugly, and is a big red mark on this TV's value card.
"If you can get over the shadow and uniformity errors, everything else works great."
If you can get over the shadow and uniformity errors, everything else works great. Of particular note are this model's speakers, which provided much more overall volume than usual. The speakers are given special precedent in design, housed in their own case along the bottom of the TV (instead of hiding inside the bezels). It makes a big difference, even if the actual audio quality is nothing truly special.
Comparable Products
Before you buy the JVC Black Crystal JLE47BC3500, take a look at these other televisions.
Software
This TV meekly boasts a decent menu and simple picture playback.
Within the TV industry as a whole, menu and sub-menu design have been greatly improved upon in the last couple of years—enough that this bargain bin TV's software is actually pretty good by 2011 standards. The menu button brings up a series of the usual sub-menu suspects: Picture, Audio, Input, etc. The menu is easy enough to figure out, responding intuitively to the navigational keys on the remote. There are a couple of advanced picture settings that could benefit from captions, but for most users, this menu is fine—though it doesn't hold a candle to the fancier software of high-end TVs.
"This is about as basic as local media playback gets."
The JLE47BC3500 also allows for picture playback—no video or music files are supported, though. Inserting a USB thumb drive into the JLE47BC3500's one USB input will prompt photo playback, bringing up a root menu allowing for a slideshow or single viewing of stored photos. This is about as basic as local media playback gets, but like almost everything else about this TV's features, it works as it should. The analog audio input on the back makes up for the lack of music playback... and you'll just have to get creative to watch videos, maybe one of those newfangled VCRs. The USB port can also be used to charge USB-powered devices like a Kindle or Samsung Galaxy S2, as long as the TV is powered on.
Final Thoughts
This JVC is a great choice... if you have lax standards for your viewing experience.
Right off the bat, we feel it's necessary to point out that $800 for a 47-inch LCD is pretty fair. You'd pay about the same amount for a 2012 Samsung of the same size. This TV is very basic, but if it's within your budget range, it will get the job done.
From a picture quality standpoint, this isn't the top-tier of tech, but we've seen much worse. This JVC offers the full range of colors, accurately and richly, without any bunk processing or oversharpening. It handles motion fairly well—even better if you use the built-in film mode. If it weren't for some very obvious uniformity problems and its low contrast ratio, the JLE47BC3500 would have very good performance scores.
At the end of the day, though, I can't recommend this TV at its full price. If you could find it at 15% or 25% off of its MSRP, it might be a decent buy, but it simply doesn't have the chops or features to justify $800. It'll look pretty terrible in a dark room unless the backlight is lowered considerably, but if you find it on sale and need a TV for a bright room, it performs admirably, and is nice and loud.
Our editors review and recommend products to help you buy the stuff you need. If you make a purchase by clicking one of our links, we may earn a small share of the revenue. Our picks and opinions are independent from any business incentives.