televisions
Hisense 55K610GW LED TV Review
This TV boasts value, yields defects
$798.00 MSRP
55 in.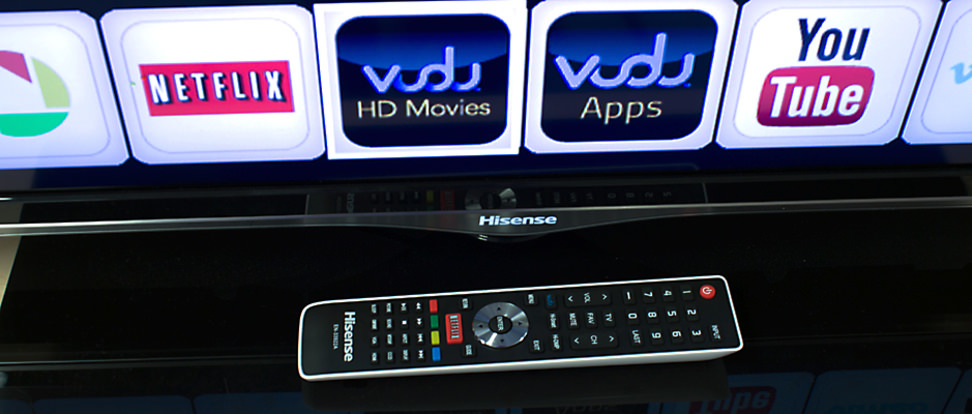 We were expecting to review many Hisense TVs after seeing the company's massive booth at CES 2013, yet the 55K610GW ($798) is only the second TV from the burgeoning Chinese manufacturer we've had in the lab so far.
Yet judging from the 55K610GW's performance, maybe Hisense needs a little more time in the oven to hold up under serious evaluation. Testing revealed truly atrocious picture quality that no amount of calibration could fix, and an impoverished feature set that makes the $800 price tag feel too high for this 55-inch contender.
Picture Quality
How is it that TVs this bad still exist?
On paper, the 55K610GW seems like a solid buy. A 55-inch smart TV for under a grand? Break out the fine china! Yet, unfortunately, that rationale rests upon the assumption that this TV produces at least a pleasing picture. I hate to break it to you, but that is far from the case.
Out of the box, everything is just set up wrong. In Theater mode—the one which should look the best—primary colors are undersaturated and secondary colors are skewed away from the proper tint. The Contrast setting is pushed too high, resulting in massive color temperature errors, and even the Brightness setting is off, revealing below-black details and compromising the integrity of black levels.
What does this mean for the viewer? It means that, pre-calibration, the Hisense 55K610GW just looks awful, and an informed calibration can only do so much to improve things. The TV's attempt to create a wide contrast ratio results in flat-looking colors during any kind of content, and its attempt to be the best and brightest on the showroom floor mean whites and grays are intoned with a blue tint.
Perhaps the biggest problem is this TV's complete lack of controls for Backlight or Gamma, which severely limits any chance of getting even a decent picture. The LEDs that line the perimeter of the TV bleed light when they aren't supposed to, so that a dark screen emits unwanted, blotchy light patches along the borders of the display. At factory settings, this Hisense has some of the worst uniformity issues I've ever seen.
We did test an acceptable contrast ratio, but it doesn't really translate well due to the TV's complete lack of subtlety in its presentation. Yes, it can emit a lot of light, and even produce a decent minimum luminance level, but the inability to transition smoothly and without error through the grayscale means that areas of shadow lack detail, while highlights suffer an ugly, blocky appearance.
Details like wood grain and small text blur without motion assistance.
The 55K610GW boasts a 120Hz panel, and the 120Hz Smooth Effect setting does tend to iron out some blurriness during motion.
Details like lines in faces, hatched brickwork, wood grain, and small text blur out of focus without motion assistance. The 120Hz processor improves blurriness, doesn't help the TV with color trailing or interlacing issues. Basically, the K610GW's LCD panel just refreshes too slowly to eliminate and recreate more complex patterns and brighter colors.
For those reasons, this TV's a bad choice for film- and video-based content, sports, action movies, nature documentaries, video games, even as a stand-in monitor for browsing the web. Only a calibration requiring an access code and secret menus might remedy this TV's errors, and good luck finding someone who knows Hisense's calibrator codes.
Design & Features
Samsung called...
... and it wants this TV design back. I'm not sure what the relationship is between Hisense and the South Korean company, but both of the Hisense TVs I've reviewed featured design elements that are suspiciously familiar. The plastic plate that joins the 55K610GW's panel to its boring, rectangular stand is literally the exact same plate used by every Samsung TV—either that, or it's Samsung doing the stealing. That said, the TV itself looks decent.
Four HDMI inputs mean plenty of flexibility for an entry-level TV.
Edges hued in silver, reminiscent of Apple's brushed aluminum, ring the bezels around the screen. The bezels themselves—black, of course—are neither particularly thick nor particularly thin, but do provide a foil (as a kind of matting) to make non-black elements on screen seem even brighter and more colorful.
From a usability standpoint, the 55K610GW is pretty average. The usual on-set controls line the TV's right side, and are tucked away on the back, within easy reach. Hisense has included ample connectivity options as well, but the choice of placement strikes me as bizarre. A shared component/composite cluster can be found on the TV's left side—why it's not in back like every other model on the market, I do not know. Fortunately, there are four HDMI inputs and two USB inputs, as well as LAN and coax in, and digital audio out. That's plenty of flexibility for an entry-level TV.
The most interesting part of this whole TV package is the included remote—a long, button-filled wand with a black surface wrapped in a rounded, white backing. The contrasting elements create a sharp, but also playful-looking companion to the TV, which just ends up looking sort of dull by comparison.
Comparable Products
Before you buy the Hisense 55K610GW, take a look at these other televisions.
Software & Interface
As a meal, this Hisense is a little low on calories.
The brand-name TV manufacturers shove a lot of content into their smart TVs. While the Hisense 55K610GW is, by literal definition, an internet TV with built-in WiFi, it doesn't boast nearly the spread of options we've seen on other smart TVs this year.
There's no browser, nor any sort of customization or cable integration.
Pressing the Hi-Smart button on the K610GW's remote will bring up a rather paltry selection of apps. There's no browser, no sample media content, nor any sort of customizable pages or cable integration—stuff that's gradually becoming par-for-the-course.
Hisense's biggest app partner is undoubtedly Netflix, but you might also recognize Vudu Movies, Vudu Apps, Picasa, and the ever-present YouTube. "Vudu Apps" is not much of an app store, by the way. We've discussed our disgust with it before—it's very disappointing.
As for the menu interface, it's equally bare bones, though right in line with what we expect from entry-level TVs. Sub-menus for Picture, Audio, and Settings provide a scant approach to customizing your TV's image quality and sound output. The Picture menu is particularly lacking in more advanced calibration controls—something this TV is desperately wanting for.
The Finish Line
Avoid this Noid
The Hisense 55K610GW produces a decidedly sub-standard picture. If you've been shopping around and it seems like a huge value, take it from the experts: It's not. We agree that $800 for a 55-inch LCD seems awesome, especially if you're upgrading from a CRT or something, but there are better options from Vizio, Samsung, and even JVC.
For the same price or just a little more, there are TVs in the same size, with better smart features, and much better picture quality. Hisense is new, so we'll cut some slack, but we can't emphasize enough that this TV is only recommendable in smaller sizes where the glaring picture errors won't be as noticeable—or if you really just don't give a darn about picture quality.
Our editors review and recommend products to help you buy the stuff you need. If you make a purchase by clicking one of our links, we may earn a small share of the revenue. Our picks and opinions are independent from any business incentives.