Philips and Toshiba both have flagship models that offer consumers some great extra features on a budget. The Philips 55PFL5706 (MSRP $1,200) and the Toshiba 47L7200U (MSRP $1,899) have very good pictures and include their respective smart platforms for internet connectivity. Outside of these two features, the PFL5706 and the L7200U have some major differences.

Design
Toshiba has the hands-down better-looking TV in this matchup. They managed to create a stunningly slim television that has almost no bezel. Just so this slender beauty doesn't float away, Toshiba added a rock-solid base that is coated in glass for a perfect finish to this living room centerpiece.
If the Toshiba L7200U plays the part of Beauty, than the Philips PFL5706 is the Beast. This Philips television is thick and made with plenty of plastic. While being made of mostly plastic is not the worst fate, the material used on the PFL5706 feels extremely cheap.
Remotes
Philips packages their flagship TV with a simple remote that has a not-so-simple problem. The infrared signal coming from this good-looking remote is not very strong. What this means for the average consumer is that if the remote is not pointed directly at the IR sensor, located below the panel, then the TV will not pick up the remote's signal. This is one of the more frustrating problems that a TV can have.
Toshiba includes a standard (but oh-so-pretty) remote and a Bluetooth keyboard with the L7200U. The remote is able to light up for easy access in a dark room and also has a dedicated Netflix button for movie fans. The keyboard can be used in conjunction with any of the apps on Toshiba's platform that require typing, like the internet browser or the aforementioned Netflix.

Internet
Toshiba's smart platform, the ePortal, is sleek and… kind of bare. There aren't many apps here, but the ones it does have (an internet browser, Netflix, YouTube, etc.) all benefit from the included keyboard.
Philips has a surprisingly robust smart platform, called Net TV. The Dutch electronics manufacturer partnered with three content providers: CloudTV, vTuner, and VUDU. These three partners provide Net TV with plenty of game, music, and streaming video content. One thing that isn't included on this platform is an internet browser and we also noticed that performance can get sluggish. Still, with so much content offered, this platform is a success.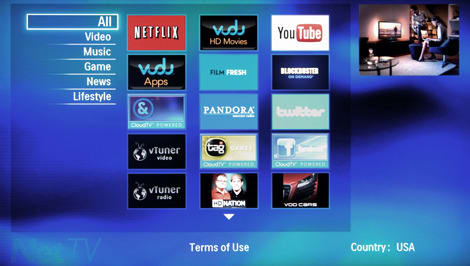 One additional feature that Toshiba offers on the L7200U is 3D. They include four pairs of 3D glasses, which are a bit on the uncomfortable side. Fortunately, the 3D effect is quite good on this TV. Philips, on the other hand, does not offer 3D on their current TVs.
While we enjoyed the additional internet content that Philips offers on the PFL5706, we have to give the edge to the Toshiba L7200U. This TV has an appealing design and the added features of 3D and a keyboard for internet surfing. The Toshiba 47L7200U has an MSRP of $1,899 but can be found online for around $1,000, making it a clear-cut winner.
Winner: Toshiba L7200U
Don't forget to check out our full review of the Philips 55PFL5706 and the Toshiba 47L7200U.
Our editors review and recommend products to help you buy the stuff you need. If you make a purchase by clicking one of our links, we may earn a small share of the revenue. Our picks and opinions are independent from any business incentives.