From America to Japan
In 1968, the global television market was America, and America's TV was RCA. The Radio Corporation of America began in the early 20th century as a joint venture between several American companies with help from the US government. Thanks to lucrative government contracts and an army of engineers, RCA popularized, developed, or produced radios, color TVs, VCRs, satellite broadcasts, and more. RCA's success and power grew as rapidly as the U.S. television market. At this point, almost 96% of U.S. homes had a TV. Other American brands competed strongly, but there was no question of RCA's might.
As many companies do, RCA used its profits to expand, bringing oddly diverse industries under one roof, like frozen foods and rental cars. While it's easy to anthropomorphize and say RCA lost focus, that seems to be exactly what happened. Despite the engineering talent and a trail of patents still important to this day, RCA lost its way. By the mid 80's, the conglomerate was gone. Carrion left to the all-too-hungry corporate vultures. French company Thomson bought the rights to make TVs under the RCA's name, something it sold off less than 15 years later.


But in 1968, all of that was the future. Few likely saw much threat from the upstart Japanese electronics companies, who had only started selling TVs in America a few years earlier. "No wonder this circuit failed; it says 'Made in Japan'," said a 1955 Doc Brown in Back to the Future III. During a time where nearly everything was made proudly in America, it was going to be an uphill struggle for any offshore company.
Identifying the specific causes of success is fodder for business schools and Tony Robbins seminars, but it's clear the pieces were in place for Sony's success. By 1968, Japan's economy was exploding thanks to the post-war boom eventually known as the Economic Miracle. On one side, the powerful Ministry of International Trade and Industry was able to set up economic and trade conditions conducive for Japanese companies to compete on a foreign stage. While a strong driver, MITI could only do so much. The rest was left up to the keiretsu.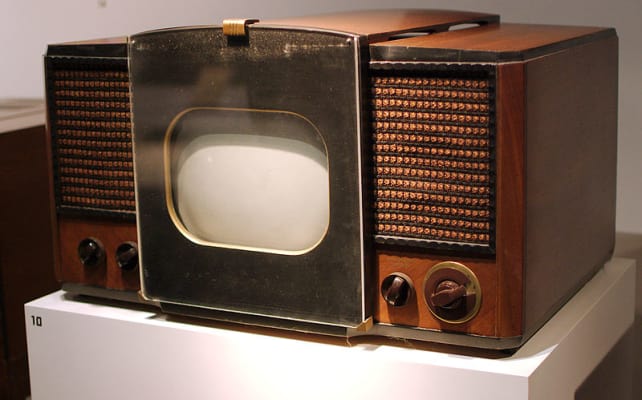 Keiretsu are groups of companies, in different industries, with strong cross-linked ties. They're like a large, but close-knit, extended family. For example, a furniture manufacturer might have partial ownership in a logging company, while both are partially owned by a bank, and all three partially own a collection of retail furniture stores. By sharing common goals, companies in a keiretsu are motivated to work more efficiently together, for the greater profit of all. By having multiple levels of business able to swiftly and efficiently work together, while having access to extensive credit, keiretsu-bound companies flourished at home and overseas.
But while economic and political situations played a huge part in setting the stage, it's important not to underestimate the value of a killer product. In 1968, Sony had that with the Trinitron.


Color television had been in development for decades. Some aspects had been just beyond the reach of the technology at the time. The problem had two sides, familiar to anyone who followed the development of HDTV: the display, and the content. RCA, thanks to its manufacturing might and ownership of NBC, was instrumental in getting both sides to work.
The main issue with early color televisions was one of brightness. After years of development, Sony introduced a different method for creating a color image, one that was brighter and visibly better.
Suddenly, Sony went from funky foreign company that made trick transistor radios to serious contender at the consumer electronics table. The Trinitron was, in many ways and to many eyes, a superior product. Screen sizes, which started small even by the standards of the day, grew rapidly. And Sony was just getting started. While eventually a failure, Betamax was a revelation to a world accustomed to watching TV only on the broadcaster's schedule. Then, just a few years later, Sony secured its iconic status with the Walkman.
Sony entered the 90s not just as a successful electronics company, but as the electronics company. In a little over twenty years, the Sony had gone from upstart in the U.S. market to the most important consumer electronics company on the world stage. Brand recognition that rivaled Coke, sales in the billions, and diversified holdings: In 1987 Sony purchased CBS Record Group, and in 1989, Columbia Pictures Entertainment.
Just like it's impossible to accurately attribute success, it's hard to nail down failure. Countless articles and theories have been written about why Sony stagnated in the late 90's—leading to billion-dollar-loss stumbles in the 00's and 10's—but the only important fact is that the company was on the wrong side of the two most important developments in consumer electronics since Sony itself launched the Walkman: Digital portable electronics, and flat panel TVs.
"There's no question that the iPod was a wakeup call for Sony. And the answer is that Steve Jobs was smarter at software than we are," Sir Howard Stringer said in an interview in 2006. Sony's first MP3 players were crippled by clunky software, mediocre hardware design, and a consumer-unfriendly requirement for the ATRAC audio codec (as opposed to the more common MP3). It was a miss so wide that a company with no success and little experience in the portable market pounced, and Apple has dominated ever since.
The bigger issue, though, was that throughout the 90s and into the 00's, many companies invested heavily in infrastructure and manufacturing. Sharp and Panasonic, for example, built giant factories that would eventually allow them to scale up and build substantial amounts of flat panel TVs of all sizes.
Sony had little, if any, such investment. With no ability to take a leadership role on the next generation of televisions, and no plan to lead on the revolution taking place on the portable front, Sony invited its own downfall.
In reality, it was already too late. Waiting in the wings, a new power rising.
* "RCA 630-TS Television" 2012, Fletcher, used under a Creative Commons Attribution-ShareAlike license: http://creativecommons.org/licenses/by-sa/3.0/
Page 2 of 6...
Our editors review and recommend products to help you buy the stuff you need. If you make a purchase by clicking one of our links, we may earn a small share of the revenue. Our picks and opinions are independent from any business incentives.
Sections