Introduction
Coming this Spring, Sony's new Ultra High Definition (UHD) line, the X900A series, will be available for consumer purchase. While no price data is yet available, you can wager that the massive 84-inch variety will run anywhere between ten and twenty-thousand dollars. In an attempt to appeal to early adopters, Sony recently introduced 55 and 65-inch versions of the X900A series. This afternoon, we went hands-on (as much as possible) with the 65-inch X900A 4K Ultra HD TV.
The X900A series only has a couple of features that help it stand. One of the new design directions involves bezel-embedded speakers, stacked vertically along the sides of the display panel, to provide a more rich, fleshed-out audio experience. The other is Sony's pre-packaged native 4K content—a sub-par answer to the market-wide lack of 4K content.
Design
Sony wants "4K" quality sound to match the high-density pixels on screen.
Sony's UHD models are following the same trend that TVs have followed since the late 90s—if it's thinner, larger, and glossier, it's probably better. There don't appear to be too many design changes coming to the X900A series beyond their current iteration on the CES show floor—rounded stand, glossy black finish, thin bezels, and side-mounted speakers all make an appearance.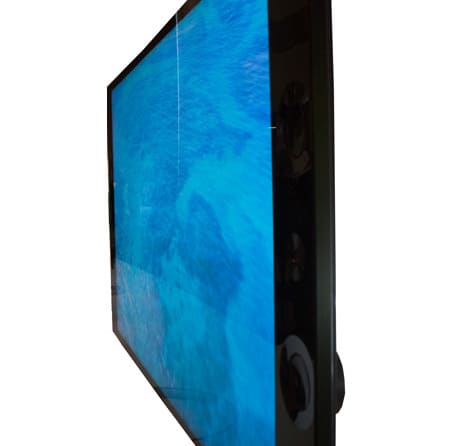 I actually got the chance to listen to the side-mounted speakers for a while at Sony's show floor, and they really didn't sound half bad: over the murmuring crowd and incessant dance-pop that filled the majority of the aural space, the X900A's lilting classical guitar music was still crisp and audible. We're always glad to see improvements to audio quality alongside jumps in display prowess, so props to Sony for the idea—it's at least one thing that sets this UHD TVs apart from all the rest.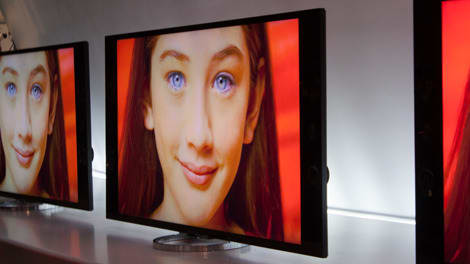 The circular metal stands, however, are neither new nor exciting; it's the same stand used by Sony's high-end displays from 2012. As for ports and connectivity options, we can only speculate at this point, as casing and design elements will likely change or improve before the series hits the market this spring.
Smart TV Features
As for smart content, the Sony Entertainment Network remains the same.
Sony hasn't shown off much in the way of smart platform improvements; each of the X900A 4K TVs will be Wi-Fi ready, of course, but as of right now, consumers can expect about the same quantity and quality of content that Sony's 2012 smart platform offered.
On the bright side, one really cool feature that the X900A series will boast is the ability to initiate "Screen Mirroring." Screen Mirroring is achieved via NFC (Near Field Communication), which is built into the remote that ships with the X900A series. While we didn't get a chance to play around with the remote, the Screen Mirroring feature looks to be its biggest improvement so far. With Screen Mirroring, users can allegedly transfer a movie or TV show file from their smart phone or tablet almost instantly to their TV screen.
Picture Quality
We can only assume the best for picture quality—it's Ultra HD, after all
While we can only speculate as to the actual picture quality of specific UHD models, the nature of the technology itself—a pixel density roughly four times that of 1080p HD—demands that we concede that any picture will likely impress. 4K is the buzzword for TVs this year, and Sony is right on the bandwagon with everyone else.
The X900A series looks good, there's no question about that. 4K's rec. 2020 color gamut pushes the boundaries of traditional HD to more vivid, oversaturated places, resulting in a color palette that pops without losing detail in mid or shadow-tones. In a nutshell, that's what's most attractive about 4K displays, and that's what Sony's X900A series delivers.
If you want a UHD TV for the resolution prowess only, Sony's line-up is as viable (and expensive) an option as any other.
Conclusion
Sony's X900A 4K TV series will be available this spring.
UHD TVs are impractical—we've been saying as much since before CES started. There's not going to be industry-wide support of native 4K content for at least a year or so. The visual aesthetic appeal of such a high resolution is clear to anyone who looks at a 4K TV—regardless of which company has manufactured it.
While no prices have been announced yet, we're certain that—barring any industry surprises—4K displays will be rooted firmly within the consumer base of "early adopters" for the majority of 2013. Sony's One-Touch NFC tech is product-wide this year, making its UHD TVs a little more appealing, but only if you're a Sony Electronics fanatic who wants a fully connected suite of devices. The pre-packaged 4K movies are a nice touch, but not such that the ball is entirely in Sony's court.
We can't make any definite calls about the X900A series yet, but we hope to get a more detailed look under the hood when Sony's 2013 line-up hits the market this spring.
Our editors review and recommend products to help you buy the stuff you need. If you make a purchase by clicking one of our links, we may earn a small share of the revenue. Our picks and opinions are independent from any business incentives.