televisions
Sharp LC-43UB30U 4K LED TV Review
Sharp's UB30 series definitely delivers some value, but not the year's best.
4K TVs are more affordable than ever: Sharp's UB30 series—the company's entry-level 4K lineup for 2015—is proof. Starting at less than $1,000, the Sharp LC-43UB30U (MSRP $799, online for $599) may be the smallest size in that series, but it still delivers big value.
Underneath the cost-cutting design and dressed-down smart features, the 43-inch UB30 delivers blazing bright highlights, accurate colors, and satisfactory motion performance. It also upscales sub-4K content well, giving you good picture quality even when watching 1080p (Full HD) content.
It's not without drawbacks, however—namely, the TV's black levels could be better. They aren't terrible, but this TV's shadow performance may not satisfy viewers in dedicated theater environments. It simply can't compete with the performance you'll find on models with full-array backlights. But still, for $599 online, it's hard to complain.
Series Information
Sharp's UB30 series comes in four screen sizes
The Sharp UB30 4K TV lineup (2015) is available in four sizes:
43 inches (model: LC-43UB30U, MSRP: $799)
50 inches (model: LC-50UB30U, MSRP: $999)
55 inches (model: LC-55UB30U, MSRP: $1,299)
65 inches (model: LC-65UB30U, MSRP: $2,399)
Smart features, connectivity, and design are identical between the four different models. Our test unit, the 43-inch UB30, was received brand-new on loan from Sharp. It was given a 12-16 hour break-in period prior to review and evaluation.
Design & Hardware
Won't raise complaints, won't turn heads
When it comes to design, the LC-43UB30U doesn't break the mold. Narrow black bezels emphasize the screen, but otherwise there are few design frills. The panel perches upon two curved, wide-set feet, and sits quite low to the tabletop—a familiar Sharp design element. Sharp's logo graces the lower bezel, flanked by the TV's IR sensor and power indicator light.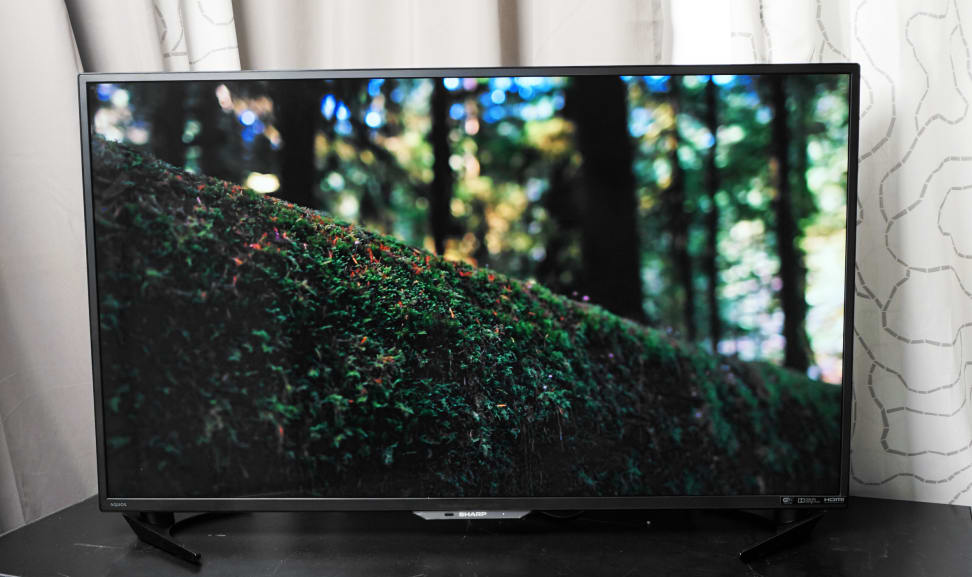 The 43-inch UB30U is very light at just 22 lbs., making it easy to assemble and move around. You'll find the panel is very thin at the edges, too, giving this TV a decidedly modern look. A/V ports, which you'll find on the back of the TV, include four HDMI inputs; two USB inputs; shared component/composite hookups; digital audio out; a headphone jack; RCA (dual analog) audio outputs; and an ethernet (LAN) input for internet connectivity. The TV also has built-in WiFi.
From a hardware perspective, the UB30 isn't lacking, but the remote is a different story. Included with the TV is one of the lightest, smallest, and cheapest-feeling remotes I've seen. The remote is extremely thin—about half an inch at its thickest—and features an interesting array of hybrid buttons and a big, dedicated Netflix launcher. It's visually interesting (as TV remotes go), but the button travel and overall low weight feel extremely cheap. Some users may love how small and nimble it feels, but if you're at all picky about your clickers, you may want to pick up a good third-party option.
Software & Smart Features
You can stream 4K—everything else is just icing.
If you're going to buy a 4K TV, a smart TV—one that connects to the internet—is the way to go. Built-in 4K-compatible apps like Netflix are one of the easiest ways to stream 4K content reliably. This is a gold star for the UB30U: It means once you're online, you can hop right into Netflix and watch some 4K content (provided you're paying the $12 monthly fee to access it). On the downside, it's missing Amazon Instant and UltraFlix, so 4K content is quite limited.
The LC-43UB30U's other smart features don't earn as much spotlight as its 4K-capable apps, but all in all it's a useful package. Like most modern smart TVs, pressing the "Smart Central" button on the remote launches a string of favorited (or previously used) apps horizontally along the bottom of the screen, emphasizing content visibility.
The UB30U also features a web browser and cable integration function. Using the browser can be dicy, mostly due to the unfortunate fact that the TV responds sluggishly to remote inputs. Setting up cable programming is quite easy, however. Simply plug in your zip code and select your cable provider from the list, and after a few moments the TV will load up a live list of available programming. Nice and simple.
Sharp's "Smart Central" platform is mostly on equal footing with other providers, but it's still lacking a little polish. Apps and web pages load quickly enough, but navigation feels ham-fisted at times, and some of the interface options (like setting up your internet connection) are trickier to execute by comparison. This feeling carries over into the menu interface.
From audio, to picture, to system options, the UB30U isn't missing anything. You'll still find a good array of pre-sets modes optimized for various use cases, and invested picture purists will enjoy the TV's 2- and 10-point white balance controls. Unfortunately, the TV's Color Management System (CMS) is a little broken. Adjustments made to red, in particular, don't seem to actually do anything. For more on this issue, and to see our calibration recommendations, check out the Science Page.
Picture Quality & Viewing
Good enough that you'll wish the screen was bigger
From a pure performance standpoint, the 43-inch UB30U checks off a lot of the right boxes. Testing (and viewing) revealed numerous strengths, including terrific peak brightness, accurate colors, and decent motion performance (with a bit of tinkering).
But the first thing to consider is whether it's worthwhile to pay for 4K in this size. You can easily appreciate the increased resolution in a 43-inch TV (especially while watching actual 4K content, not upscaling), but you have to sit quite close. If you sit more than four or five feet away, don't expect to be blown away by the added detail—the screen just isn't big enough. Note that this doesn't necessarily apply to the larger sizes in this series.
Additionally, there are a couple of drawbacks to consider. For one, the TV's viewing angle is not the widest. If you're watching with some friends on the couch, people on the far ends aren't going to have the best time of it. You can expect picture quality to dip some if you watch from more than 3.5 feet to either side while 10 feet away from the screen. You could back up further to get more space, but at more than 10 feet out you're going to have trouble appreciating the 4K resolution you paid for.
Assuming you're in the right seat, the motion performance here is palatable, but picky viewers may still take issue. Because the UB30 uses a 60 Hz panel, fast-action content can exhibit blurring. Sharp includes motion compensation software (and a telecine/film mode) to aid with the TV's performance, but they don't always play nice with the "Revelation" upscaling engine. In this screen size, smaller motion artifacts don't stand out much, but the AquoMotion smoothing setting will still require tinkering.
Speaking of upscaling, Sharp has clearly done its homework. Blu-rays or Full HD streaming both look quite good, especially if you sit close enough to really soak in the details. You'll still want to scale down any post-processing effects (such as dynamic contrast, or added sharpness) to get the cleanest picture, and of course don't expect 100% satisfaction from low-rez content like 720p news or DVDs.
Most edge-lit TVs struggle a bit with backlight uniformity, often showing ugly light bleed at the edges of the screen when they're dark but the middle is bright. The UB30's full-array backlight helps it deftly avoids that problem, but also in a somewhat undesirable fashion: Its backlight uniformity is good because it fosters fairly bright shadows across the entire screen.
The Verdict
A valuable buy, but ultimately outperformed by its competitors.
Taken as a standalone product, the 43-inch UB30 earns some praise. It's bright, capable of accurate color production, and does a good job upscaling sub-4K content.
On one hand, pricing a 43-inch 4K TV for just $599 (online) is definitely some kind of steal. On the other, the staunchest bargain hunters may want to consider other options.
A 43-inch 4K TV for $599 is definitely some kind of steal.
Tweet It
For example, Vizio's 2015 M Series may not be the absolute best 4K TV on the market, but in terms of price-to-performance, it does outperform the entry-level UB30 lineup.
Note that one size in this series, the 65-inch, utilizes a full-array backlight like Vizio's M Series, and thus may be an exception. Considering that backlight schema is probably the M Series' biggest strength, the 65-inch option may be in a different class than the smaller, edge-lit UB30 models.
If you're looking for something smaller than 65 inches, however, you're probably better off with the M Series. Considering you can find the 43-inch M Series for the same price as this Sharp, it's hard to outright recommend the latter—but it's also commendable enough that we'd never call it a bad value.
Our editors review and recommend products to help you buy the stuff you need. If you make a purchase by clicking one of our links, we may earn a small share of the revenue. Our picks and opinions are independent from any business incentives.
Our editors review and recommend products to help you buy the stuff you need. If you make a purchase by clicking one of our links, we may earn a small share of the revenue. Our picks and opinions are independent from any business incentives.
Advertisement - Continue Reading Below
Compare Prices
Our editors review and recommend products to help you buy the stuff you need. If you make a purchase by clicking one of our links, we may earn a small share of the revenue. Our picks and opinions are independent from any business incentives.
Advertisement - Continue Reading Below
Advertisement - Continue Reading Below
Advertisement - Continue Reading Below
Advertisement - Continue Reading Below
Advertisement - Continue Reading Below
Get Our Newsletter
Real advice from real experts. Sign up for our newsletter
Thanks for signing up!