This morning, Sharp announced a new 4K TV series that will hit shelves this September: the UD27. The new televisions should shake things up a bit value-wise, shipping in 60- and 70-inch sizes for $2,999 and $4,499, respectively.
Moments after the company's big announcement, I found myself out on the CE Week show floor, face-to-face with the Sharp 70UD27 in its natural habitat: playing native 4K content for gawking onlookers.
The 70UD27 is a direct descendent to Sharp's 70UD1 from last year, and boasts improvements in a few areas: more color, better contrast, a brand new design, and full support for HEVC and HDCP 2.2 with four HDMI 2.0 inputs.
The Look
Scandalously skimpy bezels
The 70UD27 boasts a completely new design compared to Sharp's other 4K options. The most striking new design move is the bezel width: It's barely there. The bezels are just a quarter-of-an-inch thick, a flourish that really shoves all of the emphasis onto the giant screen itself.
You can wall mount the 70UD27, or set it up on its stand: two silver feet that curve inward, holding the panel close to the tabletop. Silver wraps the perimeter of the panel, capturing a sturdy overall look and contrasting nicely with the screen's black bezels. While the UD27 on display was a beta version, we expect plenty of video connections eventually—including four, 4K-ready HDMI 2.0 ports.
The Picture
Sharp joins the local-dimming, boosted-color party
The 70UD27 on display during CE Week was only an engineering prototype—one awaiting THX certification—but it had no trouble holding a crowd's attention. The panel wields a 120Hz refresh rate with Sharp's 480Hz imitation software and backlight scanning. And unlike the company's Q+ models from this year, the 70UD27 uses a traditional RGB panel, so there's no fourth, yellow sub-pixel.
The most important new feature for picture quality, however, is probably Aquodimming, Sharp's new software-level local dimming.
Aquodimming
Local dimming is a popular feature on modern LED televisions that helps enhance and push the boundaries of contrast, making bright picture elements brighter and dark picture elements darker (supposedly without any detail loss).
Notably, the 70UD27 is an edge-lit LED TV, so its dimming is unlikely to match what we've seen on models with full-array local dimming. Still, despite a little blooming in the corners, the overall effect of the 70UD27's dimming feature seemed quite commendable. A shot of a dark cityscape, replete with twinkling lights, looked excellent for the most part. The UD27's LEDs line the top and the bottom of the screen, but lights appeared equally bright from corner to corner, creating a dazzling appearance. Sharp explained that Aquodimming works as an algorithm on a pixel-to-pixel basis—and I suppose it didn't hurt that the TV displayed native 4K content sourced from a Redray player.
Spectros
The other big boost on the picture side is Sharp's Spectros color display. The 70UD27 apparently supports reds and greens that are 21% more saturated than last year's 70UD1—that's 121% of the Rec. 709 color standard, and 96% of the DCI (digital cinema) color standard.
I watched a good bit of a side-by-side demo showcasing the enhanced colors. While the deeper, richer reds and greens certainly mesmerized, there were times when the intense red bordered on garish. Casual viewers are likely to gush over these vibrant colors, but purists should note that the additional color space cannot be disabled—like many 4K TVs, the added color is here to stay. Of course, a bit of informed calibration can go a long way, but until we test this series we can't say for sure.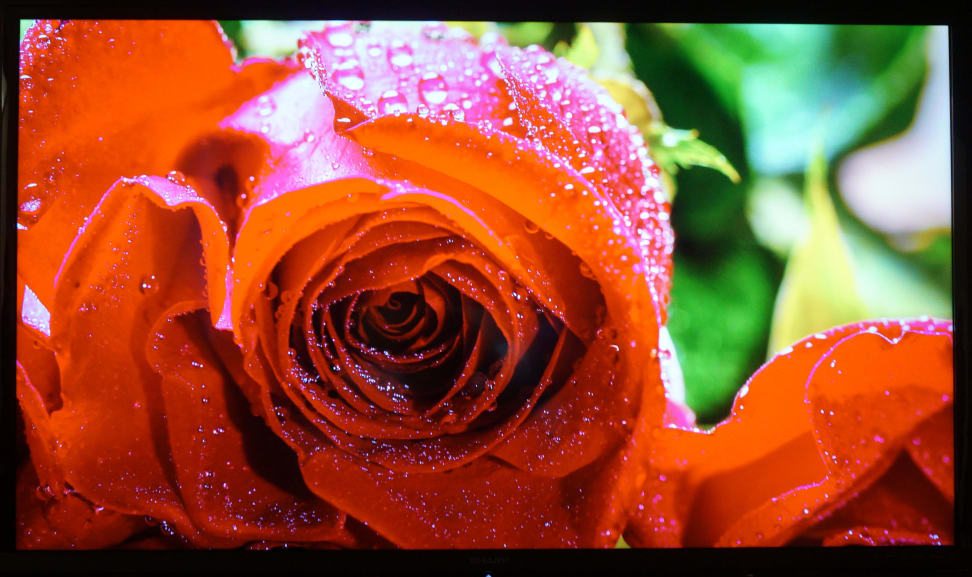 The Verdict
Sharp's newest 4K contender is one to keep an eye on.
With the 70UD27, Sharp makes a bold statement: We can make good 4K, and we can make it for less. A handsome new design and a batch of picture-enhancing features promise next-gen quality on a number of levels, though (as always) we have our qualms about the efficacy of any edge-lit LCD TV attempting well-implemented local dimming.
Where the UD27 really stands out is in the value category. With Aquodimming and 21% more color to boot, the UD27 promises picture quality that's at least comparable to other 4K TVs on the market. For example, Samsung's HU9000 is also an edge-lit LCD with local dimming and expanded color—but it's smaller and $1,500 more expensive.
If Sharp can deliver truly well-engineered local dimming and impressive color performance for less, then consumers are really in for a treat. As always, we'll have to wait until we get the 70UD27 (MSRP $4,499) into the lab to know for sure.
Our editors review and recommend products to help you buy the stuff you need. If you make a purchase by clicking one of our links, we may earn a small share of the revenue. Our picks and opinions are independent from any business incentives.