Last year, Samsung debuted a bunch of big, colorful 4K TVs under the "SUHD" moniker, a term that helped to designate these TVs as the company's créme de la créme products for 2016.
This year, that moniker is "QLED," and it highlights one improvement in particular: quantum dots.
During CES, Samsung has been touting the advantages of its new research and development in the field of quantum dots: microscopic nano-crystals that wield image and picture quality breakthroughs in everything from medical monitors, to smartphones, and—of course—the best 4K/UHD TVs.
Nowhere are these dynamic dots so healthily on display than in Samsung's new flagship series, the Q9. The "QLED" lineup also includes the Q8 and Q7 series, but the top-of-the-line Q9 Series is the new gold standard in LED TVs.
I went eyes-on with the Q9 during Samsung's First Look Event ahead of CES 2017 here in Las Vegas, and got some time on the show floor with it as well.
While the Q9 will probably be more expensive than 99% of people would want to pay (pricing hasn't been announced yet), there's no denying it's a breathtaking thing to behold, and Samsung's breakthrough in quantum dots is worthy of applause.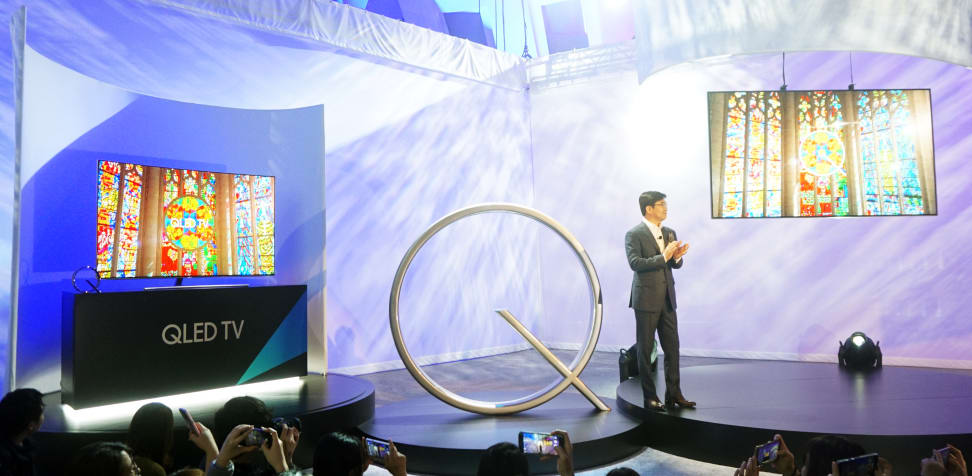 The Q9 checks off all the boxes of a Samsung flagship in 2017: It's a High Dynamic Range (HDR10) compatible TV, wields a VA (vertical alignment) panel with a full-array local dimming backlight, has a 120 Hz refresh rate, and utilizes both the new Smart Hub platform and the new One Connect box with an improved cable system—the works.
The improvement made possible by the new quantum dots (and it's only a claim until we get the Q9 into the lab for testing) improve the TV's overall picture quality, but is especially useful for the continued propagation and development of the High Dynamic Range format, which specifically takes advantage of improved color volume and higher brightness.
Right now, Samsung is claiming expected peak luminance levels of 1,500 to 2,000 "nits," or candelas per square meter. Last year's flagship claimed 1,000 nits, but in reality specular highlights peaked into the 1,300–1,400 range.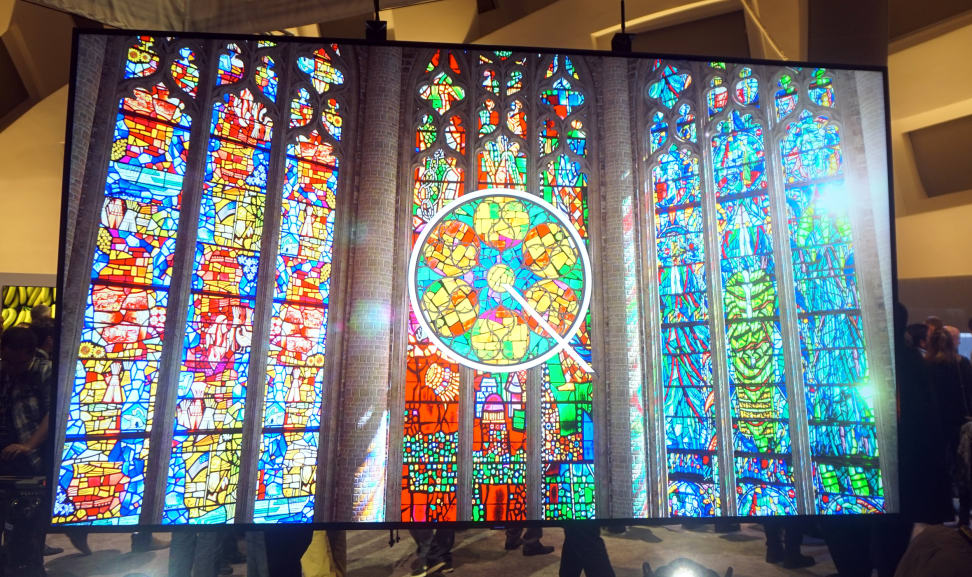 However, recent improvements in the understanding of "peak brightness" measurements and frame-by-frame HDR metadata analysis have yielded proof that a singular number measurement just doesn't cut it. Let's be clear: "contrast ratio" has been out the window for a long time, and even claims of "800 nits" or "1,000 nits" are pretty dubious when you compare standard test patterns to what actual content looks and behaves like.
All this to say, I fully expect the Q9 to hit Samsung's 1,500-2,000 nit claim. And this doesn't mean you'll need to wear sunglasses or watch in bright rooms. It means the TV has light and energy to spare within the current HDR content ecosystem, and that's a good thing.
What's perhaps even more exciting—not just for we viewers at home, but for cinematographers and studio colorists, too—is that the Q9 may be the first consumer flat-panel TV yet to claim 100% DCI-P3 coverage. The best HDR TVs will hit at least 90%, ideally 94-95%, but 100% is a new and bold metric for Samsung to claim.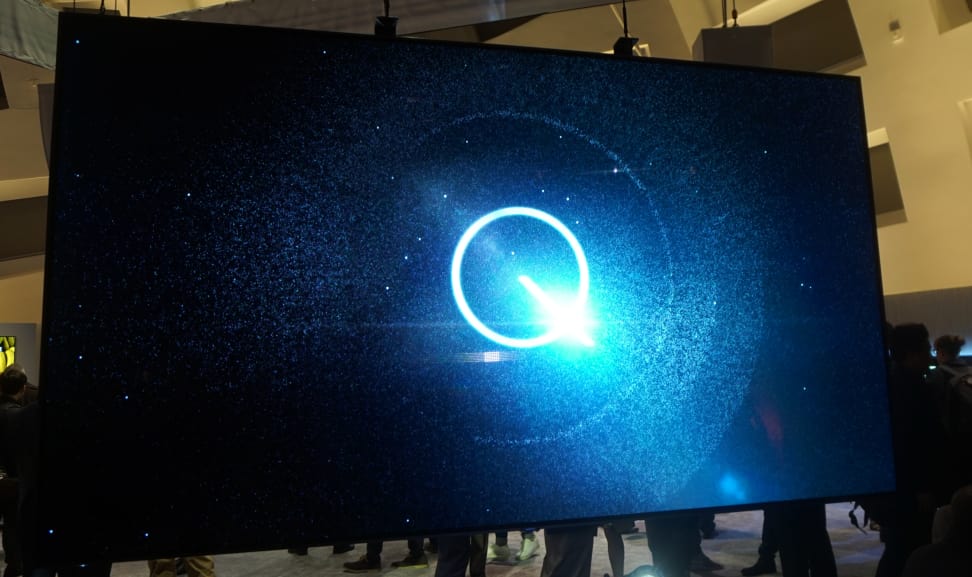 The DCI-P3 color space is the current color representation target, not just for TV manufacturers, but for the open HDR10 standard and most High Dynamic Range mastering being done right now (Dolby Vision notwithstanding). The ability to represent a full 100% of the DCI-P3 color volume/space means the Q9 won't need to "downsample" HDR content mastered for 100% DCI-P3 coverage, allowing a director's vision to fully come to life.
Samsung's new quantum dots—which handle blue light just as well as red and green—are definitely worth being excited about, even if only abstractly for now.
I'm certain the Q9 is worthy of many other accolades. Its design is sleek and beautiful, and its focus on consumer pain points is being shouted about, even if it also remains unproven. But the real winner here are the tiny little dots, and what they promise—not just for Samsung's mighty new flagship TV, but for the digital display industry as a whole.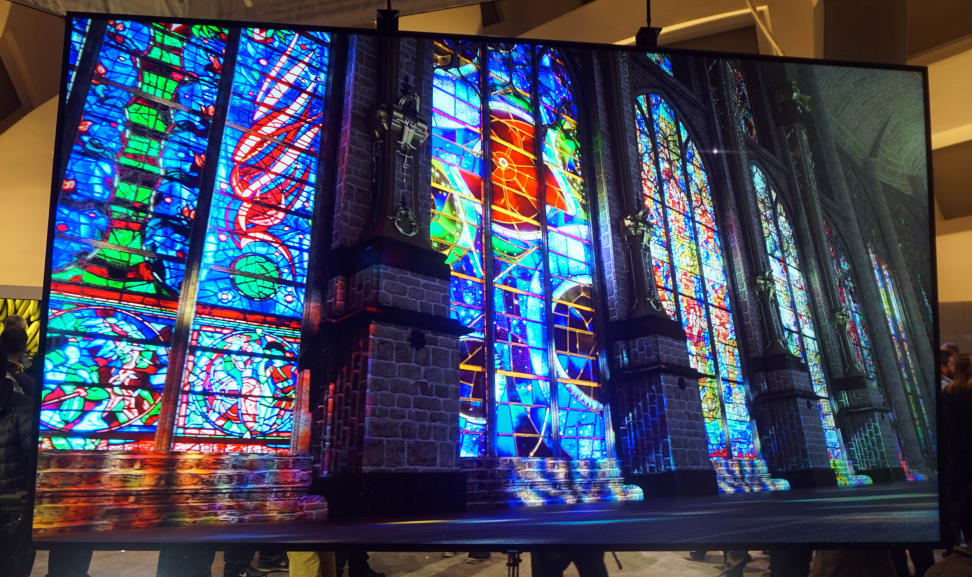 Our editors review and recommend products to help you buy the stuff you need. If you make a purchase by clicking one of our links, we may earn a small share of the revenue. Our picks and opinions are independent from any business incentives.