The way we interact with video content is rapidly evolving, and one company on the frontier is Royole, best known for the production of extremely thin and flexible full-color displays for home lighting, keyboards, and cellphones.
At this year's CES, the company is exhibiting the Royole-X, a "personal theater" to experience movies, photos, music, and more—with maximum immersion and privacy.
Design & Features
The device combines a pair of noise-canceling (22 dB) over-ear headphones with a video visor. The video monitor boasts a contrast ratio of 10,000:1, pixel density of 3300 ppi, refresh rate of up to 120 fps, and a wide color gamut (WCG). Plus, there's a -5.0 to +2.0 diopter adjustment wheel, so you won't have to wear your glasses or contacts.
This is the world's first foldable mobile theater, meaning the headphones can collapse into the video visor. The whole package isn't especially heavy, and battery life ranges from 5 to 7 hours, making it binge-ready.
Data can be stored on either a 16 GB drive that comes with the unit, or on your mobile devices, which connects to the mobile theater wirelessly. HDMI and micro-USB connections are also available.
Comfort & Usability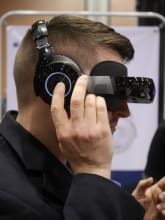 The Royole-X's ingenious design disperses the weight of the visor, which would normally be resting uncomfortably on your nose, through headphone band and across the top of your head. The additional weight is barely noticeable.
Both the visor and headphones have thick, comfortable pads that block out ambient light and noise entirely. It makes for an immersive and distraction-free viewing experience, perfect for airplanes or when your roommate starts watching that show you can't stand. Just be careful using the Royole-X on, say, public transportation: The "private theater" illusion is so complete, you might miss your stop.
The Royole-X is available now for $699. While the price is a little high, especially in light of recent announcements from Oculus, the private theater experience works as advertised, and who could put a price on such a complete portable escape?
Related Video
Our editors review and recommend products to help you buy the stuff you need. If you make a purchase by clicking one of our links, we may earn a small share of the revenue. Our picks and opinions are independent from any business incentives.