If you really care about picture quality, it's easy to go overboard when shopping for a new TV. And that's before you even start to consider the latest innovations, like 4K, curved screens, and advanced smart features.
LG makes it even more tempting to go way, way overboard than most brands. Why? Because the company almost completely owns TV's hottest technology: OLED. But even the company's more mundane, affordable LED sets tend to provide excellent value and a great viewing experience.
We've put dozens of LG TVs through the wringer in our state-of-the-art labs, and these five rose to the top. If you're a true videophile and want to know more about a specific model, just click through to our full review to learn more.
Updated January 11, 2018
Advertisement - Continue Reading Below
The dream of a cheap OLED may have to wait until next year, but one look at the C7 is all it takes to fall head-over-heels in love.. All in all, the rich, accurate color; perfect black levels; wide viewing; and generally smooth, acceptable motion settings combine to make for a picture that is truly breathtaking. Like top-notch HDR, OLED is one of those TV experiences you kind of have to see to believe.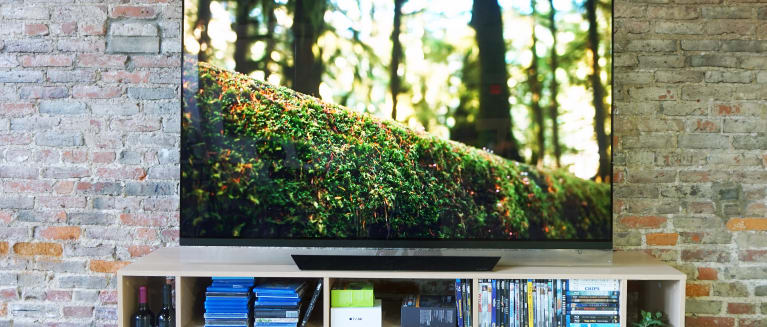 2
Features like a remote with voice-search and Alexa compatibility are welcome additions, but they also aren't hugely compelling reasons for 2017 buyers to upgrade to a 2018 model. However, if you've been waiting to buy an OLED, take it from the already psyched 2017 owners: if all that can be improved right now is processors and software, it's a safe bet you're still buying some of the best picture quality around.
Where To Buy
$3,999.99
Best Buy
Buy
$3,996.99
Walmart
Buy
3
Despite being entry-level OLEDs, both the 55- and 65-inch models in LG's B7 Series are phenomenal. These 4K OLEDs perform at the highest level, delivering the perfect black levels and rich colors we've come to expect from OLED TVs. All told, the B7 Series makes perfect sense for people who've been hunting for a great HDR OLED but who'd like to spend as little as possible to land one.
Where To Buy
Click for price
Amazon
Buy
$1,499.99
Best Buy
Buy
$1,496.99
Walmart
Buy
4
In a nutshell, we can't realistically recommend LG's W7 OLED to most people. Why? Because we already know LG's other 2017 OLEDs—the G7, E7, C7, and B7—are likely to be nearly as good and cost significantly less. So for 99.9% of people, just wait and pick up one of those.
Where To Buy
$6,999.99
Best Buy
Buy
$7,999.95
Walmart
Buy
$6,999.99
Crutchfield
Buy
Advertisement - Continue Reading Below