Vizio's new, 2016 D-Series TVs are available in a whopping 25 sizes at least. Most TV "series" have only 4 or 5 TVs to choose from in different screen sizes, and even then they almost always share specs like resolution (pixel count) and smart features. Not so with the D Series! Some of them are smart and some of them aren't; some are old-school 720p, some are glorious 4K/UHD. It can make it hard to be certain you're getting just the one you want, we reckon.
While it's (usually) easy enough to know what specs you're getting when there's only one size per series, the D Series has multiple TVs per size. There are five 32-inch D Series TVs, and they're all slightly different from each other in a way that—especially if you're shopping online—might only be a few lowercase letters' difference in the model number.
To be blunt, I review TVs for a living and I couldn't figure out what all the numbers and letters signified. It's not clear at all. So I asked Vizio directly, and here's the scoop. Every letter in the model name tells you something about the specs. Take the cheapest member of the D Series, the D24hn-D1:
1. The capital D at the beginning means it's part of the D Series. That's easy enough. The same goes for Vizio's E, M, and P Series.
2. The 24 in "D24" denotes the diagonal screen size in inches. You know you're looking at a 24-inch TV. (The same goes for Vizio's E, M, and P Series, again.)
3. The h in "D24h" denotes HD resolution, aka 720p (actually 1,366 x 728) resolution.
4. The n in "D24hn" means non-smart: the TV doesn't have apps like Netflix or Amazon Video built in.
5. The last D (in this case, "D1") means it's a 2016 model. If you see a C, it's a 2015. The number at the end apparently doesn't mean anything. This, once again, also applies to the other Vizio series.
By this logic, when you see D24hn-D1, you know you're looking at a 24-inch 720p D Series TV that was manufactured in 2016 and doesn't have smart features. Pretty cool, eh? There's still a bit more to know before you click "purchase," however. Let's say you're shopping for 32-inch D-Series TV. If you go to Vizio's website and look for 32-inch D Series TVs, you'll find these options:
• D32hn-D0 (MSRP $179)
• D32h-D1 (MSRP $209)
• D32x-D1 (MSRP $229)
• D32-D1 (MSRP $229)

First, the D32hn-D0. At $179, it's a 32-inch 2016 D Series that's 720p (HD), and non-smart. If you want to jump up to a smart TV, you'll have to pay $30 more for the D32h-D1, which is yet another 32-inch 720p (HD) set. Other than the smart features, the D32hn-D0 and D32h-D1 should be identical.
So what's the deal with the D32x-D1? According to Vizio, the "x" simply denotes a different design. So barring the presence of an "h" and an "n," we know this one's a 32-inch model with Full HD (1080p) resolution that's also a smart TV, which is why it's $229—the exact same price as the D32-D1, which from a picture quality standpoint is the exact same TV.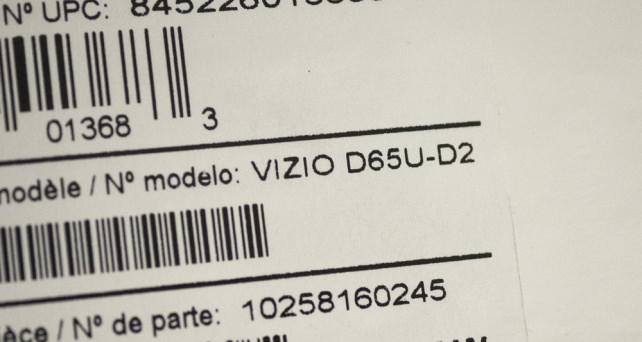 Finally, what about the 4K/UHD models?
Well, when a D Series model has 4K or Ultra HD (3,840 x 2,160) resolution, it will have a u in the model name. If there's no "h" or "u," it's a Full HD (1080p) model. If there's no "n," it has smart features. So we know the D65u-D2 is a 65-inch 2016 D Series with 4K resolution and smart features.
Armed with this arsenal of knowledge, go forth to retailers and Amazon ready to pick out just the D Series TV you want!
Related Video
Our editors review and recommend products to help you buy the stuff you need. If you make a purchase by clicking one of our links, we may earn a small share of the revenue. Our picks and opinions are independent from any business incentives.