This feature is part is Reviewed.com's Guide to Cord Cutting, where we explain everything you need to know to start living life without a cable bill.
---
A few years ago, a streaming box seemed like a nice luxury addition to your home theater, ideal for the few times per week you wanted to access Netflix on your big screen TV. These days? They're necessities, and in some cases are replacing people's cable boxes entirely.
The market has since exploded, with 5 major streaming platforms currently: Amazon Fire TV, Apple TV, Roku, Google's Chromecast, and Android TV. There are a few other bit players, but those are the biggies. So which one is best?
For starters, we can trim off Android TV and Google's Chromecast. Android TV is built into some TVs (particularly newer Sony models) as well as streaming boxes like the Nvidia Shield TV. The Shield is great if you like gaming, but it's a bit overpowered (and expensive) for what most people need—and it seems like every time I boot up an Android TV it takes 10 minutes updating itself.
The Chromecast is wonderful. It's small, affordable, and it totally stays out of the way; once it's set up, any device on your WiFi network can "cast" content to the TV. But while I own multiple Chromecasts, I've always found it's more useful as a neat way to occasionally share content on my TV than a streaming solution I can rely on day-in, day-out.
That leaves us with our three competitors: Apple TV, Roku, and Amazon's Fire TV. The cream of the crop! But how do they stack up? Here's how each breaks down:
Apple TV
How much does it cost?: The current 4th-generation Apple TV came out in late 2015 and still costs $149 for a 32GB model or $199 for a 64GB model.
What we like about Apple TV: The 4th Gen Apple TV has a powerful A8 processor and runs the slick tvOS interface. It features most of the major streaming players, with well-designed apps from Netflix, HBO, Showtime, Hulu, DirecTV Now, Youtube, and a host of other players.
The Siri remote is still a sore point among users (especially the iffy touchpad), but it's a big improvement over older Apple TV remotes and includes voice search. Apple is also attempting to corral the most popular streaming options with a single "TV" app that you'd only have to sign into once. It's a good idea that needs some work.
The current Apple TV doesn't support 4K or HDR, and it's likely to be replaced soon.
Tweet It
What we don't like about Apple TV: The main TV app doesn't feature full support for searching Netflix's catalog of titles, and there's currently no support on the Apple TV at all for Amazon Prime Instant Video (it's slated to debut this fall). The current model doesn't output in either 4K resolution or HDR—something nearly all new TVs support—despite being one of the most expensive streaming boxes around. It's likely to be replaced with a 4K/HDR-ready version before too long.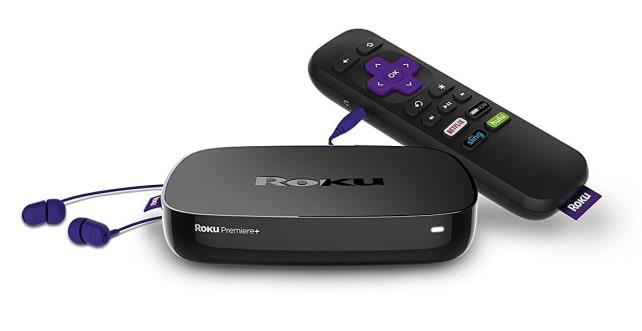 Roku
How much does it cost? Of the most recent Roku models, the Roku Express is just $29 and the Express+ adds support for older TVs without HDMI ports for $39. The Roku Stick is a low-profile option that's great for use on the go, and that costs $49.
You can step up to 4K with the Roku Premiere for $79, and the Premiere+ adds support for HDR as well for $99. The top model is the Roku Ultra, which has an optical audio port and a "find my remote" page button but costs $129. (All of these boxes usually are on sale for $10-15 off) There are also several TVs from Hisense, TCL, and others that have Roku built right in.
What we like about Roku: Roku has been around for nearly a decade, with a clear focus on streaming video from apps like Netflix. It has support for all the major players, and is totally platform agnostic, unlike Apple and Amazon which both heavily promote their own content and partners.
The Roku itself is generally beginner-friendly, with a dead-simple interface and an easy-to-use remote that features dedicated buttons providing one-touch access to popular apps like Netflix. The more advanced models also feature a headphone jack on the remote, so you can listen to your TV wirelessly while streaming without needing dedicated gear.
Roku is the easiest to use, but not all Roku players come with the platform's best features.
Tweet It
What we don't like about Roku: Roku's interface isn't as slick as the competition these days and some of the newer apps lag slightly behind the competition because of that. Also while some models include voice search in the remote that can cut across around 100 popular services, it isn't as full-featured as Apple or Amazon's.
And while having so many streaming boxes means you have options across the price spectrum, the differences are hard to suss out.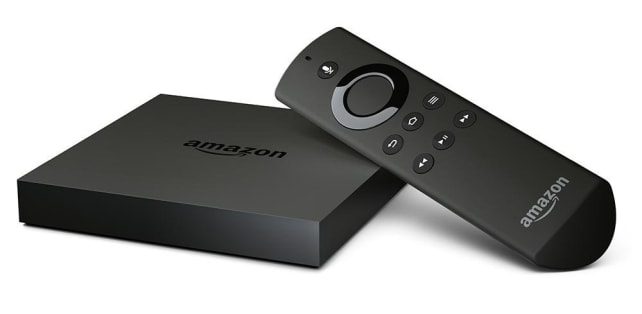 Amazon Fire TV
How much does it cost?: The Fire TV comes in two flavors right now, with a $39 Fire TV Stick and a $89 Fire TV streaming box. Both include a remote, and the main difference is that the larger Fire TV box has a faster processor, supports 4K (but not HDR) output, supports wired internet, and has expandable storage.
What we like about the Fire TV: Amazon's Fire TV and Fire TV Stick both now ship with a voice-enabled remote that allows you to query Alexa, just like you can with its smart speakers like the Echo and Echo Dot. Alexa can search across tons of popular apps, set reminders, automatically rewind or fast forward what you're watching, and even control your smart home devices.
Fire TV is also a very robust streaming platform, with support for all the top apps and services. I've personally had a few issues with certain apps on the Fire TV stick (HBO Now seems to crash periodically and needs to be uninstalled and reinstalled), the only major omission is iTunes content, which you need an Apple TV to fully enjoy.
The Amazon Fire TV is fantastic, but you need a Prime subscription to get the most out of it.
Tweet It
What we don't like about the Fire TV: Amazon does a fantastic job of surfacing content for the user in horizontal bars (similar to how Netflix organizes its content). While it can (and does) pull in popular content from services like Netflix, it really comes into its own with a Prime subscription. Prime is 100% worth it, but if you don't have Prime and don't use Alexa, there's not much differentiating it from Roku.
The Fire TV Stick is also not the fastest streaming solution. Though it has lots of features (considering its affordable price), the processing power feels lacking. It's faster than the similarly priced Roku options (the Express and Stick), but still sluggish. I used one for several months and Alexa seemed borderline unresponsive at times. It's the best sub-$50 option, but we strongly recommend jumping up to the $89 Fire TV or Roku Premiere+.
Which should you buy?
All three platforms have their pros and cons. Apple's has the best design but it's saddled with expensive, out-of-date hardware that's due for a replacement. Roku's the best about giving every service a level playing field and it has the best remote, but it lacks the polish and smart features of the competition. Amazon has great hardware, Alexa, and a lovely interface—but it's at its best only you have a Prime subscription and doesn't currently support HDR streaming.
For most people, it'll come down to which platform has the hardware and features that match their interests. Overall, we think Amazon's Fire TV is the best combination of hardware, software, design, and support for the most popular streaming services. Having Alexa built in is a real game-changer, turning your neat little streaming box into the true center of your home theater.
If you don't have a Prime subscription, we highly recommend you get one (it's that useful). If you are dead-set against it, the Fire TV falls back to the pack. For that reason, our co-winner is still the Roku Premiere+, which won our roundup of the best streaming boxes. It's a lovely piece of hardware, at a great price, and it has all the best features Roku has to offer.
The only option we'd recommend holding off on is the Apple TV. While the service is improving all the time, the hardware is too expensive given that it lacks support for 4K, HDR, or Amazon Prime video. Apple will have Amazon Prime at the end of this year, but it should also have a new box by then, so hold off for now.
Our editors review and recommend products to help you buy the stuff you need. If you make a purchase by clicking one of our links, we may earn a small share of the revenue. Our picks and opinions are independent from any business incentives.