televisions
Westinghouse LD-4655VX LED TV Review
If you are looking for quality for the price, you may want to pass on the Westinghouse LD-4655VX.
$599.00 MSRP
Buy now at Amazon
46 in.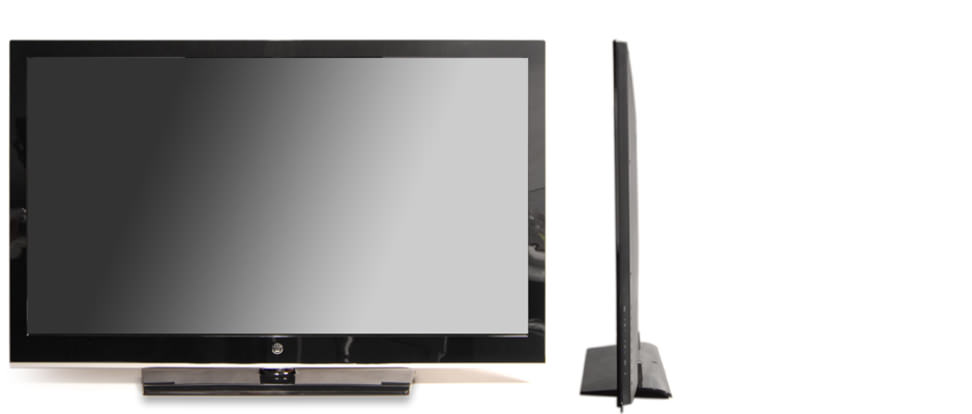 Introduction
This is the first Westinghouse television we have ever tested. The LD-4655VX (MSRP $599) is one of the cheaper 46-inch, 1080p televisions on the market. This TV is unimaginably easy to use, with no extra features and a menu that gives you access to few options. If you want a TV that you can plug in once and lose the remote, this Westinghouse may sate your desire. On the other hand, if you are looking for quality for the price, you may want to pass on the Westinghouse LD-4655VX.
Design
Boring aesthetics and an odd choice for port placement.
This arrangement does not indicate the best foresight.
The LED lighting allows for a very slim profile on this Westinghouse. The frame has a couple inches on it, making this 46-inch display look a little larger than it needs to be. There is a mirror bar running along the bottom—it is tucked away from external lights so it won't be that distracting and it adds some recognizable style to what would otherwise be the design of every other TV out there.
All ports are located in the center of the back of the display, laid out in an L-shaped cutout. We do not understand recessing the ports into a cutout, especially if they are out of the way on the back. If the ports are on the back, they are already hidden. Cutouts are for ports on the side or near the side of the display to obscure them from view at off angles. When there is a cutout, the ports are harder to connect. Cables tend to have stiff-necked plugs, so any indentation will force the cable at an odd angle, and over time, the cable will become warped or even split. This arrangement does not indicate the best foresight.
Smart TV Features
An overly simple menu interface.
There is but one menu, with three options, available on this Westinghouse. You can select Picture Settings, Sound Settings, and General Settings. There is very little in the way of written explanation here, but there is also very little to control. One thing that may be hard is that our calibration settings are done in numbers, and there are no numbers on these sliders. They go in chunks of 100, but you will have to count (as we had to) all of the single rivets to get the proper setting.
There are no extra features, no video processing modes, no media ports, and no internet connectivity on this TV. The menus help you adjust the size of the picture, some of the display settings, and some sound equalization.
For consumers interested in a Westinghouse, this simplicity hits their customer niche perfectly. Some people want a television that they can plug into the wall and be done with.
Comparable Products
Before you buy the Westinghouse LD-4655VX, take a look at these other televisions.
Picture Quality
Decent contrast aside, the picture quality was not impressive.
There are no points of notable quality on this Westinghouse. There are moments of slightly above average performance, like the contrast ratio, but nothing to justify some egregious errors, like the crummy viewing angle.
As far as motion performance is concerned, we saw very few artifacts with moving objects on the LD-4655VX. Hard-edged shapes did not distort into other shapes. These shapes picked up few jagged edges while moving. However, with high-density, high-contrast patterns, color artifacts began to appear.
The smoothness was less impressive. We saw a hefty amount of detail loss as pictures moved. Faces became blurry and background objects were unidentifiable. Tight, straight lines stayed well rendered though. Our moving color chart showed us heavy color trailing in every one of the bright colors on the chart.
Conclusion
With no defining features, this Westinghouse does not stand out.
The lack of features on the Westinghouse LD-4655VX and a menu system made for neophytes make it perfect for people that do not want to get "involved" with their television. The target consumer here is the person that wants to buy something cheap, bring it home, have it work, and never think another thought about it, and that's fine. Televisions used to be simple like this Westinghouse, and we imagine there are many people interested in reliving the technological days of yore, as well as those who want to buy a TV on the cheap.
But even these people want to know that they are getting the best for their money. The price is nice, but there are better televisions out there for the same amount of money, that work with the same amount of simplicity. We can't really endorse the Westinghouse LD-4655VX as a TV to buy, considering it's not even the best of the worst.
Our editors review and recommend products to help you buy the stuff you need. If you make a purchase by clicking one of our links, we may earn a small share of the revenue. Our picks and opinions are independent from any business incentives.