televisions
Vizio M65-C1 (M Series) 4K LED TV Review
This 4K TV lineup starts at just $599, but competes in quality with much pricier sets.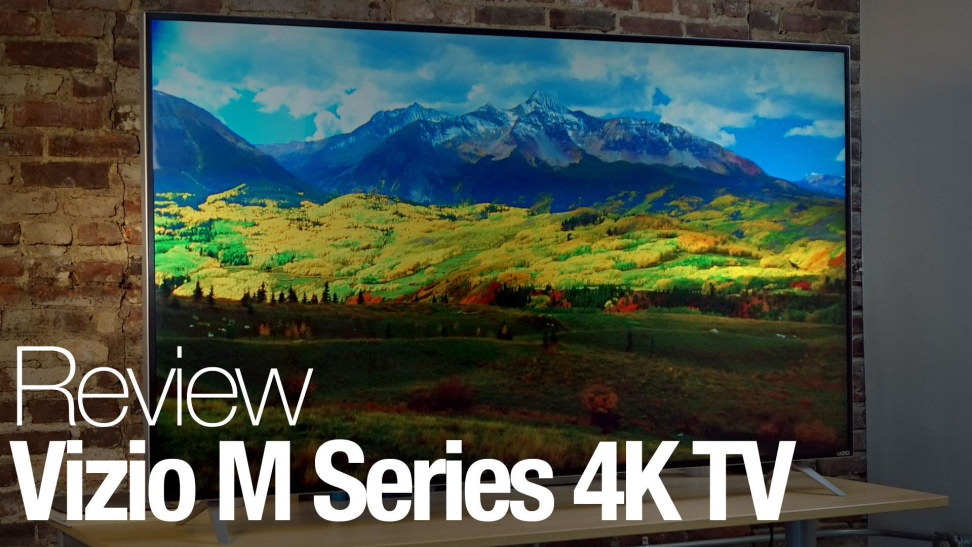 The M65-C1 (MSRP $1,799) is a classic example of a whole that's greater than the sum of its parts. Outside of its pure contrast/dynamic performance—which is rather excellent—this TV doesn't really nail down any one area of core performance. Instead, it skates just within acceptable tolerances for error, harboring a collection of talents that struggle a bit on paper—or during test patterns—but are very solid during viewing of actual content.
This experience carried over into the calibration process, as well, where the TV struggled (in particular) to match a standard 2.4 gamma curve despite its white balance and color controls working in a satisfactory manner to (slightly) reduce error. There's a level of accuracy and smoothness in the panel's performance that doesn't seem possible—a certain cheapness, if you will—that nevertheless does little to deter our enthusiasm for this TV as a value prospect.
Calibration
Calibrating the M65-C1 should have been a fairly simple process, but the TV harbors some absolutely stubborn inner components that are wroth to fall into patterns outside of the pre-sets you'll find in the Calibrated and Calibrated Dark modes. Some of this has to do with the design of the TV's local dimming algorithm: It works primarily with content in mind, and doesn't always preserve APLs across different patterns in a way that makes calibration particularly smooth.
Even still, in most cases I was able to eek a slightly better performance out of the TV, reducing overall grayscale deltaE and making small improvements to the TV's primary and secondary color production. Unfortunately, my efforts culminated in a rather bizarre gamma curve. Aiming for the standard luminance of ~40 fL and a flat gamma of 2.4 proved to be trickier than on other TVs, but the end result still showed promise for viewers looking to get the M65 looking as good as possible.
Below, you'll find Vizio's presets for the Calibrated Dark picture mode on the left, alongside my final calibration settings on the right.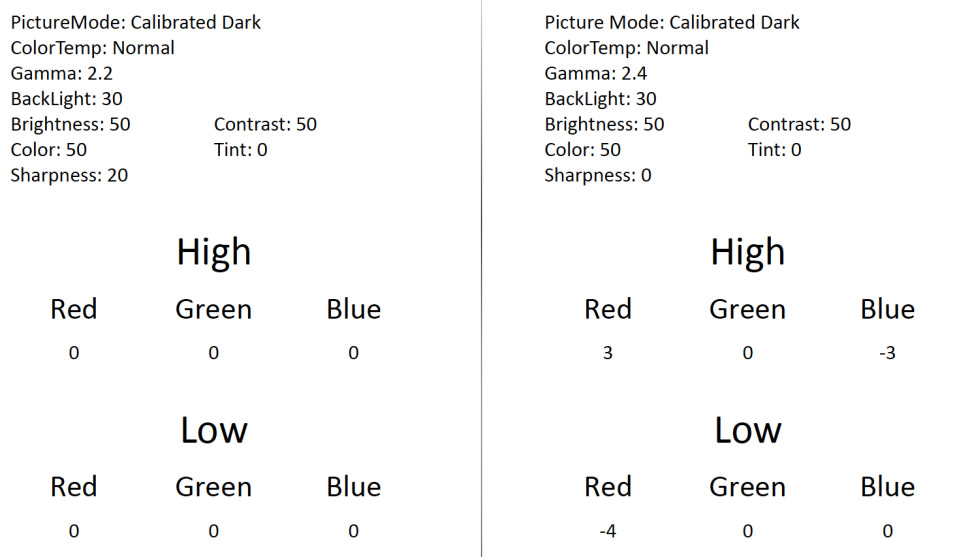 Advertisement - Continue Reading Below
Contrast Ratio
Contrast ratio—an X:1 measurement determined by dividing a TV's reference white by its minimum luminance, or black level—is often the most telling result for how immersive a TV's picture is. Deep, lightless black levels alongside bright colors and grayscale highlights adds depth to TV's images, beguiling the fact that you're watching a flat, two-dimensional plane.
Taken purely on contrast—which we measure using a standard ANSI checkerboard pattern, and various windowed/full-field tests—the M65-C1 is a blue-ribbon sort of television. In the Calibrated Dark picture mode, I measured a stellar black level of 0.026 c/m2 during the ANSI pattern, which black levels as low as 0.002 nits for full-field blacks. The reference white wasn't blistering, but was definitely suitable for most room lighting. I measured an ANSI reference white of 144.60 cd/m2, giving the M65-C1 a static contrast ratio of 5561:1. That's an awesome result, especially compared to the much pricier full-array 4K models from last year.
Note that the full-array dimming does produce differential effects depending on APL (Average Picture Level). For example, a 90% black screen produced black levels as low as 0.005 cd/m2, but raised to about 0.03 cd/m2 during a 10% screen. Likewise, there's fairly heavy falloff during different luminance APLs: A 100% screen only got to 147.10 cd/m2, while a 10% screen dropped as low as 66.84 cd/m2.

Viewing Angle
The M Series doesn't boast a poor viewing angle, but it lacks the off-angle viewing efficacy of something like a plasma or OLED. The impressive contrast results found during head-on viewing simply don't hold up if you watch from too far off center. Also, pre-calibrated the TV exhibited color tinting and shifting during wide angle viewing, with grayscale elements (like bright white) exhibiting a pinkish tint.
I measured a total viewing angle of 49°, or about ±25° from the center to either side of the screen. This means at 10 feet away, you have about 4.6 feet of lateral viewing before contrast degrades beyond 50% of its original value. This is worth keeping in mind if you hope to wall-mount your new TV.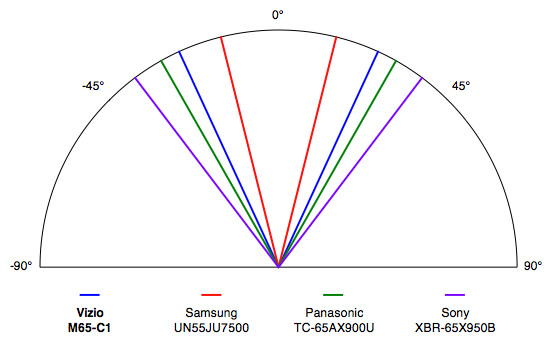 Color Gamut
A color gamut is a visual illustration of a TV's color production. Like with most aspects of picture quality, TVs are meant to produce color of a specific hue, saturation, and luminance in order to best reproduce content like movies and TV shows. While the "wrong" color production can often be fixed with some level of tinkering during calibration, it can make for numerous errors depending on just how off-point the original colors are.
Like last year's M Series, the M65-C1 doesn't produce color with quite the same hyper-accuracy as some very expensive 4K sets, but for the price is does a very solid job of it. The one really notable issue is in production of the green primary point: it's a bit oversaturated. This error isn't enough to create multiple problems, but it's just oversaturated enough to be visible during certain kinds of content.
During calibration, I made small corrections to each of the primary and secondary colors, and was able to shore up most of the small discrepancies in each, though pulling green back into perfectly saturated levels proved to be impossible without drastically skewing its hue or luminance.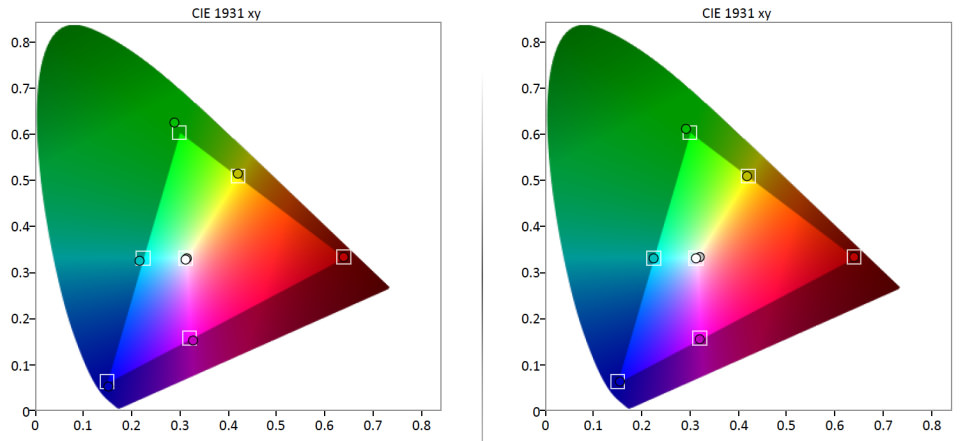 Grayscale & RGB Balance
In digital displays, "grayscale" refers to the TV's neutral elements: blacks, grays, and whites. Because they use an additive color model, TVs actually create such neutral tones via a combination of red, green, and blue light. The different colors must be perfectly balanced and emphasized to create the correct "color" of white—not too cool, not too warm. Visible, collective error within the grayscale is expressed in deltaE, where a deltaE (dE) of 3 or less is considered ideal.
TV performance varies pretty widely here. Many pricy TVs slide under the 3 dE cutoff, while most TVs (especially cheaper ones) can sometimes get as high as 10, 15, or even 20 dE. For its price, the M65-C1 performed well here. We measured a pre-calibration dE of 3.47, which is just a hair above the 3 or less ideal.
While this is a good initial result, it's dampened a bit by the TV's somewhat stubborn grayscale adherence. I used the TV's 2/11 point white balance controls to slim up the RGB emphasis (charted below), but the TV struggled to "hold" the positioning and ended up drifting above the 3 or less mark again by the time I corrected the color and took the post-calibration readings. I was only able to lock in a small improvement, down to 3.17 dE.

If we take a closer look at the individual RGB emphasis, we can see where the small amount of error arises. Before calibration, the M65 tends to slightly over-emphasize red at the expense of green. This may be why there was some pink tinting in highlights during wide off-angle viewing. After calibration, some of the balance was tightened up, but red/blue drifted way off at small IRE intervals, too.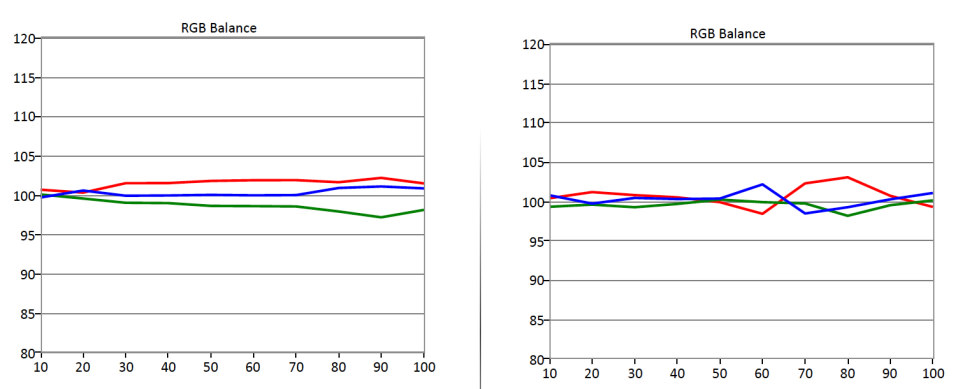 Our editors review and recommend products to help you buy the stuff you need. If you make a purchase by clicking one of our links, we may earn a small share of the revenue. Our picks and opinions are independent from any business incentives.
Our editors review and recommend products to help you buy the stuff you need. If you make a purchase by clicking one of our links, we may earn a small share of the revenue. Our picks and opinions are independent from any business incentives.
Advertisement - Continue Reading Below
Compare Prices
Our editors review and recommend products to help you buy the stuff you need. If you make a purchase by clicking one of our links, we may earn a small share of the revenue. Our picks and opinions are independent from any business incentives.
Get Our Newsletter
Real advice from real experts. Sign up for our newsletter
Thanks for signing up!