televisions
Vizio M602i-B3 LED TV Review
More great value from Vizio—but not the company's best
$1,149.99 MSRP
Buy now at Amazon
60 in.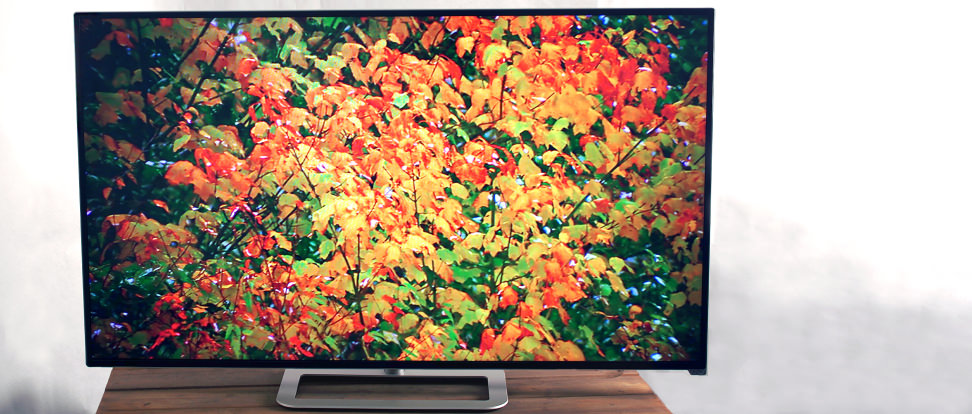 Vizio made some seriously bold changes to its TV lineup this year, resulting in some considerable hype.
The company completely abandoned 3D while simultaneously manufacturing every 2014 model with full-array local dimming—from the entry-level E Series to the massive 120-inch Reference Series.
Take it from a TV nerd: That's exciting news.
The Vizio M602i-B3 (MSRP $1249.99, online $1,149.99) hails from the company's midrange M Series. It's a 60-inch 1080p model featuring the "VIA Plus" smart platform.
The mid-level M Series differs quantitatively from the lower-level E Series in two primary regards: The M has double the number of local dimming zones (which promises a marked enhancement in picture quality) and higher-quality design that mimics the appearance of the Vizio's premium TVs.
Despite looking better from the outside, however, the M602i-B3 doesn't improve upon the stellar groundwork laid by the E Series, especially for the price. Testing revealed color errors that couldn't be fixed even with extensive calibration. Buyers looking to get the best picture for the cheapest price are still better off with the E Series.
However, if you're not a picture purist, the M Series is still worth consideration. It isn't the absolute best value on today's market, but thanks to good overall performance and attractive design, it's still a solid buy.
The Picture
A great bunch, with one bad apple
For a 60-inch LCD TV, the M602i-B3 is modestly priced at $1,149.99. When you consider that it's also fitted with a killer technology called full-array local dimming, which intelligently controls the lights behind the screen to achieve amazing black levels and impressive highlights, it seems almost too good to be true.
Just like the entry-level E Series, the M602i-B3 wields its multiple local dimming zones with considerable prowess. A full array of backlight LEDs spans the entire panel, providing good contrast and terrific black levels with very little blooming, and of course, great uniformity.
The M602i-B2 does wonders for sports fans and gamers alike.
In case you didn't know, there are two types of LED LCD TVs: full array, where bulbs line the entire backside of the panel, and edge-lit, where bulbs only line the TV's perimeter. The advantage of full-array backlighting is very obvious when you contrast it with with the edge-lit backlight variety: Edge-mounted LEDs tend to bleed into black levels at the corners and edges of the screen, and provide an overabundance of light that pollutes and clouds shadowy elements in the center. You'll get none of that with the M Series, and it's great.
Just like the E Series, the M602i-B2 does wonders for sports fans and gamers alike. We noted commendable motion performance with and without assistance, with very little of the blurring and juddering most LCD TVs are prone to. Likewise, this Vizio suffers from very low amounts of input lag, the delay between a controller input and a screen response that can make or break your high score in fast-paced games.
Testing revealed reds skew into yellow territory.
This TV has a drawback, however, that eats away at its overall performance. Testing revealed that the TV's reds skew into yellow territory. Not only are reds somewhat yellow, but bright grays and whites look slightly pink, too. I watched content side-by-side on the M602i and our reference TV—the skewed red is not hugely detracting from the picture quality, but it's definitely visible.
Normally I wouldn't be so dismayed by this kind of faulty color production, but calibration proved the only way to get the right red was to desaturate it considerably, losing a lot of vivacity in the process. This is a shame: It means you either have to settle for rich, yellowish reds, or faded-looking reds.
The M Series is probably best suited for normal lighting.
One other caveat is that the TV tends to add excessive luminance to brighter grays and white tones, even in the Calibrated Dark setting, so it's probably best suited for normal lighting unless you plan to have it calibrated.
Other than the color error (which is no small issue), the M602i-B2 is a standup performer. Most people will forget all about the red push when they see the great shadows, luminous highlights, and smooth motion, but purists are still better off with the E Series.
For my final calibration settings and the hard data from our testing, check out the Science Page.
The Look
Not too hot, not too cold
In terms of design and reliability, the M602i-B3 is both sturdy and attractive. When I reviewed the 48-inch E Series, I found it to be chintzy and cheap, literally wobbling on its stand; the M602i-B3 is a big improvement by comparison.
The remote has a full keyboard stuffed with tiny buttons that glow in the dark.
A hollow, silver base holds the panel with a firm grip, ensuring that the assembled TV is sturdy. Narrow black bezels shift into silver strips that run the perimeter of the TV's edges, enhancing the presence of ambient light.
Overall, this television manages to look classy despite its relatively cheap price. It doesn't completely pass for high-end, of course, but it's still a big improvement over the E Series.
As usual, you'll find your video connections on the backside of the TV. An L-shaped cutout presents both horizontally and vertically oriented hookups that are well-spaced and clearly labeled. Side connections include one HDMI input, a shared component/composite input, and a USB input. Further back, you'll find inputs for an ethernet (LAN) cable, coaxial, analog audio out, optical digital audio out, and three more HDMI inputs.
Included alongside the panel and stand is a double-sided QWERTY keyboard remote. One side is a traditional remote—navigational keys, a button for Netflix, you know the drill. The other side is a keyboard stuffed with tiny buttons that glow in the dark. It's a great option for quickly searching apps or typing in your WiFi password—trust us, the addition of a QWERTY keyboard is miles ahead of clicking through with the usual navigational arrows.
Comparable Products
Before you buy the Vizio M602i-B3, take a look at these other televisions.
The Experience
Less is still more.
One of our favorite things about the Vizio Internet Apps (VIA) smart platform is that it's just that: apps. There's no browser, no cleverly disguised advertisements, and no need to make an account. To get started, all you need is an internet connection—ah, simplicity.
Just like on the E Series, the M Series TVs err on the side of minimal. Press the VIA button once to prompt a quick-select bar along the bottom of the screen. Apps like Netflix and Facebook live here, so it's easy to jump right in. Pressing the button a second time will launch the full smart platform screen, where you can organize the app layout and, of course, download more apps.
The M602i-B3's menu system is very similar to what I've seen in the past, save for a few key differences. Vizio offers a handful of picture modes to choose from: Standard, Vivid, Calibrated, Calibrated Dark, Game, and Computer. Additionally, there are two advanced picture menus, called Advanced Picture and Professional Picture. This is where you'll find controls for the TV's local dimming, color tuner, white balance, and motion interpolation.
The Verdict
More great value from Vizio, but not the company's best
The M602i-B3 is a difficult TV to summarize, if only because of its endless similarities to the more-affordable E Series. This TV sports better black levels than most of the competition, good neutrality within black, gray, and white shades, and great uniformity. For the price, its black level performance is better than similarly priced competition from Samsung and LG.
If you're obsessed with picture integrity, stick with the E Series.
On the other hand, this Vizio has permanent color errors that the competition simply doesn't. More importantly for value, it fails to outperform Vizio's own E Series. The M Series' 32 local dimming zones don't make a massive difference in picture quality compared to the 16 zones of the E Series, and while both foster great black levels, the E Series also performs better in terms of color accuracy.
If you were considering buying one of the E Series models for their great full-array local dimming, but couldn't stomach that series' cheap plastic aesthetic, you'll probably be more than pleased with the M602i-B2, which still offers an awful lot of performance for the price.
Eagle-eyed viewers with a penchant for the best picture will be disappointed by the skewed red we tested, however; if you're obsessed with picture integrity, stick with Vizio's E Series or spend a little more on a midrange option from Samsung or Panasonic.
Our editors review and recommend products to help you buy the stuff you need. If you make a purchase by clicking one of our links, we may earn a small share of the revenue. Our picks and opinions are independent from any business incentives.