televisions
Vizio E480i-B2 LED TV Review
From pixel peepers to recent grads, this might be the TV deal of the year.
$799.99 at Amazon
48 in.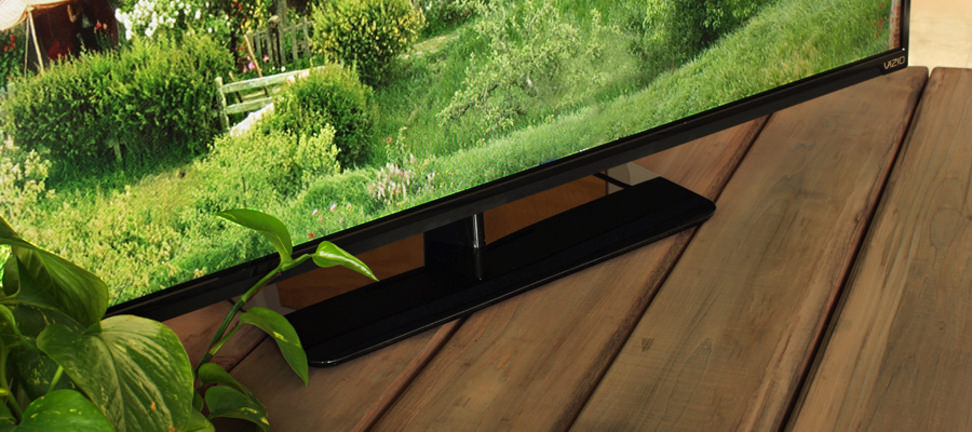 Behind the Screens
The Vizio E480i-B2 (MSRP $589.99) passed almost all of our tests with flying colors. A great black level, plenty of luminance, accurate colors, and smooth motion are about all you need for a great picture, and this Vizio doesn't disappoint. It would be a perfect 10 with a better viewing angle and a little more detail retention during motion panning—but for this price, we're still very impressed.
Calibration
The E480i-B2 has a number of picture modes, six in total, but Calibrated Dark is the most accurate. One drawback of the E-Series is its lack of full calibration controls—there's only 2-point grayscale controls here, no CMS. I adjusted the backlight, RGB balance, and "Black Detail" (Gamma) setting, but the basic controls didn't need any tweaking. Below, you'll find the default settings for Calibrated Dark beside my final calibration settings.
We'd also like to note that the Calibrated picture mode uses incorrect reference levels for TV legal limits (16-235). Basically, its Brightness control is set too high (at 55), which makes blacks look gray and buries picture elements into the production zone usually found below step 16.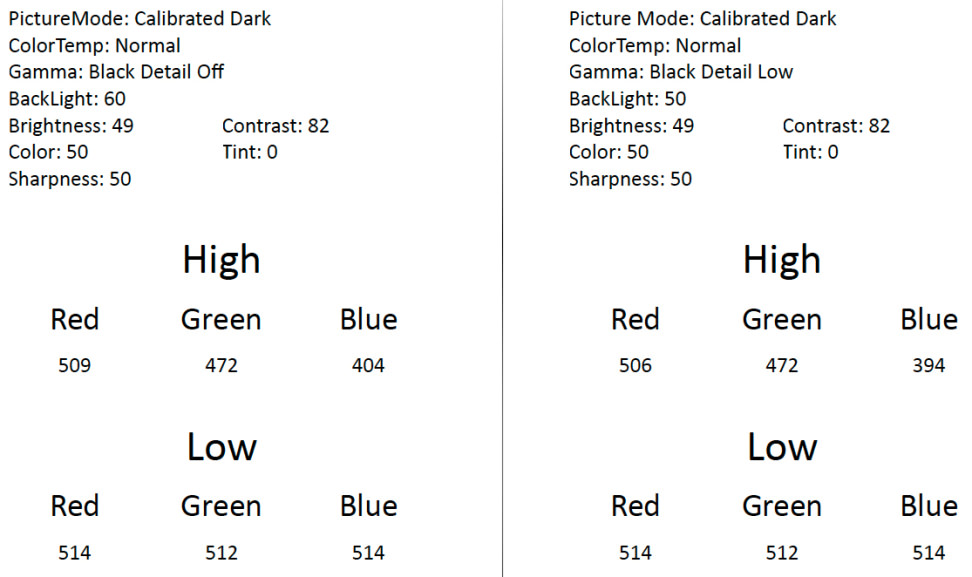 Contrast Ratio
While the E480i-B2's contrast ratio isn't mind-blowing, its overall results are all above average, bolstered by very solid black levels. Using the ANSI checkerboard pattern, I measured a black level of 0.042 cd/m2 and a peak white of 143 cd/m2 in Calibrated Dark mode (Backlight 60), with white levels up to 220 cd/m2 at higher backlight levels.
The resulting contrast ratio of 3404:1 is a little less than Vizio's E-Series from last year, but it's still plenty of black/white differentiation where solid picture quality is concerned. I was most impressed by the integrity of this TV's black levels, which—with local dimming enabled—upheld their inky quality even along the edges and corners of the screen.
Turning up the backlight will raise the peak brightness and black levels, too, but you can still expect about 0.10 cd/m2 even at max backlight—plenty dark for a bright room.

Comparable Products
Before you buy the Vizio E480i-B2, take a look at these other televisions.
Viewing Angle
The E480i-B2's viewing angle is probably its weakest area—you'll want to sit front and center, lest you risk serious picture degradation and color shifting. This is a common problem owing to the way LCD TVs are constructed. I tested a total viewing angle of 36°, or ±18° from the center to either side of the screen. This is pretty standard—poor as it is—compared to the E480i's peers from 2013.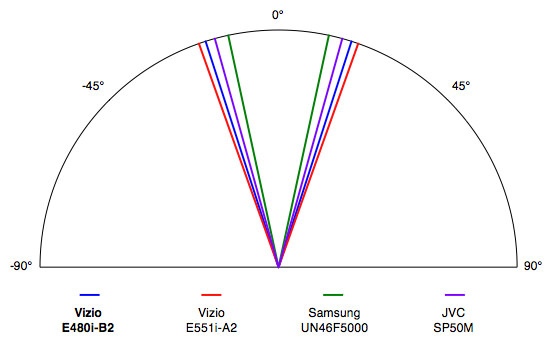 Color Gamut
Testing revealed that the E480i-B2 is capable of very accurate color reproduction. Adhering to the Rec. 709 standard, this Vizio reproduces red, blue, green, cyan, magenta, yellow, and white almost exactly as it should, with only mild, imperceptible differences in hue and saturation. If you want a more bright and flashy look, try the Vivid picture mode, but know that professional video content will likely suffer loss of detail in this mode.
Grayscale & RGB Balance
As usual, we found errors in this Vizio's grayscale production and underlying RGB balance, two performance results that are intimately linked. Grayscale refers to the TV's production of black, gray, and white, while the red, green, and blue sub-pixels create the grayscale.
Using the TV's 2-point grayscale controls, I was able to cinch down discrepancies in the RGB balance which reduced a good amount of error within the grayscale. The pre-calibration DeltaE of 4.25 was reduced to 3.84—not perfect, but better.
A closer look at the E480i-B2's RGB balance revealed that it favors the blue sub-pixel over the red and green. Fortunately, reducing the presence of blue in 60-100 IRE evened out green and red somewhat—and there was no need to touch 10-50 IRE, they sort of just fell into place.
Gamma Sum
The E480i-B2 doesn't have a dedicated gamma control, but under the Advanced Picture settings we found a Black Detail option that seems to handle the task—sneaky sneaky. Gamma refers to the intensity of luminance growth between intervals of the grayscale. With Black Detail set to "Off" (i.e. gamma at default), the E480i was prone to ramp too quickly out of black and into dark gray, testing with a gamma of 2.19. With Black Detail set to "Low," I got closer to the 2.4 gamma ideal, hitting a sum of 2.49.
Our editors review and recommend products to help you buy the stuff you need. If you make a purchase by clicking one of our links, we may earn a small share of the revenue. Our picks and opinions are independent from any business incentives.