televisions
Toshiba 39L4300U LED TV Review
A terrible smart platform mars this otherwise above-average TV.
$699.99 MSRP
Buy now at Amazon
39 in.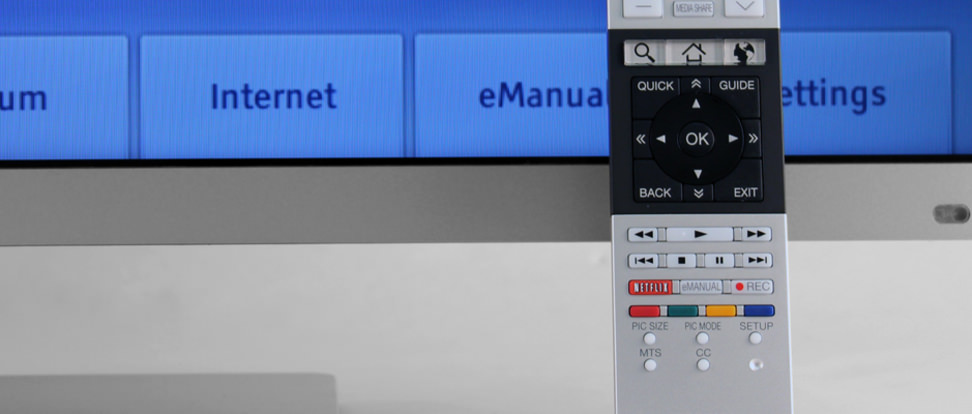 Overview
We've already seen Toshiba's flagship television for 2013, the L7300U, and what it has to offer: a new smart platform, a keyboard, and a fancy stand. Today, we're looking at the L4300U, which is the model right below Toshiba's flagship. What luxuries are we missing? The keyboard is gone, and so is the unique stand. At least Toshiba's brand new smart platform—Cloud TV—is still here, right?
Right?
Toshiba is capable of crafting a solid TV, which the L4300U is, but its smart platform is an exercise in frustration. If you want internet features on your next television, look elsewhere. If you want a TV with killer audio and a surprisingly good black level, keep reading.
Hands-on Video
Design
A retro-styled display with a frustrating remote
One person in our office said the L4300U looks like something from the 80s. True, its black and grey design, crafted from chintzy plastic, resembles a Delorean… or an older iMac. Isn't that part of the appeal, though? For the record, I think it's attractive.
Its black and grey design, crafted from chintzy plastic, resembles a Delorean… or an older iMac.
On the left, you'll find a smattering of ports. HDMI, VGA, USB—they're all accounted for. Unfortunately, the L4300U's theme of "chintzy plastic" continues on the backside. Yes, it's nitpicking to call this out, but we've seen Toshiba do much better in terms of build quality.
Speaking of quality, Toshiba's remote deserves a special mention. We usually don't call attention to a TV's remote unless it's truly unique. This one looks basic enough, with an attractive grey and black color scheme to match the TV. There is a glaring flaw, though: The Menu button is nearly impossible to find. Take a look:

Would you ever guess that this tiny button labeled "Setup" is for the TV's menu? I didn't either.
Comparable Products
Before you buy the Toshiba 39L4300U, take a look at these other televisions.
Menu & Smart Features
Rather than fluffy and soft, Cloud TV is thorny and irritating.
Cloud TV is Toshiba's newly redesigned smart platform, although "sluggish" is a better way to describe it. There are plenty of great ideas to be found: a cable TV interface, a customizable home screen, and streaming apps like Netflix and Hulu. But did we mention it's sluggish?
Sadly, Cloud TV isn't just a little slow—it's _frustratingly_ slow.
Sadly, Cloud TV isn't just a little slow—it's frustratingly slow. Pressing the button with the house icon brings you to Cloud TV's home screen, but sometimes it takes about five seconds to load it. What do you do? You press the button again. That same button will also close the home screen, so when it eventually loads up, it'll close shortly after. That's basically the Cloud TV experience.
The sluggishness doesn't apply to just smart features, though: Toshiba's menu interface is also slothful, although not to the same degree that Cloud TV is. Still, adjusting picture or sound settings is a chore on this interface. What gives, Toshiba?
Performance
The picture looks acceptable, but the sound is top-notch.
Its smart features may be cruddy, but at least the Toshiba L4300U produces a solid picture. Cable and Blu-ray content looked more than acceptable, a feat made possible by the TV's excellent contrast. The L4300U is able to show deep black levels—deep enough that we typically don't see them on LED televisions. Combined with a solid peak brightness, you'll be able to view this TV in any setting, sunny or dark.
The L4300U is able to show black levels that we typically don't see on LED televisions.
Colors were decent: Blues looked slightly more vivid than they should, while reds appeared muted, although that didn't detract much from the overall picture quality. Motion performance was also acceptable. We viewed meltdowns on the Maury show and sports highlights—both looked commendable, with no traces of artifacting.
One feature we absolutely need to point out is the superb audio quality on this set. Toshiba has a partnership with speaker company Audyssey, and the benefit of their friendship is immediately noticeable: Movies and TV shows sound great without even touching the sound options. We're seriously in love with these speakers, which you can also find on Toshiba's entry-level L2300U series.
The Finale
Without Cloud TV, this would be an impressive display for the price.
Toshiba's L4300U is a tough pill to swallow. It offers a design that some will find very appealing, but its smart platform and menu interface are downright frustrating. Fortunately, it has decent picture quality. That's like a sandwich with great bread, but rotten meat.
At least the L4300U isn't too expensive. A 39-inch model retails for $699, but Toshiba sells it for $519. This is a reasonable price for a 39-inch display, especially for one that has an acceptable picture quality and top-notch speakers. But why get this model when you can get Toshiba's L2300U for $100 less? That series offers practically the same picture, but no annoying smart platform. The choice is obvious to us.
Our editors review and recommend products to help you buy the stuff you need. If you make a purchase by clicking one of our links, we may earn a small share of the revenue. Our picks and opinions are independent from any business incentives.