televisions
Toshiba 50L2400U LED TV Review
Affordability comes at a price.
$549.99 at Amazon
50 in.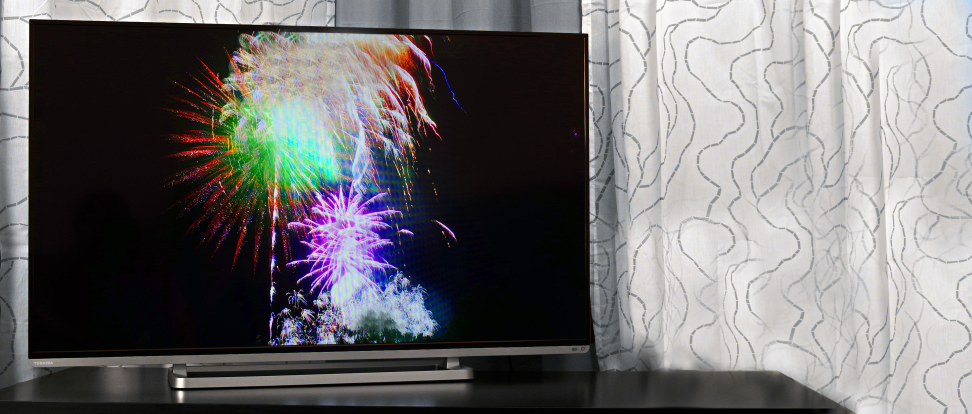 The Toshiba 50L2400U ($679) is an entry-level LED TV that's all about value, not bells and whistles.
If you're looking for a larger HDTV for a little less, this product is proof that Toshiba's tradition of competitive pricing lives on in 2014.
Unfortunately, testing revealed some notable performance drawbacks like sub-par color accuracy and poor uniformity. The L2400U might be worth investigating if you just want decent performance without the frills, but it definitely doesn't offer the best value on the market—that title is still firmly within the grip of Vizio's E Series.
The Look & Feel
The best and worst of simplicity
From bezel to bezel, stand to ports, the L2400U is an exceedingly simple, minimal television. Narrow black bezels wrap the 49.5-inch screen, which perches upon a wan, rectangular stand. The stand may be plastic, but it's married to a brushed aluminum finish that helps hide that fact. Because it's a lightweight LED TV, it's also very thin and easy to hoist.
As far as utility elements, you'll find a fairly meager port selection clustered on the back of the panel. The L2400U delivers one shared component/composite input, two HDMI inputs, digital audio out, and a coaxial jack for antenna or cable connection. To the side are on-set controls and a USB input for personal media playback. It's simple, clean, and effective, but power users may find themselves wanting more video inputs.
Things aren't all checklist clean, though. This TV's menu interface isn't atrocious, but it certainly isn't premium in appearance or options. Users will find basic sub-menus for Picture, Audio, and System easily enough, but the presentation and navigation is a bit on the ugly and sluggish side—let's call it "slugly." The included remote is easy to use, but the infrared functionality is about what you'd expect from an entry-level TV.
Picture-quality enthusiasts will be glad to know that the L2400U retains many of the advanced settings from previous years. Toshiba's "ColorMaster" serves as a built-in color tuner, for example, and there's also a two-point white balance control within the Color Temperature menu. There are also a few additional features, such as an energy saving mode and a dynamic contrast enhancement mode.
The Picture
Great contrast, poor color performance
The 50L2400U would be a great example of "you get what you pay for," except that we've come to expect slightly better from entry-level models this year. This 1080p TV has definite pros and cons; the combined result is simply mediocre.
From a contrast perspective, this Toshiba is a stellar performer. I measured awesome black levels for an edge-lit LED set, rivaling some of last year's entry-level plasma televisions. Users can expect shadowy content to look satisfyingly dark while brighter elements still pop off the screen, creating excellent contrast. Unfortunately, subtler details within shadows and low-luminance colors are poorly preserved—the 50L2400U definitely isn't a good choice for cinephiles.
The L2400U definitely isn't a good choice for cinephiles.
If you're more of a sports lover or just want to watch daytime talk shows, however, you'll probably be able to stomach the lack of good shadow detail. While the L2400U only wields a 60Hz panel, Toshiba's ClearScan processing makes for solid motion performance. Gamers will be glad to know that the TV's Game picture mode does a great job reducing perceptible input lag, too.
One issue that will bother viewers of all types is the backlight uniformity. LED TVs with lights around the perimeter of the screen sometimes suffer from an uneven appearance, causing visible light in black or dark gray areas of the screen. Our sample unit had a few visible LEDs at the upper edge and in the corners of the screen, which can be especially distracting if you're watching in the dark.
The L2400U outputs plenty of clear, crisp sound compared to the competition.
I'd be doing a disservice to this product if I didn't mention its terrific speaker performance. The L2400U outputs plenty of clear, crisp sound compared to the competition, and offers various sound modes, surround sound imitation, and bass/treble adjustment sliders.
Finally, I must insist again that this TV is not suitable for serious movie watching, as it struggles to produce accurate colors. Enthusiasts will absolutely want to steer clear, lest they be bombarded by dull reds and heavily skewed magentas. The L2400U looks best in normal or even brighter lighting, and is a good go-to for video games thanks to its low input lag, but it's a long shot from a serious display.
Comparable Products
Before you buy the Toshiba 50L2400U, take a look at these other televisions.
The Verdict
Not a bad choice for casual viewers
The Toshiba 50L2400U ($679) is truly stuck between a rock and better choices. While the price is competitive when compared to similarly sized models from Samsung and Panasonic, this TV isn't nearly as fancy or flexible as those models. You won't find any smart features or 3D here, and the materials and interface exude a low-quality air.
Unfortunately, this Toshiba's biggest competition boasts the same low price and much, much better performance. While certain viewers (especially gamers) will likely be satisfied by this TV's performance as a basic display, there's really no reason to buy it as long as Vizio's 48-inch E Series is readily available.
Our editors review and recommend products to help you buy the stuff you need. If you make a purchase by clicking one of our links, we may earn a small share of the revenue. Our picks and opinions are independent from any business incentives.