televisions
Toshiba 46WX800U Review
Performance hiccups keeps the Toshiba 46WX800U HDTV from competing with the best of the best this year.
$1,100.00 MSRP
46 in.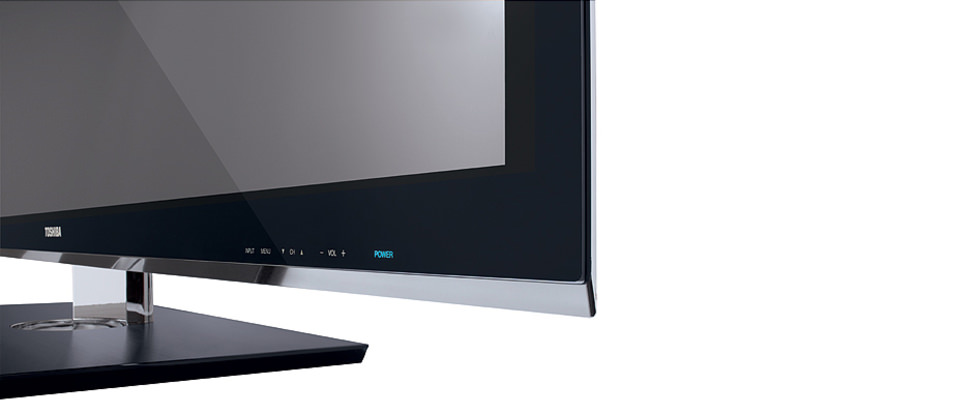 Introduction
With its super-wide range of connectivity options, the Toshiba 46WX800U certainly looks the part of a high-end television, but certain hiccups—like a mediocre color performance—keep it from competing with the best of the best. Still, if you can find it for cheaper than the MSRP ($2599), the Toshiba 46WX800U does offer an impressive array of features and it certainly doesn't skimp on contrast performance.
Design
A fairly simple appearance, but that's nothing to really complain about.
Gaze upon the visage of the 46WX800U and you'll notice that it is virtually indistinguishable from many mid-range television sets. With a very flat and featureless bezel, the Toshiba 46WX800U will blend well with most environments, but it's somewhat unremarkable. Nothing ventured, nothing gained, but at the same time there are no weird patterns or splashes of color to clash with the rest of your living room.
Virtually indistinguishable from many of the other mid-range television sets.
One unique thing about the Toshiba 46WX800U is just how many different types of ports it has. The recent trend in the TV world has been digital, digital, digital, with more and more HDMI ports and few analog options to placate those with older external media sources. If you have a wide array of specialized media sources, this may be a great TV for you to pick up. The only limitation we noticed on the 46WX800U is the shared component and composite inputs, which might be an issue for some with a cable box and Xbox that both share component cables.
Smart TV Features
A decent, if ugly, interface
Overall, the menus of the Toshiba 46WX800U aren't horrifying to look at, but they are quite unattractive. That being said, the menus are easy to locate and navigate, with very few surprises or hidden items that can't be accessed unless there is an exact condition met (yes, we have seen this in the past).
The menus are easy to locate and navigate.
Astute observers will note that the Toshiba 46WX800U has an Ethernet port on the back. Though the Toshiba 46WX800U doesn't really offer the same range of online content as say, a high-end LG, you still can explore a large range of apps provided by a partnership between Toshiba and Yahoo! for basic content like weather and news. For other applications, there are a few pre-loaded streaming applications that seem to do okay, but take forever to load.
Comparable Products
Before you buy the Toshiba 46WX800U, take a look at these other televisions.
Picture Quality
This television has entirely average picture quality
The Toshiba 46WX800U tested with very average picture quality—which isn't bad considering its price and range of features. It's a decent contender where color accuracy is concerned, though not without a few errors. It makes the grade in each area without any huge flaws or drawbacks. Likewise, its contrast and motion performance met our standards; sure, we would have liked to have seen something more impressive, but average results across the board are still better than drawbacks.
While the Toshiba 46WX800U certainly handles motion well enough, it does occasionally surprise you with small errors that come out of the woodwork here and there. Without any motion processing or interpolation enabled, you may notice that small, compact, high-frequency patterns (think really fine zebra stripes) might strobe for a small period of time, then correct themselves. Beyond this, we did not see the normal errors that plague lower-end televisions like stair-stepping, ghosting, or false coloration. The television does seem to have a small refresh rate issue in which moving boxes will appear more like parallelograms than squares, though it is a rare occurrence.
Conclusion
The 46WX800U isn't a terrible television, but its egregiously priced for what it offers.
The Toshiba 46WX800U ($2599 MSRP) is a fairly average high-end set that does fairly well in some areas, disappoints in others, and offers some very unique features that might appeal to a certain sect of customers. That said, it doesn't wow in the performance section, offer enough high-end features, or do much of anything to justify its price.
Despite some bizarre mishaps in color performance, the Toshiba 46WX800U has a good black and white performance with a wide contrast ratio, and it handles motion fairly well for an LCD TV. It may not perform at the level that its MSRP would suggest, but it isn't a terrible TV—just a terribly priced one. It's a nice set, and you can find it refurbished for around $1300, but there are far better values on the market than this display.
Our editors review and recommend products to help you buy the stuff you need. If you make a purchase by clicking one of our links, we may earn a small share of the revenue. Our picks and opinions are independent from any business incentives.