televisions
Toshiba 40L3400U LED TV Review
Cheap in the worst ways
$499.99 MSRP
40 in.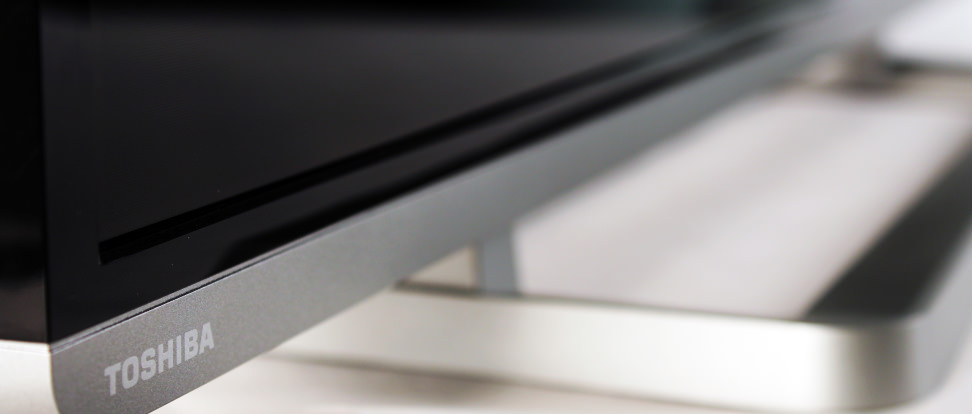 So far, 2014 has seen a lot of flash in the TV pan. 4K (UHD) options from almost every manufacturer are rightfully hogging a lot of the attention—but the budget buyer hasn't been entirely abandoned, either.
The Toshiba 40L3400U (MSRP $499.99, online $399.99) is one of 2014's clear-cut options if you don't want to take out a bank loan just to watch a little prime time. On paper, this 40-inch display offers Full HD (1080p) resolution, smart connectivity, and 120 Hz motion.
In real life, however, you won't find perfect performance here—nor does it seem fair to call this a "smart" TV. Getting connected to the internet can be tricky due to software issues, and there are only three apps—Netflix, YouTube, and Pandora—with no browser, app store, games, or any of the other features we've come to expect from modern smart TVs.
And even if you're a sale shopper who doesn't care one iota about the smart features, there are still better performers out there for the same price. Notable uniformity problems and a narrow viewing angle mean the 40L3400U is a bad choice for pure performance, especially when you could buy Vizio's 40-inch E-Series for the exact same price.
The Look
It only looks expensive at the right distance.
If there's one awesome thing about technology, it's that new advances eventually make yesterday's "premium" affordable to everyone. The 40L3400U is a good example of that—the thin panel, minimal stand, and narrow bezels around the screen make it look like more expensive than it is.
The L3400U looks more expensive than it is.
In that vein, Toshiba dresses this display in silver trim that runs along the bottom of the panel, matching the stand. It looks good at a distance, but feels cheap up close. On the plus side, the 40L3400U is very light and easy to move around.
Don't expect a bunch of fancy extras like 3D glasses or an IR blaster, though. All you get in the box is a simple remote control—it works, but it won't impress anyone at parties.
You'll find on-set controls for power, volume, channel, and input selection on the TV's left side, above a solo USB input. More connectivity options are on the back of the TV, and include three HDMI inputs, a shared composite/component cluster, digital audio out, LAN (ethernet) in, and a coaxial jack for cable or antenna.
The Picture
Try not to watch in the dark.
If there's one reason this smartly-dressed display is more "affordable" than the competition, it's because the panel is cheap—plain and simple.
Uniformity issues will drive discerning viewers crazy.
The 40L3400U is an edge-lit LED LCD, meaning LEDs (light-emitting diodes) run the perimeter of the screen. Uniformity problems—where the backlight is visible through the picture—often plague televisions like this, and the L3400U is no exemption. What does this mean during viewing? Hazy, blue light visually disrupts the picture. On our test unit, there are very visible LEDs at the top of the screen and in three of the corners.
It's especially distracting when watching 4:3 (standard definition) or letterbox (DVD, Blu-ray) content with black bars. Unless you're watching bright, full-screen content in a bright room, you'll notice the uniformity problems easily enough—which throws a wrench at movie night. This is by far this TV's biggest performance issue, and it's one that'll drive discerning viewers crazy.
Motion is quite good for this price range.
The 40L3400U scored well in some regards, but nothing exactly blew us away. I tested solid black levels, and enough overall brightness that you'll see satisfying contrast here.
Further, Toshiba's claims of a 120Hz panel aren't unfounded—motion is quite good for this price range, with blurring and stuttering only during intense horizontal panning (a kind of movement almost all LCDs struggle with.)
I wasn't impressed with the accuracy of this TV's colors, but calibration went a long way—improving some white balance problems in addition to color issues. The display is entirely watchable without calibration, but informed tweaking can definitely improve the picture quality. If you already own the L3400U, be sure to check out my calibration settings here.
Comparable Products
Before you buy the Toshiba 40L3400U, take a look at these other televisions.
The Extras
If this TV's a smart TV, I'm Neil deGrasse Tyson.
"Smart TV" can be a misleading term. Sometimes it means the TV can connect to the internet only for software updates, sometimes it means the TV is basically a big smartphone. In the case of the 40L3400U, it's closer to the former—by modern standards, there isn't much here at all.
If you want the bare minimum in smart features, this is it.
Toshiba includes just three apps: Netflix, YouTube, and Pandora. You can also stream content, like pictures and music, on a DLNA network sharing setup. There's no web browser, no "content headquarters," no app store, and no games. If you want the bare minimum in smart features, this is it.
Toshiba's choice to simplify this TV's smart features isn't necessarily a bad thing. This little display doesn't have much processing power, after all. I'll be clear, though: This is a bare-bones iteration of what many smart TVs are capable of.
Users trying to connect to a wireless network may be unable to.
Unfortunately, the small array of smart features isn't even the main problem here. While you'll have no trouble connecting to the internet using an ethernet cable, users trying to connect to a wireless network may be unable to.
Here's the problem: When you want to input your wireless password, the on-screen keyboard only allows lowercase and capital letters. Numbers can be punched in using the remote's number pad, but if your password is more complex ($oupR$ecrET-pa$$werD!!!) you're completely out of luck. Bluetooth keyboards didn't work with our test unit, either, meaning you might need to use a USB keyboard.
Toshiba's menu software is plain, but at least it works properly. The 40L3400U has the usual menus for Picture, Audio, and Network, and DIY calibrators will be glad to know that the ColorMaster CMS (Color Management System) is still here, too. Unlike most TVs, however, the L3400U doesn't allow for 2- or 10-point white balance adjustment—there's only a plus and minus slider. If you know what that means, you know that calibrating this TV at home will be trickier than usual. If you don't know what that means, don't worry about it.
The Verdict
Not the best investment
The Toshiba 40L3400U is not a total failure, but it has a lot of drawbacks. LED uniformity problems are a huge distraction in most viewing situations, and the TV requires a lot of tinkering and calibrating to look its best. You're also paying for a sad smattering of smart features—assuming you can connect to the internet at all. Software limitations may mean you can't type in your wireless password.
Unless it's the only 40-inch TV you can find or afford, the L3400U just isn't what you should buy. In a pinch, the L3400U sports a completely palatable picture as long as there aren't any black bars—but do you really want something so inflexible? Discerning viewers won't be able to stand the uniformity problems.
The bottom line is that the L3400U will suffice for a kitchen, garage, or guest room, but if you want the best quality for your money, there are better options in the same size and price range: Vizio's 40-inch E-Series or Samsung's 40-inch F5000 are available now. Check back throughout the year for more reviews in this size and price range.
Our editors review and recommend products to help you buy the stuff you need. If you make a purchase by clicking one of our links, we may earn a small share of the revenue. Our picks and opinions are independent from any business incentives.