televisions
Toshiba 40E210U LCD TV Review
It certainly feels entry-level, but the performance raises its eligibility a little
$549.00 MSRP
Buy now at Amazon
40 in.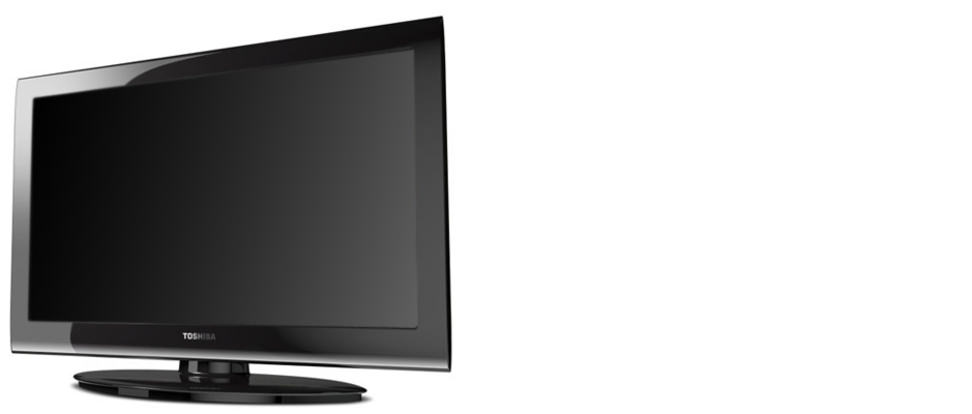 Introduction
The Toshiba 40E210U ($599 MSRP) is the entry-level model in Toshiba's line-up of LCDs. At first blush it certainly feels entry-level. The parts and the menu look cheap, plus the remote control doesn't work very well. The performance, however, raises its profile a little to the point where it's worth considering.
Design
For some reason the words "lipstick" and "pig" come to mind.
The Toshiba 40E210U looks like any other boxy, black TV in most regards, except for a silvery blue streak that runs along the bottom of the bezel. Above that is a dot screen pattern that transitions from black to grey. Stepping outside of traditional design is always risky, so we'll give Toshiba some credit for trying. But most of our editors found this to be a misstep—cheap looking, mostly.
The Toshiba 40E210U is equipped with only the most basic connectivity options, making it less than an ideal choice for your home theater hub. There are just two HDMI ports, while most HDTVs these days offer three or four. This may not be an issue if you don't have an HDMI-capable receiver, but if you do you'll probably want to opt for a higher-quality display.
Smart TV Features
The menu system on these budget Toshiba TVs is not pretty, but it is simple and straightforward.
The Toshiba's simplicity has a lot of appeal after you've experienced a beautiful, overly-complex menu (we're looking at you, Sony). It's very hard to get lost in the Toshiba menus. Everything is laid out right there. The only thing slowing you down is the remote control, with its crowded and confusing button layout.
The menu isn't going to win any beauty contests, but it does its job well enough.
The Toshiba 40E210U has a USB port on the side that can connect to USB mass storage devices, like thumb drives. From here, you can play photos (JPEGs only) and audio files (MP3s only). As with the other menus, the interface is far from pretty, but it's intuitive enough. The menu isn't going to win any beauty contests, but it does its job well enough.
Comparable Products
Before you buy the Toshiba 40E210U, take a look at these other televisions.
Picture Quality
The Toshiba 40E210U tested with decent color performance for a TV in this price range.
Overall, this entry-level Toshiba is not a bad performer at all, especially when you consider its relatively cheap MSRP of $599. It handles colors with a surprising amount of accuracy, offering decent spectrum representation and a very impressive contrast ratio. As far as performance is concerned, the Toshiba 40E210U is a fine choice. Its real drawbacks are only those not related to how it creates a picture.
While it should seem obvious that a television capable of creating a good picture is a smart purchase, the lack of features and cheap appearance may turn some people off. We'd caution that performance matters a lot more than design, but you're the one that has to live with this thing in your living room.
Conclusion
Like a great person who only dresses in lime-green leisure suits, style isn't the Toshiba 40E210U's strong suit.
Entry-level and budget TVs like the Toshiba 40E210U ($599 MSRP) are always a study in tradeoffs. You can tell immediately that it didn't receive the care and attention to design you see in most Samsung and Sony TVs. The physical components are crude and the remote control is cluttered and requires a lot of finagling to get a response.
That said, the menus are straightforward. The TV's overall design is simple. Everything works just fine (except the remote control). We liked the performance, for the most part. The color curves were smooth and the contrast ratio was impressive. The motion performance was marred by a little judder but few other problems.
You probably won't hate the Toshiba 40E210U; it's an affordable display that is easy to use and performs beyond its price point. Is it going to be the glorious centerpiece to a freshly renovated man cave? Probably not, but it's a great first television as long as you remember that beauty is only skin-deep and you buy a better remote control.
Our editors review and recommend products to help you buy the stuff you need. If you make a purchase by clicking one of our links, we may earn a small share of the revenue. Our picks and opinions are independent from any business incentives.