televisions
TCL 48FS4610R LED TV Review
It's a good size, but can built-in Roku streaming options save the iffy picture quality?
$499.99 MSRP
Buy now at Amazon
48 in.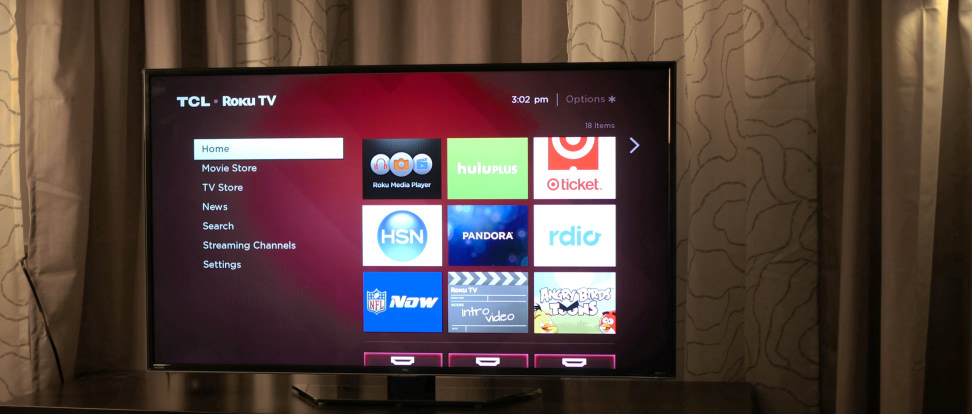 Streaming television is here to stay, but cutting the cord can be an intimidating jump for consumers unfamiliar with the ever-changing landscape of digital content online. The TCL 48FS4610R (MSRP $499.99) hopes to simplify the process with one key feature: Roku's popular streaming platform is built right in.
The Roku platform is typically something you get by purchasing a separate set-top box or HDMI peripheral that plugs into your TV, but the FS4610R is more like Roku with a screen attached; it even has a Roku-style remote, perfect for navigating all that easy-to-access content.
The TV itself doesn't have the best picture quality of its class, but it's also a $500 48-inch LED TV; you can't expect that much. It's also available in 40- and 50-inch models, with price adjusting accordingly.
Looks & Experience
Think inside the box.
Let's cut to the chase: The FS4610R isn't built to win over those interested in thin bezels, sexy stands, and curved screens. The 48-inch panel rests atop a skewed, rectangular glass stand. On the back you'll find a pretty basic set of connectivity options: three HDMI ports, a USB port, shared component/composite inputs, an optical audio output, a headphone jack, and a coaxial jack. Nothing out of the ordinary here.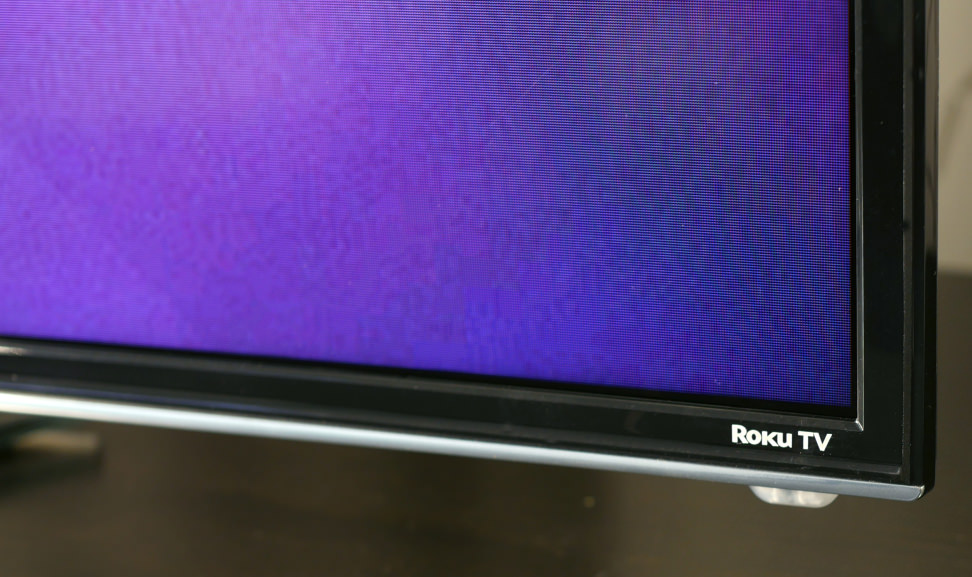 The real star of the show is, of course, the Roku funcitonality that's built in. The Roku TV comes packaged with a minimalist remote control that puts its smart features front-and-center, not unlike the original Roku remote. There's a directional pad for navigating menus, playback buttons, volume buttons on the side of the remote, and a collection of buttons that function as shortcuts to Netflix, Amazon, and so forth.
Although the FS4610R allows users to connect to the web via WiFi, there is no ethernet port on the TV...you're going to need access to a WiFi network.
There are a couple of immediate drawbacks, however. Although the FS4610R allows users to connect to the web via WiFi, there is no ethernet port on the TV. If your router is right next to your television this should be fine, but if you plan to stick this in a far-flung bedroom somewhere, you're going to need access to a WiFi network. And while we love the Roku-style remote, it doesn't have a headphone jack—one of the surprisingly useful features of newer Rokus.
Built-in Roku functionality makes for a decent entry-level smart platform.
TCL is clearly hanging its hat on this television's built-in Roku platform, which brings Netflix, Hulu, and a host of other streaming apps into users' living rooms without needing to buy anything extra. Though not as extensive as bigger, more prolific smart platforms (LG's webOS and Samsung's Smart Hub come to mind), users will find Roku TV easy to navigate and customize.
The platform's central hub is accessible from any input and is the first thing you'll see after turning the TV on. From this menu, users can select an input or choose from a list of apps that are already installed. Along with the out-of-the-box apps and the variety available in the store, the platform also provides "channels," which offer a wide swath of content ranging from kid-friendly programming to serialized fiction.
Roku TV is not nearly as in-depth as its competitors, but it fits the bill for this price range.
Roku TV is a decent entry-level platform for people who may have put off the transition into streaming content at home. It's not nearly as in-depth as some of the competition, but it fits the bill for this price range.
On the nerdier side of things, it's worth noting that the FS4610R lacks pretty much every benchmark picture customization option we use when calibrating our TVs. Users interested in getting some work done under the hood should take note: The most you'll be able to futz with is brightness, contrast, backlight, sharpness, color, and tint. There are no white balance controls nor a gamma slider to speak of.
The Picture
Hello blue, my old friend.
The FS4610R's most impressive characteristic is its ability to produce deep, rich shadows in conjunction with bright, contrasting highlights. That said, well-trained eyes aren't likely to be impressed by much else. Most notably, the FS4610R suffers from an issue common with most modern TVs: an overemphasis of blue tones. This isn't a problem limited to our test results, but one that's significantly visible when watching content. Cartoons and video games are less likely to be affected by these cool, bluish tones, but cinephiles might be better off shopping for something else.
The FS4610R suffers from an issue common with most modern TVs: an overemphasis of blue tones.
The FS4610R's motion performance is also a cause for concern for people looking to get a theater-quality picture in their living rooms. I watched the BBC's Planet Earth documentary and noted a propensity for choppy depictions of motion. Tree leaves and owl wings all stuttered through their respective choreography without any sort of grace, while the blurring effect employed by the TV's software seemed to highlight this issue rather than hide it.
At a hair under $500, the FS4610R is monument to affordability, not quality.
At a hair under $500, the FS4610R is a monument to affordability, not quality. Despite its shortcomings, it's still a 48-inch TV with middle-of-the-road performance, and there's a lot to be said for TVs that fill this particular marketplace niche. With properly managed expectations I expect most consumers will be satisfied, if not pleased.
Comparable Products
Before you buy the TCL 48FS4610R, take a look at these other televisions.
The Verdict
Firmly a budget buy, with some bonus features under the hood.
Here's the bottom line: The FS4610R is an affordable, 48-inch TV built for folks who haven't yet found a primary device for streaming content. If you don't know (or care) what a Chromecast is, but you still want Netflix and other streaming services without picking up a separate device, then this could be the TV for you.
Viewers with well-trained eyes, however, would be better suited by a sharper picture. The Vizio E480i-B2 is available online for exactly the same price as the FS4610R, and it blows the FS4610R away in performance and customization. Both TVs are $500 and both TVs offer some smart features, but Vizio's E Series comes equipped with a stellar picture and far more calibration options.
If you just want a decent-looking TV with well-honed smart features for $500, the FS4610R could fit the bill. But given the ubiquity of affordable, better-performing smart TVs on the market (not to mention even more affordable streaming accessories), you can probably find a better option out there.
Our editors review and recommend products to help you buy the stuff you need. If you make a purchase by clicking one of our links, we may earn a small share of the revenue. Our picks and opinions are independent from any business incentives.