televisions
Sunbrite SB4660HD Outdoor TV Review
Come rain or come shine
$2,795.00 MSRP
Buy now at Amazon
46 in.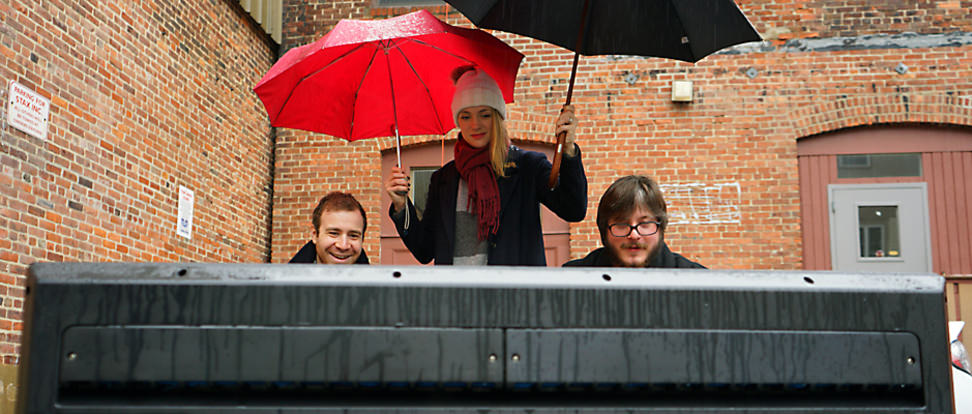 Behind the Screens
As a TV meant for the great outdoors, the Sunbrite SB4660HD ($2,795–$2,995) is fairly well-suited. It's capable of getting extremely bright while maintaining average black levels, has not-the-worst viewing angle we've ever seen, and gets much louder than most modern TVs.
That's where the praise stops, however: From a picture quality standpoint only, the image this TV produces is unimpressive. It has a number of errors that, thankfully, you're not going to notice during the as-intended outdoor viewing. Just don't watch it in a home theater environment.
Calibration Settings
Calibrating the SB3660HD was no easy task, but it was quick: Short of a basic color temperature control, this weather warrior's software simply doesn't allow for much tweaking. There's no gamma control, no white balance controls, no color management controls—there isn't even a backlight control. The as-found status of its preset picture modes remained mostly unchanged after calibration, though I did fix the reference setting of the black levels.
Grayscale & RGB Balance
Initial readings revealed a number of grayscale errors—improperly balanced sub-pixels within the TV's black, gray, and white shades. Lacking the common 2-point white balance control, I was unable to reduce the error found within the SB4660HD's grayscale during calibration. Visually, a high degree of error results in reddish, blueish, and sometimes even greenish grays. Grayscale error, described in DeltaE, is considered acceptable at a level of 3 or less. This Sunbrite tested with a total of 8.16—much too high.
The grayscale error above is the result of RGB imbalance. The TV is utilizing its red, green, and blue sub-pixels improperly, emphasizing the blue sub-pixel and underemphasizing the red and green sub-pixels. Lacking calibration controls, this result stayed the same before and after my calibration.
Comparable Products
Before you buy the Sunbrite SB4660HD, take a look at these other televisions.
Color Gamut
From a color production standpoint, the SB4660HD is very ho-hum. Its native color gamut in Theater mode was flush with error: Green is the wrong hue, red is highly undersaturated, and yellow and cyan are skewed as well. Lacking color management controls, the most I could do was use the color control to correct red's saturation and green's hue, which made for a slightly less imbalanced picture.
Gamma Sum
Gamma correction refers to how a display handles its middle-level luminance—everything between black and white increases in brightness based on a set interval, which is expressed as an integer: 1.8, 2.0, 2.2, and 2.4 are common. Prior to calibration, the SB4660HD's gamma sum was 2.09, which is lower than the ideal, but is also about right for a TV meant to be used outdoors. After calibration (which really only involved the correction of reference levels), the TV's gamma was closer to 2.4, which is much too dark for outdoor use.
Viewing Angle
Viewing angle refers to how far from head-on one can watch a TV before its picture starts to degrade. For a TV meant to be used outdoors, this is a very important test for the SB4660HD. I tested a total viewing angle of 48°, or ±24° from center to either side. This isn't a terrific result, and is below average for an LCD television.
What does this mean for you? Better install this Sunbrite where you can watch it mostly head-on.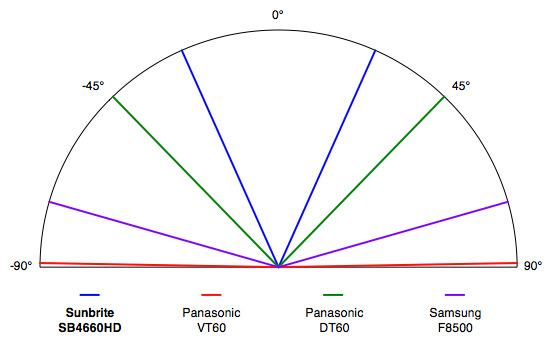 Contrast Ratio
The Sunbrite SB4660HD lives up to its name—it produces very bright white levels, and average black levels. I measured an impressive peak brightness of 428.80 cd/m2 and a minimum luminance of 0.15 cd/m2 (once reference levels were adjusted properly). This gives the Sunbrite a contrast ratio of 2858:1, which is decent. That said, you still shouldn't watch it in direct sunlight.

Our editors review and recommend products to help you buy the stuff you need. If you make a purchase by clicking one of our links, we may earn a small share of the revenue. Our picks and opinions are independent from any business incentives.