televisions
Sony XBR-49X850B 4K LED TV Review
A flashy cocktail of dashing design, colossal resolution, and pretty picture quality
$1,999.00 MSRP
Buy now at Amazon
49 in.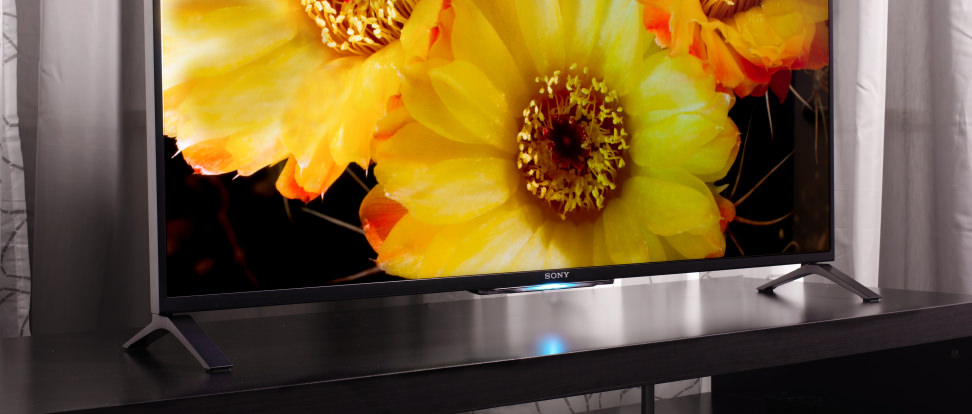 Several steps below Sony's most premium 2014 TV sits the more-affordable XBR-49X850B 4K LED TV (MSRP $1,999). This sleek series dazzles with its massive 3840 x 2160 resolution, its head-turning design, and its positive performance points.
Of course, surrendering two grand for a 49-inch TV isn't everyone's cup of tea. Many would rather stick with regular HD and score more screen, better bread-and-butter performance, and a smaller price tag. Let's face it, there's just no shortage of great alternatives to 4K right now.
But if you're one of many shoppers ready to take the pricey 4K plunge, then Sony's X850B is a worthy option. Be sure to scope out its UHD rivals, though, and don't complain about the towering price tags—'tis the fate of the early adopter.
The Looks
Hi Ho Silver!
It costs as much as a used car, but the Sony X850B 4K TV sure is handsome. The company clearly put plenty of time and thought into this model's design.
Slim, matte-metal bezels wrap the panel from top to bottom. Since it isn't shiny, the TV's border fades into black when you turn out the lights for movie night. Wide-set metal feet prop the TV up with a bit of flare, but take heed and mind your measurements: The feet can attach on either end of the panel for a wide stance, but then the TV may not fit on your entertainment stand (in which case you'd need to attach the feet toward the middle of the panel).
In the box, owners will find an IR blaster for cable integration, two sets of passive 3D glasses, a traditional remote, and a touchpad controller. A generous host of ports stands ready to greet you, too: four HDMI, three USB, coaxial cable, ethernet LAN, shared composite/component, a headphone jack, and digital audio out (optical).
The Experience
Features you'll fancy
If you're willing to shell out $2,000 for a television, you're probably expecting the world in terms of smart features—and this Sony will pretty much give it to you. The X850B is 3D, loaded with streaming apps, and packed with twinkling bells and whistles, like a mounted camera and touchpad remote.
The X850B is packed with twinkling bells and whistles, like a mounted camera and touchpad remote.
If content is your king, Sony has you covered. Users will find Amazon Instant, Netflix, Hulu Plus, Crackle, Sony's Video Unlimited service, and more. You can find it all in the Sony Entertainment Network, "SEN."
The SEN smart platform boils down into four main tabs: Movies, Album, Music, and Apps. The Apps page carries basic preloaded items like Netflix and Hulu, but you can click the "plus" sign to find more—radio stations, news, games, and so forth. The Movies tab showcases titles from Crackle and Video Unlimited, Netflix, Amazon, and Hulu. Next, search the Music tab to find songs from Sony's Music Unlimited, VEVO, or your own private collection (via USB/DLNA). Lastly, the Album tab curates personal photos for users who sign up for Sony's cloud service.
Click "Advanced" for the grittier business of gamma and 2-point white balance.
If you feel like performing an operation on the picture quality, those tools are available under the Options key. The basics await you in the Picture Adjustments menu: backlight, contrast, brightness, sharpness, and other staples. Click down to Advanced for the grittier business of gamma and 2-point white balance—but 10-point controls and a full CMS are nowhere to be found. While I'm on the topic, I should mention a lamentable fact: Calibrate to your heart's content, but you can't savor the fruits of your labor once you launch Netflix. The television stubbornly reverts back to its presets, locking goodies like gamma and throwing away the key (until you exit the app). Pixel peepers, stick with your Blu-rays.
To round out the TV's extra features, I should briefly mention the IR blaster. Plug this gizmo in using its USB connector and place the black tips within clear range. The blaster offers control over cable set-top boxes via Sony's remote—though not without the off-putting input lag that accompanies this kind of chore.
Users can control a cable set-top box via Sony's remote, though not without the off-putting input lag that accompanies this kind of chore.
Finally, while many brands offer similar smart perks, not all of them provide a fun tool for navigating those features-but Sony does. The company's touchpad remote makes moving from one selection to the next a bit more fun and fluid (though it's not nearly as zippy as something like LG's gesture-driven Magic remote). On the other hand, the X850B's traditional controller failed to win my affection; its Home button is very ill-placed, so that you're constantly clicking it by accident as you attempt to click the "down" button, which sits just overhead.
Comparable Products
Before you buy the Sony XBR-49X850B, take a look at these other televisions.
The Picture
A premium centerpiece for sunny sitting rooms
If there's one thing to know upfront about Sony's X850B 4K TV, it's that this panel (calibrated or not) is best suited for an illuminated room. This isn't ideal picture quality for dark-room viewing, period. Barring that, brace yourself for massive 3840 x 2160 resolution and praiseworthy picture quality.
This TV's black levels are average, at best.
I'll begin the picture-quality rundown with the ever crucial topic of black level. Why is black level so important? Films require rich, shadowy contours to convey depth and drama during dark scenes. If black levels are too bright, these important details appear shallow and lifeless, a weakness that becomes especially prominent during dark-room viewing.
The X850b's black levels are average, at best—which is why it looks best in a partially lit environment. To make matters worse, uniformity issues plague its corners. Uniformity refers to unwanted light that bleeds into dark areas of the screen (a common issue with edge-lit LED LCD panels). While watching The Hobbit in the dark, the black bars that sandwich the film looked too bright in the corners. The blotchy light leaks became especially annoying during very dark scenes. I'll say it again: This TV is not ideal for a pitch-black room.
Color production is the TV's key strength. Films and nature documentaries appear accurate and true to life. The drawbacks in this area of performance are mild and few: oversaturated reds and slightly off-hue greens. The secondary colors aren't perfectly accurate, either, but most viewers will never notice the discrepancies.
Yelling, cursing, nacho-eating sports fans will fist pump for the X850B's motion performance.
Yelling, cursing, nacho-eating sports fans will fist pump for the X850B's motion performance, too. Although the panel suffers a degree of mild blur and juddering during highly detailed, horizontally panning scenes, the behaviors are much milder than what you normally find on edge-lit LCDs. Sony also includes motion enhancement settings, such as Cinemotion and Motionflow. The former works specifically to improve cinematic content, such as Blu-rays, while the latter handles content regardless of source—and both modes offer varying levels of strength (Clear 1, Clear 2, Auto 1, Auto 2, etc.).
The viewing angle isn't as impressive. The X850B slightly outperforms competition like Samsung's HU8550 4K and Panasonic's AX800U 4K, but this Sony still isn't a great candidate for large-group viewing or wall mounting. Be sure to lounge front and center.
Lastly, lots of folks seem curious as to how 3D looks on a 4K panel. I can tell you, it looks terrific. Sony's passive (battery-free) glasses are lightweight and comfortable, and watching 3D content for extended periods doesn't tire the eyes. I did notice some mild ghosting towards the edges of the screen, but that's nothing out of the ordinary. Coraline and a documentary on outer space looked particularly impressive and detail rich. It makes sense. 3D content utilizes higher resolution, after all, so the shoe fits.
In a word, the Sony X850B is a standup, premium candidate for partially lit or sunny living rooms. Those in search of centerpieces for gloomy home theaters should consider other options.
The Verdict
How much is that TV in the window?
If you want to know what the Sony XBR-49X850B's (MSRP $1,999) biggest drawbacks are, I'll point at its potbellied price tag and uninspiring black levels. As a TV reviewer, the black level is tough to look past. The ability to sink deep into gloomy shadow tones is truly a key ingredient for a masterful home-theater centerpiece.
If you want to know what the Sony X850B's biggest drawbacks are, I'll point at its potbellied price tag and uninspiring black levels.
Yet plenty of viewers don't watch their TVs in pitch-black home theaters. If that's the case, then the Sony XBR-49X850B is a standup companion for your living room. In partially lit and sunny settings, this display really dazzles. Its lush, accurate colors and skillful motion handling equip it nicely for sports, nature programs, and countless other content types.
Garnishing the beautiful picture quality are premium extras galore: The X850B comes with piles of streaming apps, a web browser, 3D glasses, a mounted camera, and a touchpad remote control for easy navigation. Not to mention, this TV's design is amongst 2014's most dashing entries. If 4K is a must, consider Sony's X850B.
Our editors review and recommend products to help you buy the stuff you need. If you make a purchase by clicking one of our links, we may earn a small share of the revenue. Our picks and opinions are independent from any business incentives.