televisions
Sony KDL-32R330B LED TV Review
This entry-level TV dresses and performs well above its station.
$249.99 MSRP
Buy now at Amazon
32 in.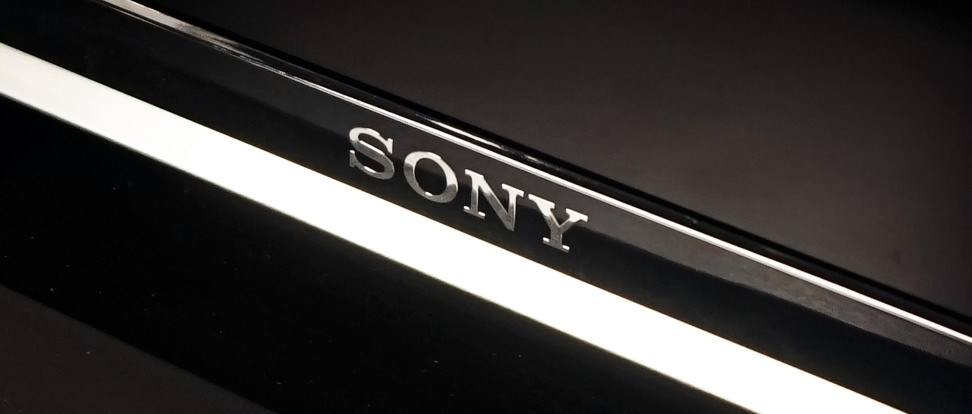 The Sony KDL-32R330B (MSRP $249, online for $219) is a 32-inch, 720p option that's quite affordable for its size. If you're looking to trim the fat and get a no-frills TV that still delivers higher-end picture quality, the R330B is a great choice.
Testing revealed that this little TV packs a pretty punchy picture, and we mean that in a good way. In the TV's Cinema picture mode—which is perfect for movie content—the R330B looks as good as many pricier televisions.
You'll find a healthy contrast ratio coupled with accurate colors, though they're a bit muted for those who like their picture really bright and flashy.
We were especially impressed with this TV's backlight uniformity, which was surprisingly reliable for an edge-lit TV of this size.
While this one should be on your radar if you're looking for the best quality-to-dollar ratio, don't drop the money on it if you're just looking for a "background" TV in a guest room or kitchen. You can find cheaper options for those roles, and this TV needs a dedicated viewing environment to be fully appreciated.
We also advise you take the 720p resolution into account: If you're going to watch from 5 or more feet away, there's no disadvantage to 720p vs. 1080p, but if you want to get up close and personal, you might be better off with a 1080p option, such as the comparably affordable Sharp LC-32LE551U.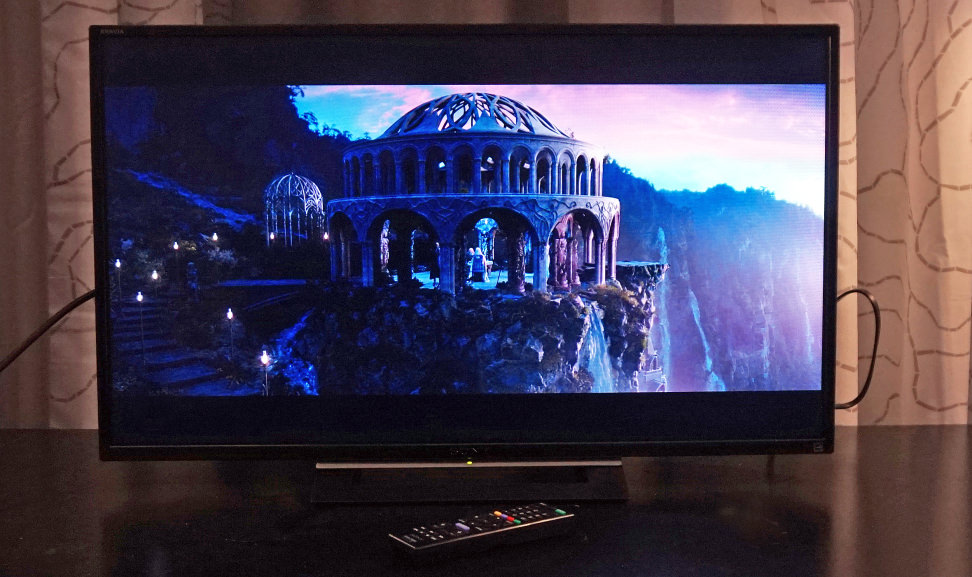 The Looks & Experience
Like an ambitious employee, the R330B dresses above its station.
Usually, entry-level TVs like this one don't really "dress to impress," but the R330B both looks and feels like a little craftsmanship went into producing it.
This Sony's narrow black bezels and black plastic suit don't necessarily help it stand out from a distance, but the little details do impress. The quality of the plastic and the stability of the fusion (read: lack of gaps) between the screen and the bezels around it help the R330B stand out within a deluge of cheaply designed televisions.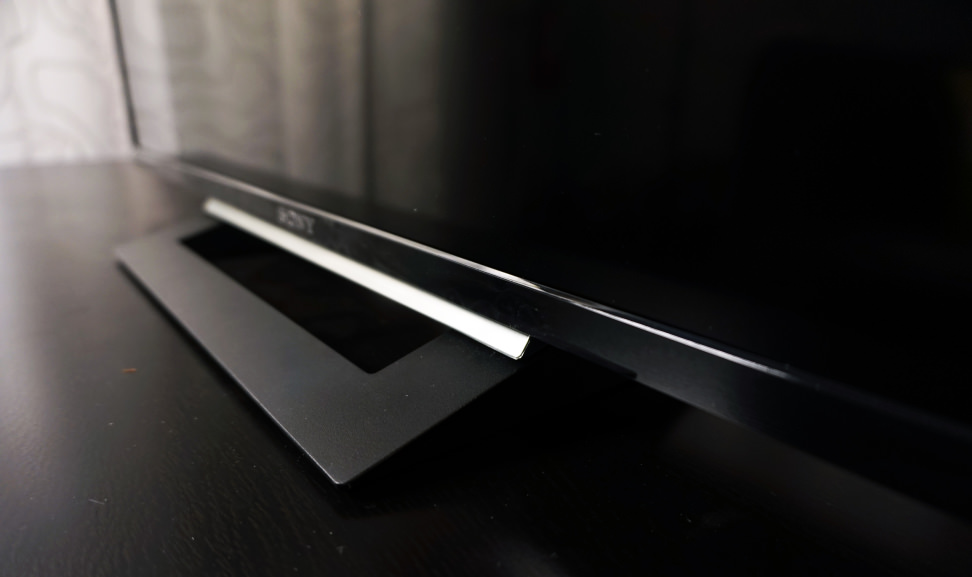 This TV perches upon a semi-hollow rectangular stand that lifts it a few inches from the tabletop. While the stand is of lighter weight than we'd prefer, it still provides an ample enough footprint that there's no risk of tipping or falling. Lastly, a slim side profile lends the TV a modern look.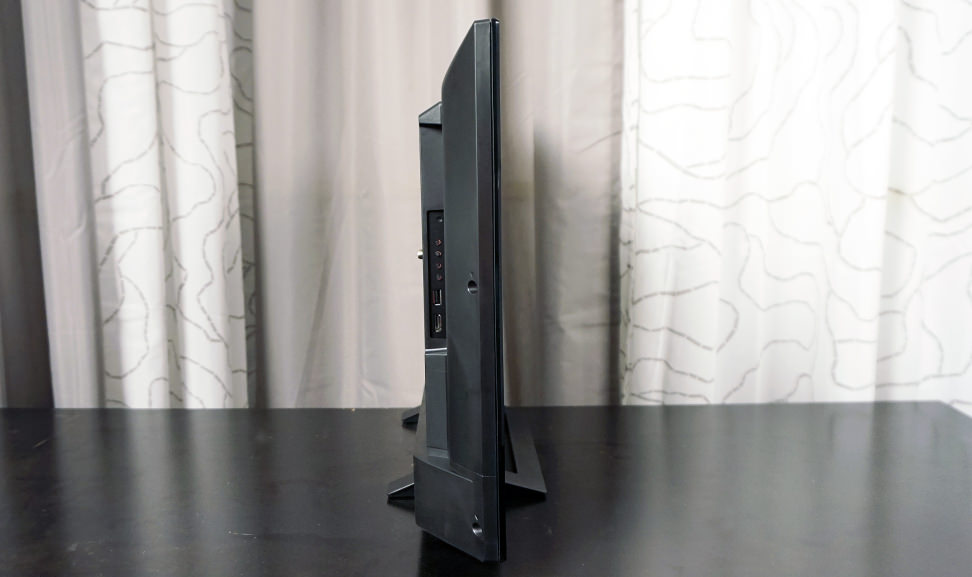 Around back/on the left side, you'll find an above-average amount of audio and video inputs: two HDMI inputs, a USB 2.0 input, shared component/composite hookups, a coaxial jack for cable/antenna connection, a hybrid sub-woofer/headphone/analog audio out jack, and an input for exterior analog audio speakers. Getting more than one HDMI is pretty rare for this price range, and the multiple audio options are a definite plus.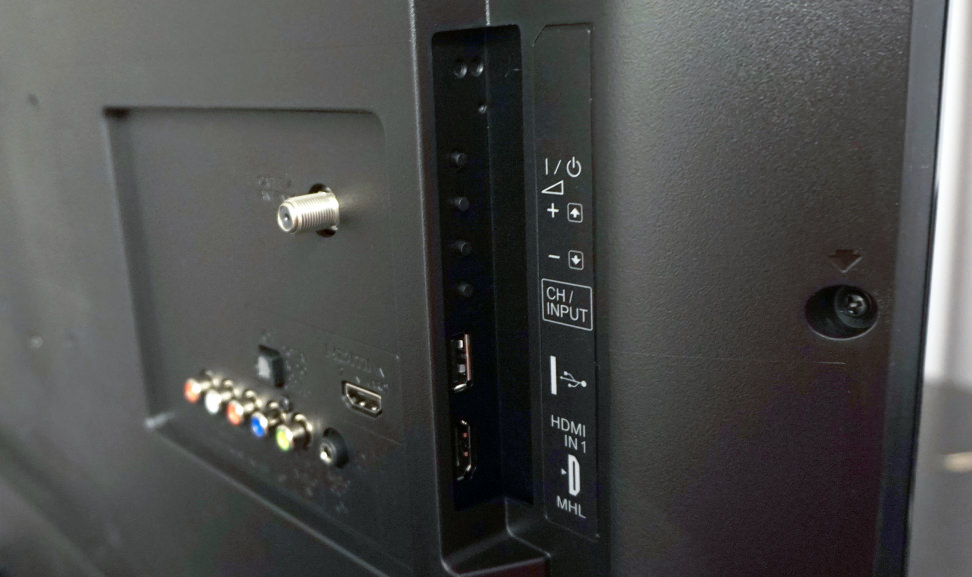 The remote control here is pretty average, but it's tricked out with lots of buttons. It's not the best remote we've ever used, but it's not low quality either. It's good enough for navigating the TV's software menu, which is rather well-designed for this price range, and offers up a good amount of picture/audio adjustments, including the same "Scene Select" option found on Sony's high-end lineup.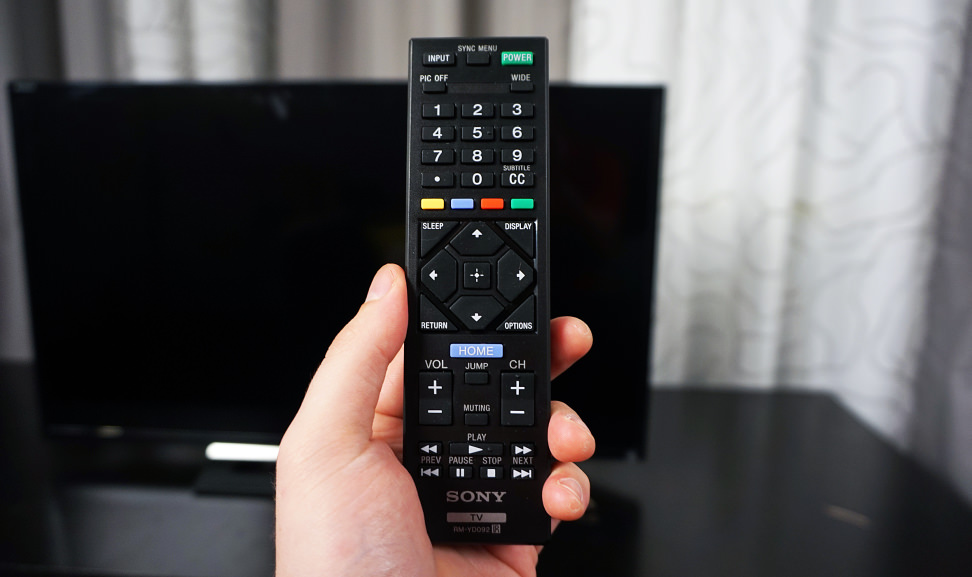 The Picture
Commendable picture quality, especially for this price range.
We've got to hand it to this Sony: For one of the company's lowest end 2014 models, it's capable of a fairly solid picture. It can't go toe-to-toe with the best TVs in the business, but in terms of pure picture quality it's got a lot to offer to even very picky TV and movie lovers.
First of all, for an edge-lit LED TV, the R330B boasts solid contrast via deep, shadowy black levels. Deep, dark caves? Spooky night-time graveyards? Seedy city alleyways? All of them will look appropriately inky and foreboding, especially when you're using the Cinema picture mode.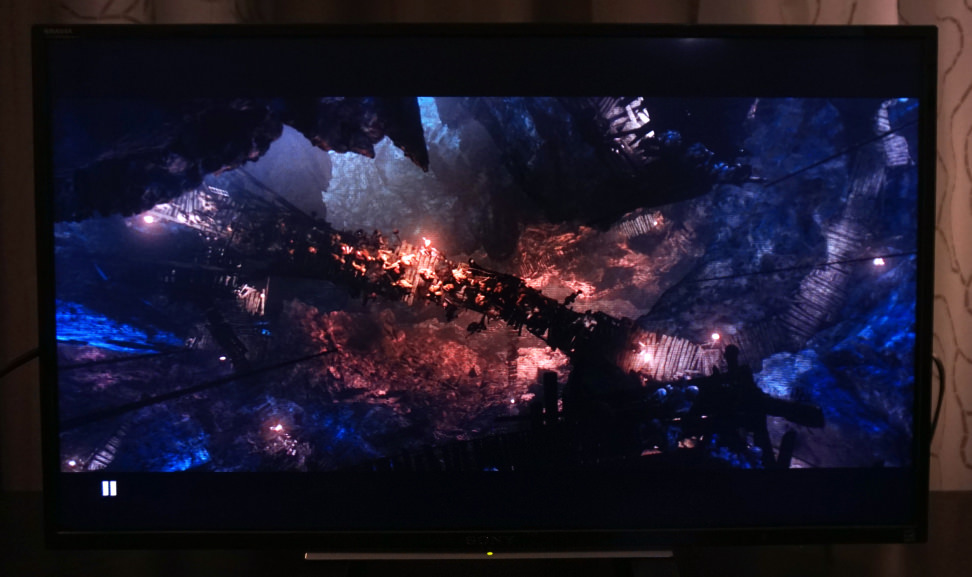 On the flipside, the R330B isn't super bright and flashy, so it's best used in a dimly lit room like a bedroom or living room. Since black levels have much more to do with on-screen contrast than peak brightness, however, the R330B still delivers good overall contrast—right up there with some upper midrange models.
The R330B isn't super bright and flashy, so it's best used in a dimly lit room like a bedroom or living room.
Testing also revealed mostly color-free grayscale elements, a feat that's harder to achieve than it sounds. Neutral shades like midtone grays or sub-peak white tones look clean, and are almost entirely free of the blue/peach tinting that often upsets TVs in this price range. In that same vein, the R330B's basic color production is pretty good, though not without an element of inaccuracy.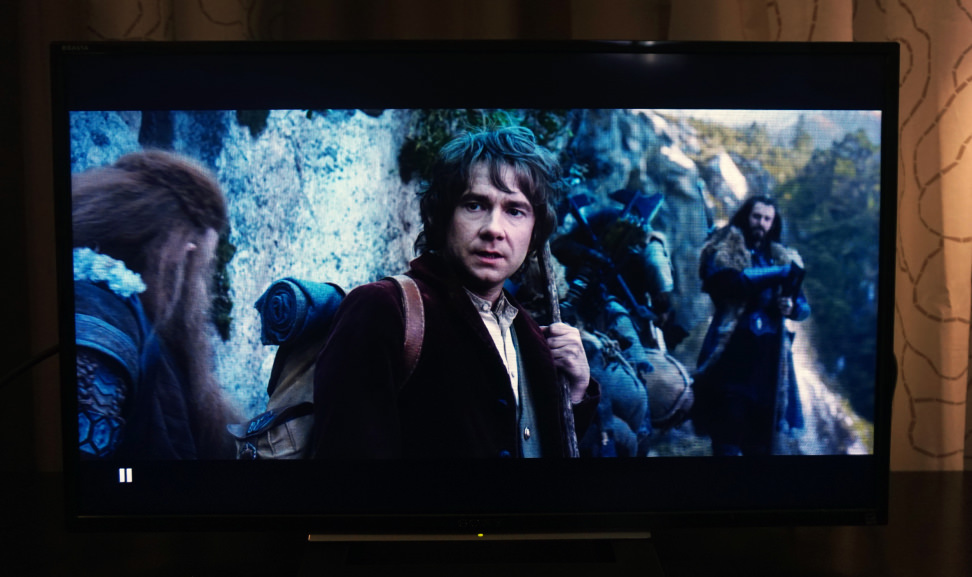 This TV's only real weakness is its viewing angle. If you try to watch it from too far to one side, the picture becomes washed out and colors bleed a bit. This is fairly common for affordable, non-IPS LCD panels, but it does mean you probably shouldn't wall-mount this TV or expect huge groups to be able to watch together.
Wanna see some cool charts and all the hard data we gathered during testing and calibration? Check out the Science Page.
Comparable Products
Before you buy the Sony KDL-32R330B, take a look at these other televisions.
The Verdict
A top-notch choice for the serious viewer.
In many ways, the Sony KDL-32R330B is like a plasma TV: It's capable of solid black levels, it looks better than many competing TVs in a dimly lit room, and it's not bright enough to compete with lots of ambient lighting.
Though it's not as bright and flashy as the competition, if you're in the mood for some serious cinematic action or want to wring the most detail out of your PS3, the R330B is one of the better choices in this price bracket. Just keep the 720p resolution in mind—if you've got a current generation console, for example, you might want to spring for a 1080p option like this Sharp.
If you're craving serious cinema or want to get max details from your PS3, the R330B is one of the best choices for the price.
If you can find a bigger TV for a similar price, chances are the picture quality isn't as good—but what if you just want the biggest screen you can?
If you'd rather trade picture details for screen size, there are lots of options—like this 40-inch Sanyo—that you can get for a similar price. Just know that TVs like that one tend to look better for more casual viewing purposes, and can't hold a candle to this Sony in terms of out-of-the-box quality.
Our editors review and recommend products to help you buy the stuff you need. If you make a purchase by clicking one of our links, we may earn a small share of the revenue. Our picks and opinions are independent from any business incentives.