televisions
Sony Bravia KDL-60R520A LED TV Review
Whopping size for a whipped price
$1,399.99 MSRP
Buy now at Amazon
60 in.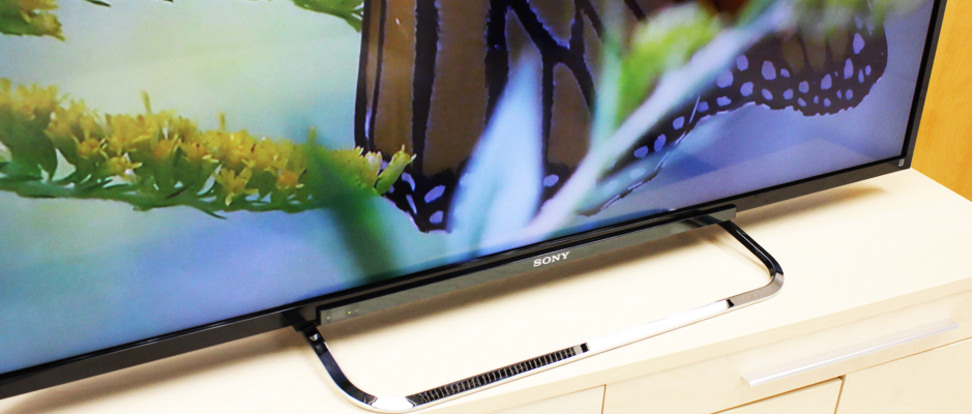 The Sony Bravia KDL-60R520A (MSRP $1399.99) brings more features, better picture quality, and lots of screen to the table for an affordable price. While lower on Sony's 2013 ladder, this series is still dressed in the trappings of champions.
Time in the lab has won the R520A a place in the winner's circle. For the price, getting a TV with performance and features big enough to match its size is a real steal. Pounce on it!
The Looks
Big screen, little stand
The R520A has a very single-minded appearance. Its metal-bar stand is trim, attempting stylishness, and frankly looks a little silly attached to the hulking, 60-inch screen of our test unit. Half-inch black bezels cling to the edge of the panel, which sits quite low to whatever surface it perches upon. Overall, it's a handsome TV that puts all emphasis on its giant screen.
Round back of the panel, you'll probably notice how cheap the casing feels. This may disappoint fans of quality craftsmanship—and who isn't one?—but it's a big reason why this 60-inch LCD is so affordable. Compared to years past it's substantially cheaper, especially when you consider that it's a card-carrying Sony Bravia model.
This Sony has a home-theater worthy four HDMI inputs—two on the back, and two on the side.
Facing the R520's backside, you'll find its connectivity options clustered to the right side of the panel. This Sony has a home-theater worthy four HDMI inputs—two on the back, and two on the side. It also offers two side-mounted USB 2.0 ports, a shared component/composite jack, digital audio out, analog audio out, LAN (ethernet) in, and a coaxial jack for cable/antenna. Just below the ports, you'll find the TV's on-set controls, which consist of manual power, channel, volume, or input adjustments.
Not too keen on pressing the little buttons on a big TV? Us neither, beaver. Fortunately, Sony includes a humdinger of a remote that's stuffed with buttonry. There are dedicated buttons for power, volume, channel, menu, menu navigation, the S.E.N. (Sony Entertainment Network), Netflix—even aspect adjustments and USB playback. Like the TV's software, the remote is complex and techy.
The Experience
A multimedia-friendly machine
The Sony Bravia KDL-60R520A is complicated, though not hopelessly so. Sony is one of those companies that likes to stuff as many options into its menu system as possible. Anyone familiar with the PlayStation 3 knows what I'm talking about—there are easily twice as many menus and sub-menus on this TV as its competition.
The R520A is a smart TV, meaning you get access to Sony's 2013 smart platform. While it's not our favorite, the Sony Entertainment Network does give easy access to popular streaming content like Netflix and Hulu Plus. It's WiFi ready, but can also be smart-icized via an ethernet cable. Like all smart platforms, it has its share of awful flash games and bloatware apps, but a little use will learn ya which to avoid.
This Sony plays personal media off of a USB stick, and displays your smartphone's content via an HDMI/MHL connection.
This Sony also plays personal media—like images, videos, and music—off of a USB stick, and displays your smartphone's content via an HDMI/MHL connection. Sony has smartly placed the MHL HDMI port to the TV's side, while placing the ARC (Audio Return Channel) HDMI port on the back. Personal media gets extra fancy in the R520A's Photo Frame mode, which will display your photos alongside a clock and calendar—all while music plays in the background. We imagine this would make a cool screensaver if the TV was in your living room.
Buried within this Sony's complex menus are a lot of picture and audio controls. Scene selection allows for pre-set modes, like Cinema, General, and Game to set the mood for whatever content you're experiencing. Audio gets the same treatment: Music is for music playback, whereas Movie will alter volume/EQ settings to boost dialogue and compress treble and bass a bit. The whole system can be a bit tricky to figure out, but invested owners will eventually be glad of all the customization and filigree this TV offers: The Sony R520A can be tweaked to suit many moods and rooms.
Comparable Products
Before you buy the Sony Bravia KDL-60R520A, take a look at these other televisions.
The Picture
A single flaw can't tear this TV down.
Time in the lab tells it: The R520A is a competent television. Our highest priority when reviewing a TV is its picture quality, and interested consumers will be happy to know that this mid-tier Sony boasts venerable picture quality in all of our core performance categories—except one.
As for the vaunted area of light dynamics—or contrast ratio—the R520A produces both a deep, rich black level and a very bright peak white. For an edge-lit LED, its ability to produce realistic shadow tones alongside bright content is quite impressive. The only drawback we found concerning its high light output is bleed-in around its corners. In a dark or very dim room, letterboxed and 4:3 content will look grayish. The 60R520A is probably best suited to mid- to high-ambient lighting.
Sports fans and gamers will be glad to know that the R520A handles motion-based content quite well.
When it comes to color production, the R520A falters just a bit. TVs are meant to produce a set range of colors, and this Sony struggles to fully produce the standard for red. Green and white are almost perfect, but blue is both too saturated and the wrong hue, edging not-so-subtly towards magenta. This somewhat skewed color gamut is unfortunate, but does not destroy the TV's overall picture. Its transitions from color to color, and black to white, are very good. Expect no "color "banding," where two neighboring colors shift too suddenly between one another.
Sports fans and gamers will be glad to know that the R520A handles motion-based content quite well. Without its Motionflow assistance, it blurs a bit, but enabling that setting eliminates the problem. Film fans can trigger another setting, Cinemotion, to evade the juddery effect that some HDTVs suffer from when showing film-based content, such as Blu-ray discs. Feel free to turn up the volume, too: The R520A's thick casing allows its speakers to employ a healthy range of treble, bass, and midtones without the rumbling distortion that slimmer LED TVs sometimes suffer from.
The Verdict
Sony rocks the house.
In recent years, a 60-inch LCD with all of these features and finery would've cost a pretty penny. We're surprised and pleased by the R520A's competitive pricing: $1,400 just feels like a steal.
Competent core performance and tech-savvy features combine into one value-friendly TV. We've got to put our stamp of approval on this one, especially if it goes on sale.
Our editors review and recommend products to help you buy the stuff you need. If you make a purchase by clicking one of our links, we may earn a small share of the revenue. Our picks and opinions are independent from any business incentives.