televisions
Sony Bravia KDL-55HX850 LED TV Review
A top-tier model loaded with features. It's a handsome devil, too.
$2,600.00 MSRP
Buy now at Amazon
55 in.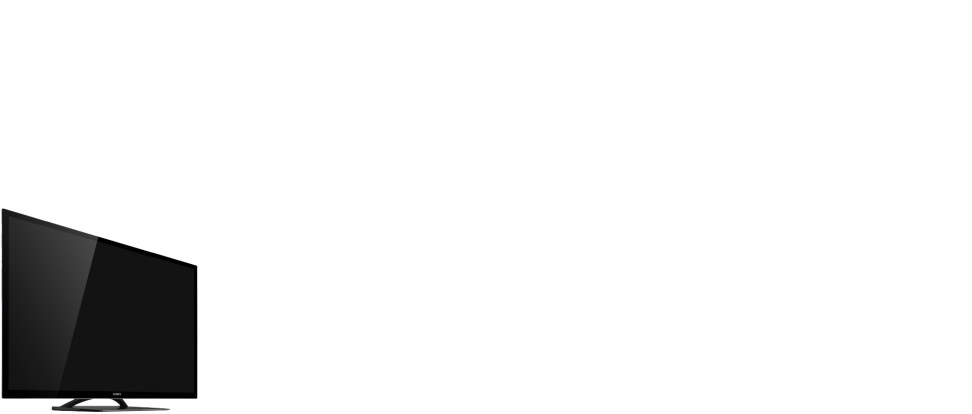 Introduction
The Sony Bravia KDL-55HX850 (MSRP $2,600) is one of Sony's high-end TVs for 2012. The Japanese giant is no stranger to the TV business, though they've certainly had a rough go at making it a successful business lately. Nevertheless, they've plowed ahead with top-tier models like the HX850, which is loaded with plenty of features. It's a handsome devil, too.
Did the HX850 blow my mind? Not quite. This is not a game-changer, and it's definitely not the hands-down best TV on the market. It's a very good TV and is impressive in a few key areas. The picture quality on this monolithic beauty is very good, with an excellent contrast ratio and great colors. Sony even stepped up its 3D game for this TV: aside from the awful 3D glasses, the 3D effect this TV produced was superb.
Sony still has a lot to learn about the world of internet TVs. Yes, the concept is rather new, but Sony does a very poor job implementing internet features into its TVs and the 55HX850 is no exception. The company's use of two different interfaces to access internet content is downright confusing and not something that consumers should have to deal with.
Design
The Sony Bravia HX850: a television design odyssey.
Sony describes the HX850 as having "monolithic design." With squared edges, a slim profile, and a glossy screen that begs to be watched—all draped in black—I can see why Sony is comparing this HD beauty to the iconic black slab from 2001: A Space Odyssey.
Controlling the HX850 is done with the standard remote that comes with all high-end Sony TVs. It is a simple remote with all of the basic buttons you would expect, plus some extras like a button that takes you to Sony's smart platform and a dedicated Netflix button. This remote is comfortable and easy to use, but it would have been nice if Sony designed a remote that gave us a different way to interface with the TV, like Samsung's Smart Touch Remote or LG's motion-controlled Magic Remote.
On the back of the HX850, you will find a good amount of ports that should satisfy all of your A/V needs. There are four HDMI ports, two USB ports, a VGA input, an audio input, an audio output, a digital audio output, an Ethernet jack, a cable antenna input, and composite and component inputs.
Smart TV Features
Sony included two interfaces for its smart TV platform: Dr. Jekyll and Mr. Hyde.
For its menu system, the HX850 uses the XrossMediaBar (XMB), the same interface found in the Sony PSP and PS3, and it is showing its age. The interface can be accessed by pressing the "Home" button on the remote, which shrinks the picture and brings up a menu at the bottom and subcategories on the right. The interface is a bit too cluttered—a simple task, like changing the picture mode from standard to cinema, is more complicated than it has to be.
Sony's decision to include two separate interfaces for internet content is mind-boggling.
The smart interface is where things start to get weird. There are two ways to access internet content on the HX850: using the XMB interface and using the Sony Entertainment Network interface. Sony's decision to include two separate interfaces for internet content is mind-boggling. Using the XMB interface to find apps and streaming videos is tedious and involves scrolling through menus in order to find the content you are looking for, much like changing audio or picture settings.
The other way to access internet content is via the Sony Entertainment Network. There is a button on the remote that will take you to this interface, which is a huge step up from the outdated XMB menu system. Four categories of content—Apps, Videos, Music, and Favorites—are displayed, with colorful square icons representing each app. There is an app store provided by Yahoo! and we recommend staying away from it since the apps are horribly outdated and provide no actual use. All of the content you would expect from a smart platform in 2012 is preloaded on the HX850: Amazon Instant Video, Hulu Plus, and Netflix all make an appearance.
With such a pleasant smart platform, it's difficult to understand why Sony included internet content on the XMB interface at all.
Comparable Products
Before you buy the Sony Bravia KDL-55HX850, take a look at these other televisions.
Picture Quality
The picture on the HX850 is mostly great.
All of the HX850's good looks would mean nothing if the TV didn't produce a good image. We're happy to report that Sony's flagship model delivers in some key areas. It has great color consistency, deep black levels, and very bright peak white levels. One place where the HX850 falls on its face is in the viewing angle department. Its total viewing angle of 36° is disappointing.
This Sony also features some decent motion performance. With all of the motion processing settings turned off, there was some slight jerkiness with fast moving images, but the overall quality was good. Turning on any of the five motion processing settings (smooth, standard, clear, clear plus, impulse) will get rid of the blurriness, although the smooth and standard settings produce the most obvious occurrences of the Soap Opera Effect.
3D
Seriously good 3D.
What high-end TV model would be complete without 3D? Sony makes use of active 3D technology in all of their 3D TVs. This means that two separate images are sent to each lens of the required 3D glasses. These images alternate rapidly, convincing your brain that you are seeing one three-dimensional image.
Speaking of glasses, the ones we used to test 3D on the HX850—model TDGBR250—are not exactly comfortable. They are a bit too bulky and heavy for our tastes, which is not something we want to say about glasses that cost around $50 for one pair.
Sony nails the 3D effect, though. Our go-to 3D movie, Monsters vs. Aliens 3D, looked great. Images were treated to the added depth that 3D gives, plus there was no crosstalk. Great job, Sony.
Conclusion
The HX850 has a great picture, but its smart features aren't implemented as well as they could be.
Back in 2005, Sony decided to change the name of their top-of-the-line TVs from WEGA to BRAVIA, an acronym for Best Resolution Audio Visual Integrated Architecture. Does the HX850 live up to that lofty definition? We would say so. This LED TV does a lot of things right and picture quality is chief among them. The color consistency and contrast on the HX850 are well above-average, and complement the good looks of the design, although the narrow viewing angle was a disappointment.
We weren't crazy about Sony's inclusion of two different smart interfaces, although the more aesthetically pleasing of the two, the Sony Entertainment Network, is decent and offers all of the basics. You'll still have to deal with the XrossMediaBar interface to access basic menu settings, though.
If you are in the market for a TV with top of the line picture quality and 3D, the Sony Bravia HX850 is worthy of your attention.
Our editors review and recommend products to help you buy the stuff you need. If you make a purchase by clicking one of our links, we may earn a small share of the revenue. Our picks and opinions are independent from any business incentives.