televisions
Sony Bravia KDL-55EX620 LED TV Review
A strong performer with a lot of features, hampered by a terrible menu
$2,099.00 MSRP
Buy now at Amazon
55 in.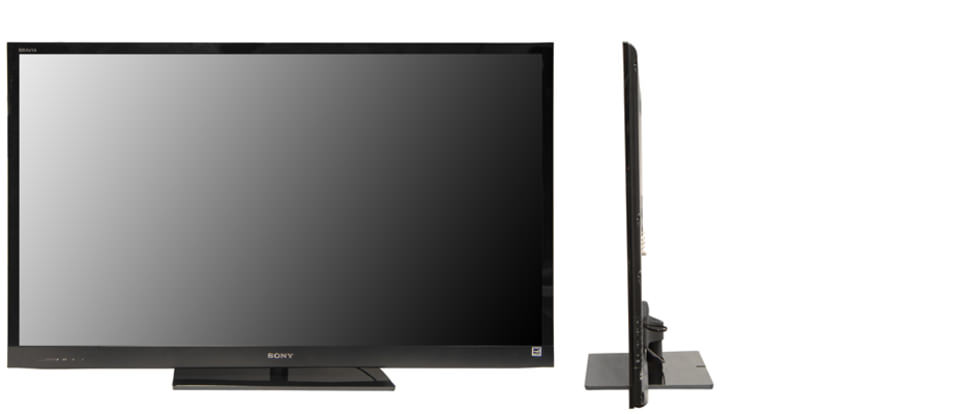 Introduction
The Sony Bravia KDL-55EX620 (previously $2099, now $1619 MSRP) is the highest-end LED TV that does not include 3D display. To our minds, that definitely makes it worth investigation, as 3D is a dubious attribute anyway and certainly not worth paying extra for unless you're really enthused about it. The EX620 is a strong performer with a lot of features, hampered by a terrible menu.
Design
Remarkably thin panel complements Sony's design language
Sony was the first of the HDTV manufacturers to really put style at the forefront. Since then, Samsung and others have caught up, but Sony continues to produce some very attractive televisions. Even at 55 inches, the panel is remarkably thin thanks to the slender LED edge-lighting. This works well with Sony's design language, resulting in a panel that's about as attractive as a television can get.
This is one display that doesn't respect its elders.
Round back, the Sony Bravia KDL-55EX620 accommodates enough devices to be the center of your media universe. Four HDMI ports, two USB ports, and an Ethernet port with optional Wi-Fi adapters are available. The only downside is that this is one display that doesn't respect its elders, with just a single composite AV and a single component AV connection. This is a pretty common design choice on new televisions, but it's a drawback if you want to hook up several boxes or game consoles that may lack HDMI hookups.
Smart TV Features
Smart features are great—assuming you have a tractor to dig through the byzantine menu system until you find them.
The menus on the 2011 Sony TVs are abysmal. If professional TV reviewers like us can't figure out how to find all the settings, your average technology-baffled public doesn't stand a chance. There are so many layers of sub-menus and they often produce trickle-down effects onto other sub-menus that you can't even predict.
Sony offers more out-of-the-box video content than any other TV maker.
The smart features, on the other hand, are quite good. Sony offers more out-of-the-box video content than any other TV maker by a long shot. Granted, a lot of it is less than stellar content, but it's nice to have options.
The Sony Bravia KDL-55EX620 has a full internet browser built in, but it doesn't seem to work very well. The pre-loaded home page points to a Sony.com page, but apparently it's too content-rich to properly load. Maybe someone should have beta-tested this thing first.
Comparable Products
Before you buy the Sony Bravia KDL-55EX620, take a look at these other televisions.
Picture Quality
The Sony Bravia KDL-55EX620 tested with decent, above-average picture quality.
Nothing about its test results were amazing, but there's nothing that'll have you tearing your hair out. Only the most picky TV fans would take issue with how this TV handles color, contrast, and motion—the few errors the EX620 has, it conceals behind a sheen of good performance.
The few errors the EX620 has, it conceals behind a sheen of good performance.
The Sony EX620 series, along with many other Sony displays, has a feature called MotionFlow that helps smooth out some of the problems traditionally seen in LCD TVs. When an object is moving across the screen, you typically see some blurriness that's caused, in part, by the screen refreshing itself at only 60 frames per second. Features like Sony's MotionFlow (Samsung, LG, and others have their own brand names for it) try to remove that judder by guessing what the pictures in between those 60 frames per second might look like, then digital creating them and inserting them between the original frames. Technologically, it's an amazing process, but practically speaking, the results are mixed.
Our motion test is designed to truly test this aspect of performance, and we found that everything was improved by MotionFlow. Flicker, fine detail loss, trailing—all of it disappeared. However, we wouldn't recommend using MotionFlow most of the time. The problem is that your eyes are used to a certain level of blurriness, as most video content for the last 70 years has been recorded at just 24 frames per second, so you're used to seeing moving objects look blurry on screen. The attempt to remove that blur creates an uncomfortably sharp image, especially anything shot on film. The one area you'll see real gains is with sports and live action programming, where quick pans and fast moving objects—think footballs spiraling down field—move smoothly across the frame without stuttering.
Conclusion
Be sure to do some research before you buy this one. It just might save you some grey hairs.
The Sony Bravia KDL-55EX620 (previously $2099, now $1619 MSRP) has a lot in its favor: strong contrast ratio, fantastic color performance, energy-efficient LED edge-lighting, and a vast collection of streaming content options. Given the price reduction, it should be a strong contender for your big-screen TV.
That said, the interface is maddeningly complicated. Sony has proven, over a few generations of products now, that they have no idea how to build a simple device. "If consumers like one feature, they'll love one hundred features"—this appears to be their approach to product design. That, or Sony is just mad at you and this is their subtle way of getting revenge.
Granted, many people plug in a TV and never bother with the menu. If that's the case, they'll be spared the pages and pages of sub-menus, not to mention the constant frustration. For those who can stomach the frustration, then the 55EX620 is a great choice, one aided by the nearly $500 price drop.
Our editors review and recommend products to help you buy the stuff you need. If you make a purchase by clicking one of our links, we may earn a small share of the revenue. Our picks and opinions are independent from any business incentives.