televisions
Sharp LC-32LE653U LED TV Review
Sharp's entry-level LED TV is no streaming solution, but it's a winner where it counts.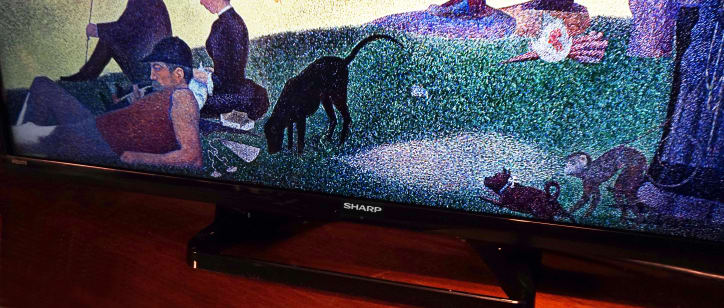 The Sharp LC-32LE653U (MSRP $349, online for $279) is an entry-level, Full HD smart TV for 2015. It's also available in 40-, 43-, 48-, and 55-inch sizes, but our test unit is the smallest at 32 inches. Considering that each model tops out at 1080p (Full HD) resolution, though, the smaller sizes are likely the most attractive in a market now dominated by relatively affordable 4K (UHD) options.
Like last year's LE551U, the LE653U is a very solid performer for the price. Testing revealed excellent out-of-the-box color accuracy, solid contrast, and motion handling that's good enough for most use cases.
The smart features can feel a little dated compared to heavier hitters, and the exclusion of popular apps like Hulu Plus and Amazon Instant Video may cool the heels of certain users. If you've already got your streaming needs taken care of, though, the 32-inch LE653U delivers plenty of features and picture customization options, and (most importantly) an awesome picture for the price.
Design & Usability
If it ain't broke, don't curve it.
High-end televisions have gotten pretty fancy in the last few years. They keep getting bigger, yet somehow also keep getting lighter, slimmer, and curvier. The LC-32LE653U lives in a different sphere of the industry, however, so it hasn't really changed much compared to its spiritual predecessor, the LC-32LE551U, one of Sharp's low-end 2014 entries.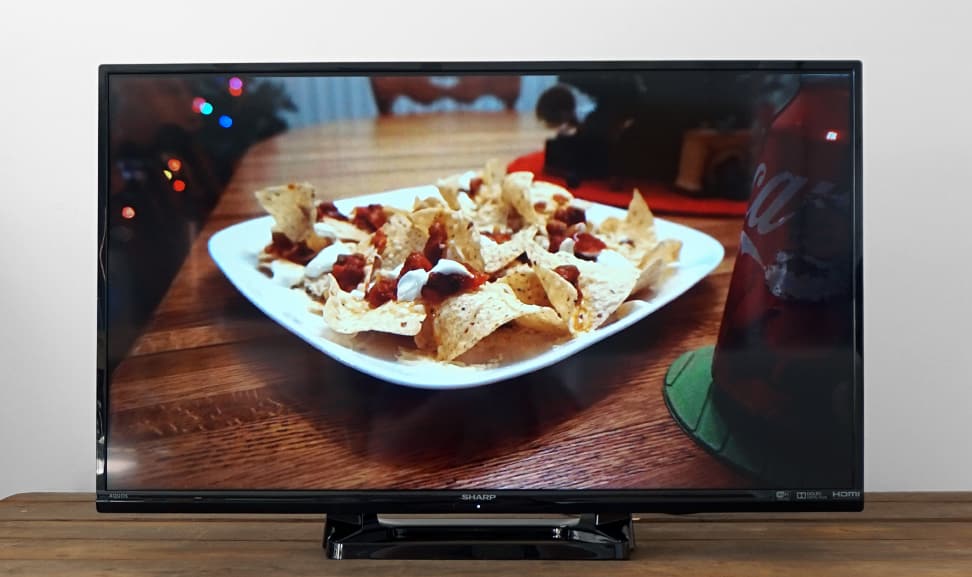 A rectangular, hollowed-out stand supports the panel while taking up minimal surface space. The TV's bezels and stand are the same matching, glossy black plastic—both look nice in ambient lighting, but can also pick up a lot of fingerprints over time. The rear casing is comprised of angular, charcoal-colored plastic and features the standard VESA wall-mount setup. Back here, you'll also find the TV's audio/video ports and power button.
At its entry-level price, this Sharp lacks the connectivity of high-end televisions. Ports include two HDMI inputs, one USB input, a coaxial jack for RF inputs, shared component/AV inputs, ethernet (LAN) input, and analog/digital audio outputs. That means you could have up to four high-definition inputs at once, which isn't bad.
While the list of ports isn't the longest, they're at least arranged in an expert manner. For example, the USB 2.0 (for personal media/software updates), the MHL-capable HDMI input (for mobile playback), and audio outputs are on the side, as they'll likely need to be accessed often; hard-line connections like coaxial, ethernet, and ARC HDMI tend to be static, so they're on the back. We do wish there was a headphone jack, however.
Sharp includes a simple remote control and two AA batteries. This year's entry-level remote introduces a handy Netflix button, but is otherwise quite similar to last year's. Big, easy-to-use rockers for channel/volume, some "favorite" buttons for specifically designated apps, a full number pad, and hotkeys for picture mode and aspect ratio are all welcome details. The remote works well, but is less than ideal for web browsing—more on that in the next section.
Smart Features & Software
Caught somewhere between old and new.
Sharp debuted its fourth-generation smart platform, SmartCentral 4.0, during CES 2015 in Vegas, but you won't find it here. The LE-32LE653U features a simple, dressed-down version that provides a truncated glimpse of some of the full platform's better features.
For many users, it may actually be preferable: If you just want to plug the TV in, get online, and start watching House of Cards, that's easy to do.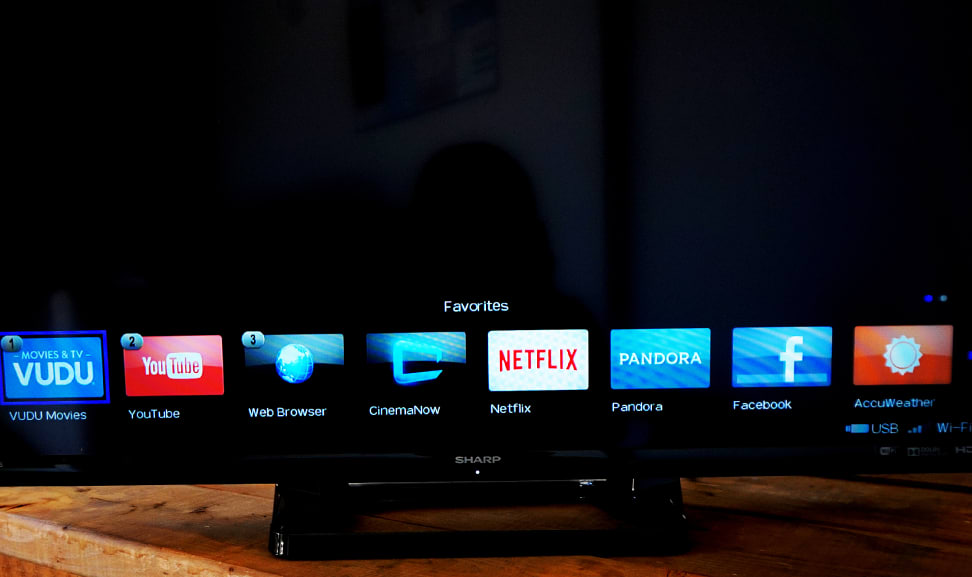 There are some missing apps, however, that deflate this platform's value. Sharp's "Twitter for TV" is present, as well as apps for Netflix, VUDU, Facebook, and Pandora, but heavy hitters like Hulu Plus, Amazon Instant Video, and HBO GO are notably absent. This smart offering absolutely pales in comparison to even a cheap streaming option like the Roku Streaming Stick, though it'll satisfy certain users.
The only thing that feels a little outdated here is web browsing. Don't get me wrong—the web browser works fine, loads quickly, and has lots of smart hotkeys for navigation. Compared to a fluid, mouse-like cursor (like LG's Magic Remote), using the remote's navigational dial to sluggishly drag the cursor from the URL bar to a link on a page takes forever.
The basic menu software is not expansive, but it has many more advanced calibration options than you'll find in an off-name brand, which is good news if you want to subtly tweak this TV's picture. Sharp includes a full CMS (Color Management System), color temperature pre-sets, and all of the usual picture adjustments, including backlight and sharpness—toggles often missing on bargain sets.
There are some enhancements, as well, including a dynamic contrast setting that boosts perceptible brightness/darkness on screen, and a "monochrome" mode that makes everything black and white. Picture modes are fairly standard—Dynamic is bright and saturated and sharp, for sunny rooms, while Movie is the most accurate per scientific standards.
Finally, like some of Sharp's higher-end models, the LE653U features the unique "Wallpaper Mode," where it displays an image with low power while it's off. This helps it add to an environment even when you aren't using it. There's lots here overall, but the software and smart features are actually this Sharp's weakest area.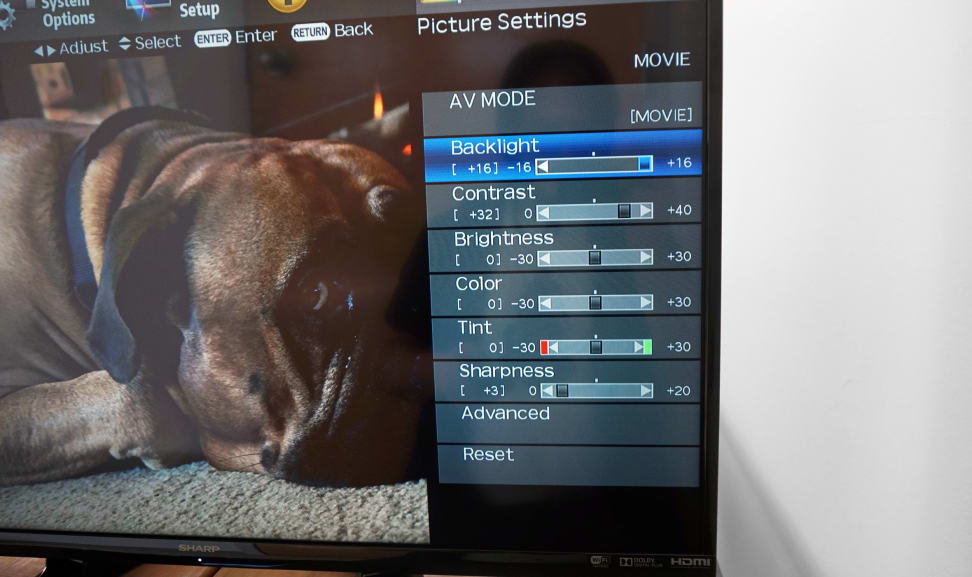 Picture Quality
Another winning entry-level option from Sharp.
Sharp delivered an excellent entry-level TV in last year's LE551U series, and the LE653U continues that success by delivering a very solid Full HD picture—in fact, it's even better than its predecessor.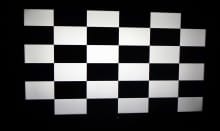 There are some natural drawbacks here that are mitigated due to this TV's size. For one, at 32 inches, its edge-lit LED backlight design provides ample brightness without sacrificing black level, or shadow tones. During testing, I found it had excellent contrast performance overall; it's got nothing on an OLED TV, but the black levels here are great for this price range, and you'll be satisfied unless you're switching from a plasma or CRT.
Really, there's a lot of smart engineering here. For example, at "0" on the Backlight selector, the TV naturally puts out the standard 40 foot-Lamberts of luminance many calibrators aim for during a "night mode" setup. That might sound like gibberish, but it means that someone probably knew exactly what they were doing when designing and building this TV. Neutral elements like grays, blacks, and bright whites are clean and color-free, calibrated to the proper "color temperature" when you're in Movie mode.
Likewise, while the LE653U doesn't attempt to approach the expansive, super-vivid color of today's high-end 4K televisions, it matches the "old" standard for HD content—all the content that's still on TV, Netflix, and Blu-ray—very accurately. There are discrepancies that very attentive viewers might notice, but for the most part, the TV's color production is spot-on, promising rich hues and preservation of subtler details.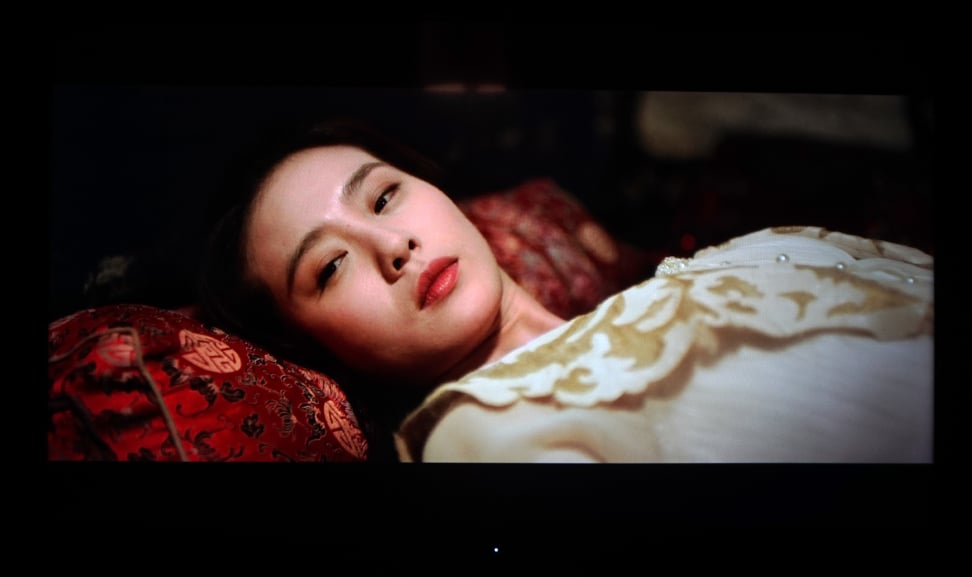 The one place this Sharp could be a little better is in terms of motion performance. It's not a bad performer—movie and TV content rendered at 24 or 30 frames per second (what most people watch) looks fine, but lacking any motion compensation or backlight shuttering, more advanced content can occasionally exhibit blurring.
Because it's a 1080p set, it handles 720p content fine, but occasionally struggles with interlaced (1080i) content due to the double-tracing required. This is one area where the 60 Hz panel shows some limitations, but really, only very picky viewers or PC gamers are going to take issue.
The one big problem I have with this TV is the reflectivity of the screen.
Tweet It
The one big problem I have with this TV is the reflectivity of the screen. It's really glossy, and while it makes for a natural-looking picture in dim lighting, it has an almost mirror-like quality in more brightly lit rooms. This can be mitigated with controlled lighting, but if you have a lot of windows, it's pretty hard to watch even with the backlight set to max.
Check out the Science Page for charts and more information on this TV's lab results.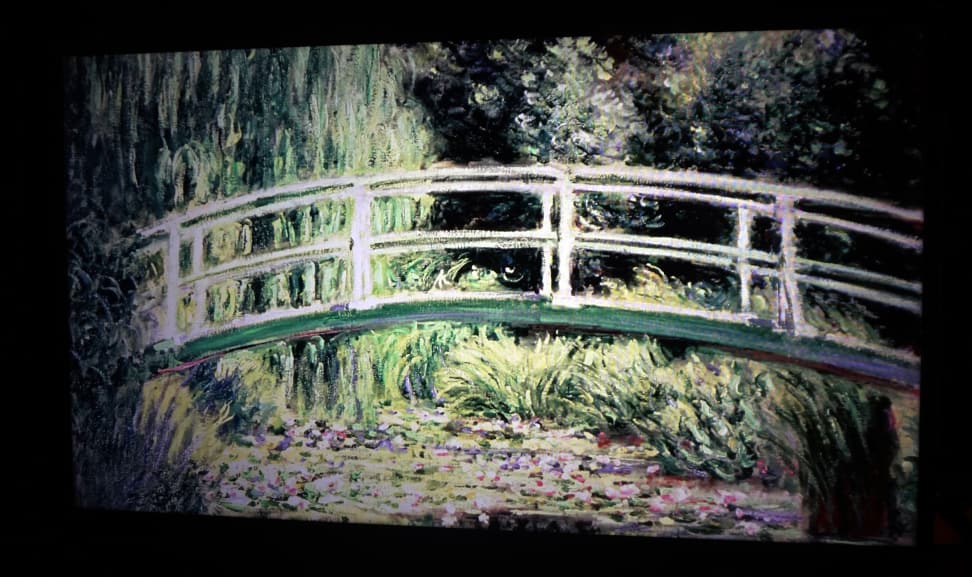 The Verdict
Excellent for the price, but a bit old-fashioned.
When it comes to picture quality, this Sharp is all blue ribbons. Everything from disc media to streaming content and video games will look great, and (because of the panel type), you don't have to worry about too much input lag, either. The attention to detail by Sharp is paramount, and it shows.
If a 32-inch LED TV is what you need, this looks to be one of the best choices right now.
Tweet It
Just keep in mind there are a few caveats. First, the glossy screen make this series a risky one for brightly lit rooms with lots of windows, so you'll want to have at least some control over your room lighting. Secondly, the smart features are somewhat limited, so you may want to supplement a streaming device like a Roku or Chromecast. Third, while the 32-inch is a solid performer, the larger sizes—48 or 55 inches—may not offer the same excellent performance, as they're stretching the edge-lit backlight's abilities a bit.
If you're willing to pay a little more, you might be able to find a smoother smart TV experience, but frankly the picture quality here punches well above its station; even if you think the smart features and extras like "Wallpaper mode" aren't necessary, the picture quality is good enough that you'd still be getting a solid value even if you never used them.
Bottom line? If a 32-inch LED TV is what you need, the Sharp's LC-32LE653U looks to be one of 2015's best options so far.
Our editors review and recommend products to help you buy the stuff you need. If you make a purchase by clicking one of our links, we may earn a small share of the revenue. Our picks and opinions are independent from any business incentives.
Related Models Other products in this series
Our editors review and recommend products to help you buy the stuff you need. If you make a purchase by clicking one of our links, we may earn a small share of the revenue. Our picks and opinions are independent from any business incentives.
Advertisement - Continue Reading Below
Compare Prices
Our editors review and recommend products to help you buy the stuff you need. If you make a purchase by clicking one of our links, we may earn a small share of the revenue. Our picks and opinions are independent from any business incentives.
Advertisement - Continue Reading Below
Get Our Newsletter
Real advice from real experts. Sign up for our newsletter
Thanks for signing up!