televisions
Sharp Aquos LC60SQ15U Q+ LED TV Review
Solid core performance mired in eccentric engineering
$2,399.99 MSRP
60 in.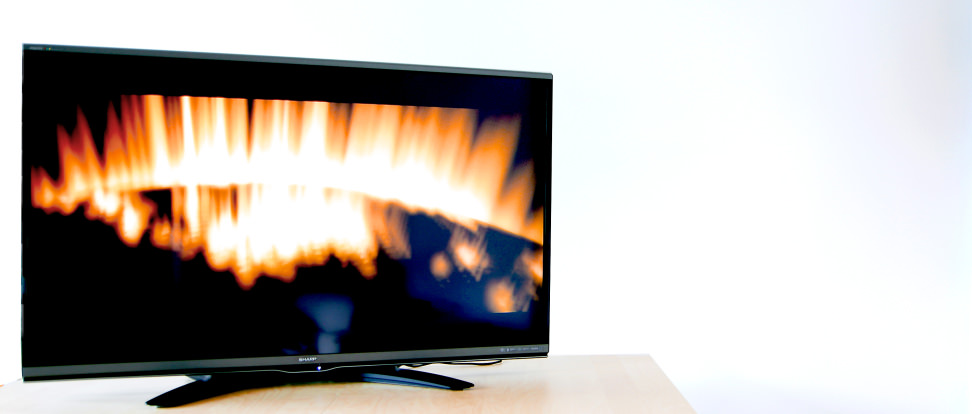 Do you feel like it's too soon to buy a next-gen 4K TV? Sharp anticipated as much. That's the whole modus operandi behind the Sharp LC60SQ15U (MSRP $2,399.99; $1,799.99 online).
Sharp's SQ15U and UQ17U Q+ televisions are not 4K TVs, but they can receive a 4K signal. With the LC60SQ15U, Sharp hopes to provide a bridge between 1080p (HD) and 4K (UHD) resolutions.
Surprisingly, the resolution isn't even the TV's most unconventional quality. Picture purists may be alarmed to know that the SQ15U is engineered to look different than almost any other HDTV on the market—its backlight LEDs are notably blue.
That said, we can't wholly advise consumers against this TV: You might like how it looks, after all. Underneath the blue veil, the SQ15U produces solid black levels, good motion performance, decent light uniformity, and accurate color—all hallmarks of a quality panel. Additionally, if you're on the fence about 4K, the SQ15U serves as a bridge between the content available today, and what's on the horizon.
For $1,800 online, the 60-inch SQ15U is fairly priced—but it's also very eccentric. All content is optimized to be played back on displays that adhere to a particular set of "rules," and this Sharp breaks them flagrantly. Make of that what you will.
How It Works
4K versus FauxK
Traditionally, digital displays have three sub-pixels—small rectangular transistors that make up each pixel, or dot. Sharp TVs add a fourth to the mix and then split it in half, vertically, so that the sub-pixel count is drastically increased. Where "normal" 1080p TVs have 6 million sub-pixels, the Q+ TVs have 16 million sub-pixels. You can think of the Q+ TVs as "half 4K," at least in sub-pixel count.
You can read about this in more detail on the Science Page.
The Picture
Kind of blue
Something is rotten in the state of Quattron.
Not to be dramatic, but this TV is bizarre. The LEDs used in its backlight are more blue than usual, an intentional design choice, but a controversial one. Everything is therefore tinged with blue.
Just looking at a TV only tells a reviewer so much, though, which is why we test in a controlled laboratory and use light-measuring equipment: to see how correct a TV is. There are concrete, mathematical HDTV ideals set forth by the International Telecommunication Union, and that's what we test against. That is also the standard that filmmakers, for example, use when mastering content—so it looks the same around the world.
The sky, plumes of smoke, even pine needles have a blue tinge.
I watched The Hobbit: An Unexpected Journey side-by-side on this Sharp and on our reference TV (a plasma), and the difference in white balance was severe. For example, during the scene where Bilbo and the Dwarves are fleeing into a tree to escape pursuit, the Sharp rendered the sky, plumes of smoke, and even the green needles of the tree with a tinge of blue.
Obviously, this deviation isn't nearly as apparent without a side-by-side comparison: Because the human eye is very insensitive to the color blue, it might not look wrong to you at all—it doesn't look as bizarre as it sounds. In fact, while TV manufacturers have been adding a little blue to the white balance for years, this is something entirely different.
To continue on a positive note, outside of the odd white balance, this Sharp does plenty of things right. I measured a healthy minimum luminance level, for example, and solid contrast performance overall. Blue or no blue, viewers can expect dark, shadowy scenes to look convincingly inky, while colors are mostly accurate and even: Green, and its secondary yellow, are a little over-saturated within the TV's native color space.
Viewers can expect dark, shadowy scenes to look convincingly inky.
One of this TV's biggest strengths has nothing to do with light production. The Sharp LC60SQ15U wields a 120 Hz panel capable of 240 Hz imitation—in English, that means it does a solid job avoiding blurring, tearing, and trailing during motion content. Naturally, appreciation of this will vary from viewer to viewer. If you're watching sports, for example, you'll want to crank up the Aquomotion setting to get a free-flowing appearance. If you're watching the latest James Bond film, though, you'll notice the dreaded "Soap Opera Effect." Proceed with caution.
Basically, if there's one thing to keep in mind about the LC60SQ15U, it's that it isn't for purists. If you own a home theater and are used to the uncompressed appearance and color depth of Blu-ray discs, they're going to look wrong on this TV without a lengthy calibration (although it can meet standards, as you'll see on the Science Page).
Other kinds of content, though? Sharp seems confident that compressed content delivered via cable, satellite, and certain streaming apps will look better on its blueish Q+ than on standard HDTVs. This claim is purely subjective as far as we know, however—so take it with a grain of salt.
Comparable Products
Before you buy the Sharp LC60SQ15U, take a look at these other televisions.
The Look
You could say this TV is a ... sharp dresser.
If there's one thing about a Sharp TV that immediately sets it apart from the competition, it's how low the panel sits on the stand—the LC60SQ15U is no different.
Narrow bezels and a slim panel give this TV a modern air.
The silver-wrapped screen sits atop the "Wing" stand, ultimately resting only a few inches above the tabletop. Narrow bezels and a slim panel give this TV a modern air, and it looks equally good on a TV stand or mounted to the wall.
Sharp's "wallpaper mode" is another design flourish worth mentioning. This setup allows the user to turn the TV screen into a pretty painting or a digital clock while it's not in use. Obviously, the wallpaper mode naturally uses more energy than if you turn the TV off entirely.
Power viewers rejoice—the LC60SQ15U delivers an almost absurd amount of video connection options, so you can hook up all your game machines and disc doodads without complaint.
The LC60SQ15U delivers an almost absurd amount of connection options.
In an L-shaped cutout on the back of the panel, you'll find four HDMI inputs, two USB inputs, VGA (D-sub) in, an RS-232c control port, four analog audio inputs, digital and analog audio outputs, a coaxial jack for cable or antenna connections, LAN (ethernet) in, a component video input (YPbPr), and two composite (RCA) inputs.
Alongside the panel and stand, you'll find a single, complicated remote control. This long, infrared wand has a ton of buttons, most of which are within easy reach of the thumb, though if you have smaller hands you'll find yourself adjusting your grip a lot.
The Experience
Smart Central gets the overhaul it deserves.
In the past, we've had our qualms with Sharp's smart platform, "Smart Central." This year, the platform is looking a lot better. It isn't perfect yet, but it's a step in the right direction.
Sharp has finally jumped onto the cable integration bandwagon.
Connect the SQ15U to a wired or wireless signal and press the remote's Smart Central button to find the TV's app bar. The bar can be customized, but by default it features the most popular streaming options: Netflix, Hulu Plus, YouTube, etc.
Press the button a second time to access the full Smart Central platform, which is now organized into three content pages: TV, Streaming, and Apps. With the TV page, Sharp has finally jumped onto the cable integration bandwagon. You can select your region and cable provider, and available content will be listed here—trust me, it looks much better than a typical cable menu.
The Streaming page works in a similar fashion, except instead of pulling content from a cable provider, it provides a customized list of streaming options—movies, TV shows, documentaries—from various providers. As you might guess, the Apps page organizes a handful of less-popular apps between categories like News, Entertainment, and Lifestyle. There's a lot of shovel ware here—junk that hardly anyone will use. That said, at least it's kept out of the way in its own section.
Oh, and the web browser is still terrible with a remote control. Get a wireless mouse/keyboard, or the app for your smartphone, if you're going to go down that road.
Sharp's software menu remains almost entirely unchanged this year. There are still an exhaustive amount of sub-menus and options, and setting up the SQ15U exactly the way you like it will take some learning. The Picture, Sound, Network, and Setup menus are just what you'd expect, but there are a few extra picture options that require more explanation.
The Resolution Enhanced modes under the Advanced picture settings are what really sets the Q+ TVs apart from Sharp's other 1080p options this year. There are two of these modes, and they add sharpening, luminance, and more of that aforementioned blue tinge, effectively imitating the appearance of 4K content.
On a Blu-ray disc like Planet Earth, it looks really good—not so much for a film like Gladiator, however, with lots of dark, warm scenes. The Resolution Enhanced modes also notably detract from sub-1080p sources, making them look unnaturally sharp—oh, the irony.
The Verdict
The blue elephant in the room
Securing a 60-inch LCD TV for the current online price of $1,800 is honestly not a bad deal (though Vizio has shaken up the definition of deal this year). And when you consider the inherent flexibility in Sharp's Q+ technology, it makes the price more palatable.
There's still the question of whether a TV that effectively distorts any and all content is any good. Like consumer headphones that boost bass to complement certain musical genres, the SQ15U boosts blue to complement... something. All we can confirm is that sometimes it looks awful, and sometimes it looks great. It all depends on what you're watching.
Whether or not you want to take a chance on two new technologies in a single product is up to you. Both have potential benefits and potential drawbacks—if you're looking for a low maintenance option, this probably isn't it.
Our editors review and recommend products to help you buy the stuff you need. If you make a purchase by clicking one of our links, we may earn a small share of the revenue. Our picks and opinions are independent from any business incentives.