televisions
Sceptre E325BV-HDH LED TV Review
Find the E325 on sale at a chain retailer—for about $400, this is a solid 32-inch HDTV.
$599.00 MSRP
32 in.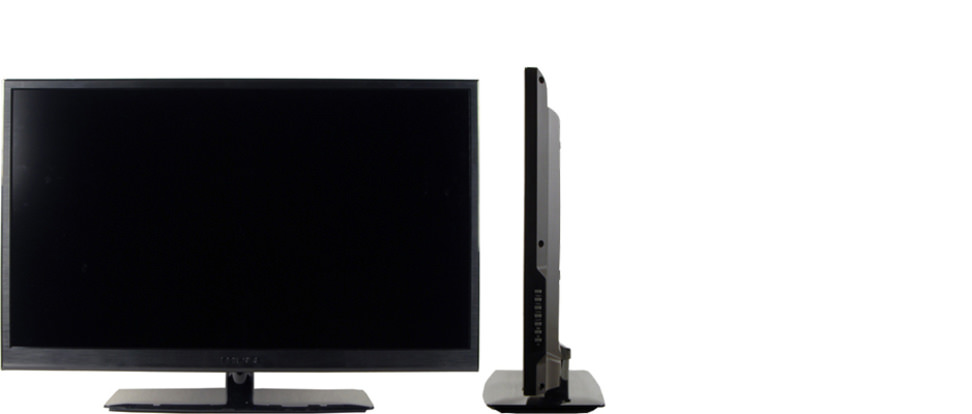 Introduction
If you've never heard of Sceptre before, don't feel like you're out of the loop: California-based Sceptre Incorporated only got its start as an electronics manufacturer in 1984, which is pretty young within the entire sphere of the displays industry. Toshiba, for example, has been going strong since the late 19th century. So imagine our excitement: This is the first Sceptre TV we've ever reviewed! As they say, first impressions are everything. The E325BV-HDH carries an MSRP of $599, but it's one of those low-end models that's almost always on sale.
We can't say we're entirely wowed by this TV, but it did better in many areas than one might expect from a relatively new company. The E325 boasted mostly accurate colors, with smooth gradations across an ideal spectrum. Its contrast ratio didn't impress, but neither is it unusable. The E325 promises a decent viewing angle and surprisingly good motion, and no major drawbacks in its design or software functionality. If you can find it on sale (you can)—and don't mind using a native 720p display—this TV could be a viable, cheap option for sports or gaming.
Design & Appearance
A simple, easy-to-use design.
The E325 is a non-smart, non-3D 32-inch HDTV from a lesser-known brand. Its maximum display resolution is 1366 × 768. To say that this Sceptre falls into the bargain category is not an insult so much as simply a fact. Its design, therefore, matches that status. A grainy, charcoal bezel frames the screen, which perches atop an entirely forgettable stand.
The TV's side and rear ports are color coded.
There is one design choice that we really like. The TV's side and rear connectivity ports are all designated with labels—almost too meticulously—which are color coded to make habitual alterations easier on the eyes. It's a feature I've only ever seen on Vizio TVs before, but it works, and adds a little needed flavor to an otherwise wholly average, boring build.
You can tell that Sceptre is working to present their products in the best possible light. The TV's manual, remote, and power cable are shipped in a zip-sealed bag, alongside a small Philips screwdriver and a red embroidered cleaning cloth. We can give them an "A" for effort, but at the end of the day, it's performance that matters most.
Picture Quality
The E325 is no flagship model—it only does one thing.
That one thing consists of producing a picture, and fortunately, the E325 has a solid core performance. Its color scores were decent overall, with very little visible color temperature error, a smooth RGB gradient, and a mostly accurate color gamut. Its contrast could be a lot better—it was narrowed considerably by poor black levels—but it isn't enough to bar the TV from purchase consideration.
We were especially impressed with this TV's screen performance. It had surprisingly good, artifact- and trailing-free motion, showcasing only a little bit of blur during even our toughest tests. It has a wider viewing angle than average, which gives it some needed flexibility when combined with its ability to swivel. The integrated speakers were loud and crisp, producing a sound almost too big for the 32-inch screen. Overall, this TV isn't a home-run, but it definitely puts a few men on base.
Comparable Products
Before you buy the Sceptre E325BV-HDH, take a look at these other televisions.
Software Overview
Just the basics.
The Sceptre E325 has no internet abilities whatsoever. Like all displays, it has a basic settings menu, consisting of Picture, Sound, Channel, and other categories that are ubiquitous across the TV market. At this point, we've been spoiled by the finest 2012 TVs from the largest grossing manufacturers in the world—not to mention the space-age beauties at CES 2013—so these menus just look uncouth by comparison.
Looks aside, the menu works. After dealing with LG's somewhat spotty Magic Remote, I felt relieved to have a traditional remote in my hand. Navigating menus is easy, and Sceptre's handsome accompanying manual explains picture settings to a higher degree than is normal.
The E325 can play back stored picture and music files.
If you connect a USB drive (up to 2gb in size) the E325 can play back stored picture files (single, or in a slideshow) as well as music files stored on it. The USB menu, like the main menu, is highly simple and dressed down, but it works as advertised. This isn't a wirelessly connected DLNA network or anything, but if you want to play some Bonobo for your hipster chill party, it'll work.
Final Thoughts
The Sceptre E325BV-HDH (MSRP $599) is much too expensive for a non-smart, non-3D HDTV. Sceptre is asking Samsung prices for the E325, except it's not Samsung yet. Further, the TV itself seems to have borrowed its design approach from Vizio, and its color adherence from LG—not the worst comparisons we could draw. Every undergrad trumpeter wants to be compared to Miles Davis.
We think $600 is too much to ask for a 32-inch TV this plain, though. The redeeming factor is that this is one of those retailer-friendly models that's sold repeatedly by Wal-Mart, Costco, and NewEgg.com; nine times out of ten, it's on sale. If you are considering purchase, know that you'll be investing in a simple, decent television. Its color accuracy isn't perfect, but it's free of any major flaws. The E325 tested a contrast ratio that's just average, but is still good enough for use as a monitor, sports TV, or really any content so long as you're not a film buff—cinephiles steer clear, these black levels might make you cry.
With good core performance, quality motion, and above average audio, this little TV packs a pretty mean punch. It's not a $600 punch, but we feel it's not egregiously overpriced either. Look for the Sceptre E325 on sale: If you're in the market for a small, functional TV with good picture (and don't mind settling for 720p), this one could get the job done.
Our editors review and recommend products to help you buy the stuff you need. If you make a purchase by clicking one of our links, we may earn a small share of the revenue. Our picks and opinions are independent from any business incentives.