televisions
Samsung UN65HU9000 4K LED TV Review
This curvy 4K is the UHD TV to beat right now.
$5,999.99 MSRP
Buy now at Amazon
65 in.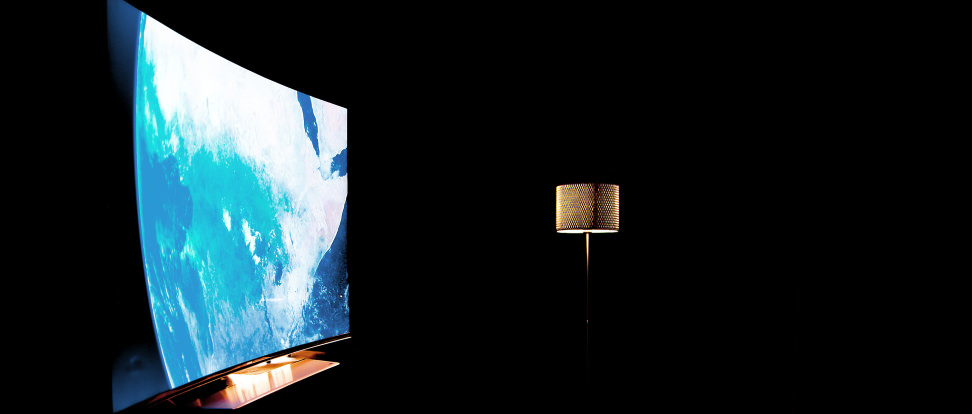 Behind the Screens
The Samsung UN65HU9000 (MSRP $5,999.99; $4,499.99 online) is an improvement over last year's F9000.
Testing revealed a decent black level, healthy contrast, accurate colors (per the international standard), and variable motion performance depending on which Auto Motion Plus settings you use—things we expected.
We weren't expecting such stellar local dimming performance, however, and it's a treat. Users can expect better light uniformity than in previous years: Black/shadow areas at corners and around the perimeter of the screen maintain their integrity even in a dark viewing environment.
Calibration
To calibrate the Samsung UN65HU9000, we sent a pure 4K signal from a QuantumData 780a signal generator which was directly controlled by SpectraCal's CalMan 5 Professional calibration software. Data was gathered in a black room, using the CS-200 and LS-100 meters from Konica Minolta.
Starting from the TV's Movie picture mode pre-sets, I targeted a gamma sum of 2.4 with a maximum luminance around 40 fL (120 cd/m2 ), as those are generally considered ideal pre-sets for dim or dark room viewing.
I also corrected minor errors within the hue and saturation of red, green, and blue. Using the TV's 2- and 10-point grayscale settings, I shifted the sub-pixel emphasis until most points along the grayscale (from 10 to 100 IRE) were targeting the D65 standard (6500K white).
Simple corrections involved lowering the Backlight setting from 19 to 11, and adjusting the Gamma pre-set from 0 to -2. In the following sections, you'll see the results of this calibration and how it affects the TV's grayscale, RGB balance, color gamut, and gamma performance. Note that the Contrast Ratio and Viewing Angle measurements were taken prior to the calibration process, to reflect the consumer experience.
It's also worth mentioning that if you plan on watching in a brighter room, you can still use these settings, but you may want to raise the Gamma pre-set to -1 instead of -2, and will want to be judicious about how much you lower the Backlight.
Contrast Ratio
While the UN65HU9000 isn't capable of the same massive contrast you might find on a plasma or an OLED, its minimum luminance level (black level) and corresponding brightness are still divergent enough to look impressive and accurate, especially in mid or high amounts of ambient lighting. In Movie mode, I measured a black level of 0.08 cd/m2 and a default white of 160 cd/m2 , giving the HU9000 a contrast ratio of 2000:1.

Compared to Panasonic's AX800U from this year, and 2013 4K TVs from Toshiba and LG, the HU9000 is about average. It gets dark enough to create impressive shadows in night scenes and good contrast regardless of APL (average picture level), but is still bright enough to combat ambient lighting and sunlight from nearby windows. Note, however, that due to the curve of the screen, these contrast results may degrade or improve depending on your viewing angle.
Comparable Products
Before you buy the Samsung UN65HU9000, take a look at these other televisions.
Viewing Angle
Our horizontal viewing angle test measures the contrast performance of a TV at 0° (head-on viewing), and then by 10-degree increments to either side. The HU9000 isn't the best choice if you want to be able to view from very extreme angles—but that's the norm for LCD TVs. I measured a total viewing angle of 31°, or ±15.5° from the center to either side of the screen.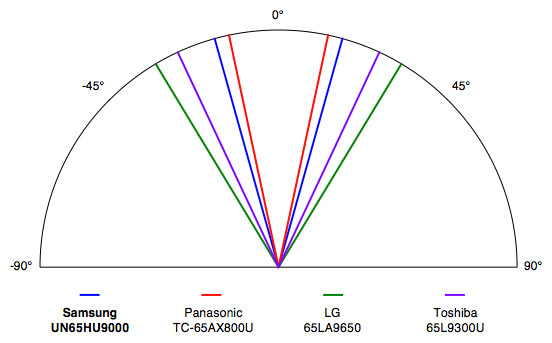 Compared to its peers, the HU9000 is again an average performer in this category. You won't be able to watch from all around the room—consumers should keep this in mind if they plan on wall-mounting the HU9000 (yes, it can be done!).
Grayscale & RGB Balance
The HU9000 exhibits higher grayscale error than we'd prefer within the Movie mode default. Prior to calibration, I measured a DeltaE (collective error) of 3.62, with error showing up primarily at 40, 50, and 100 IRE. This means at both peak white (the brightest output) and at middle gray, there's a slightly visible blue tint to those shades. Using the TV's 2- and 10-point grayscale controls, I was able to reduce the DeltaE to 0.97—an excellent total.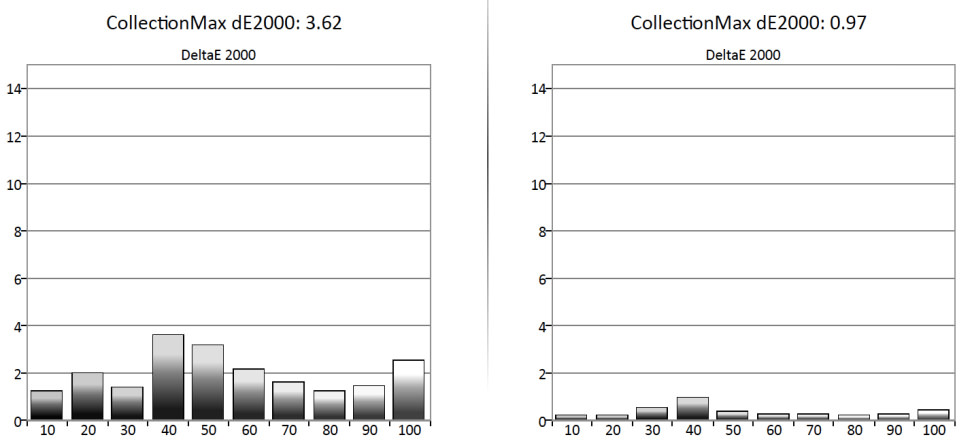 During testing, we also measured the HU9000's RGB sub-pixel balance—basically, how it emphasizes the sub-pixel strata by default. Like many LCDs, the HU9000 tends to favor the blue sub-pixel over the red and green. By altering how the TV emphasizes its sub-pixels, I was able to correct most of the white balance error while also smoothing out the relative luminance of the RGBCMY points relative to black, gray, and white. This creates a more balanced picture, with each shade corresponding to the same "color" of white, or white balance.

Color Gamut
A color gamut is a visual representation of a TV's color production. While the actual gamut is a three-dimensional object comprising hue, saturation, and brightness (luminance), our color gamut calibration tends to focus on the correct hue and saturation, fixing luminance during the gamma and RGB balance tests.
Testing revealed that the HU9000 produces accurate colors within the Movie mode default, with red, green, blue, cyan, magenta, and yellow points lining up expertly with the desired coordinates.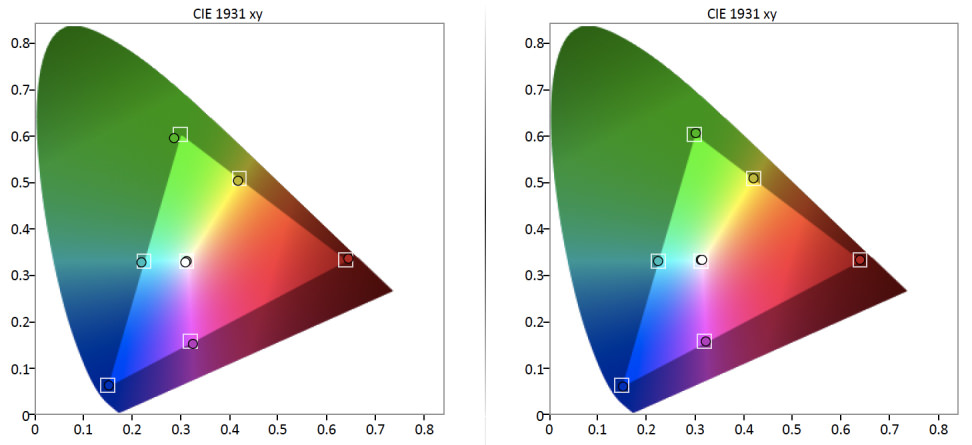 Gamma
Gamma is what differentiates the best displays from the not-so-best displays. A gamma sum represents how quickly (or slowly) a display increases in luminous output from shadow tones through grays and into whites. Larger numbers represent a slower transition, covering smaller steps along a gradation.

Note that prior to calibration, the HU9000 tested with a gamma sum of 2.24—this means it gets brighter out of black at a rate ideal for normal amounts of lighting. During calibration, we were able to sync the HU9000 to a home theater gamma of about 2.4, the dark room ideal. This adds to the television's flexibility, meaning it can be calibrated to multiple types of lighting conditions.
Our editors review and recommend products to help you buy the stuff you need. If you make a purchase by clicking one of our links, we may earn a small share of the revenue. Our picks and opinions are independent from any business incentives.