televisions
Samsung UN65HU9000 4K LED TV Review
This curvy 4K is the UHD TV to beat right now.
$5,999.99 MSRP
Buy now at Amazon
65 in.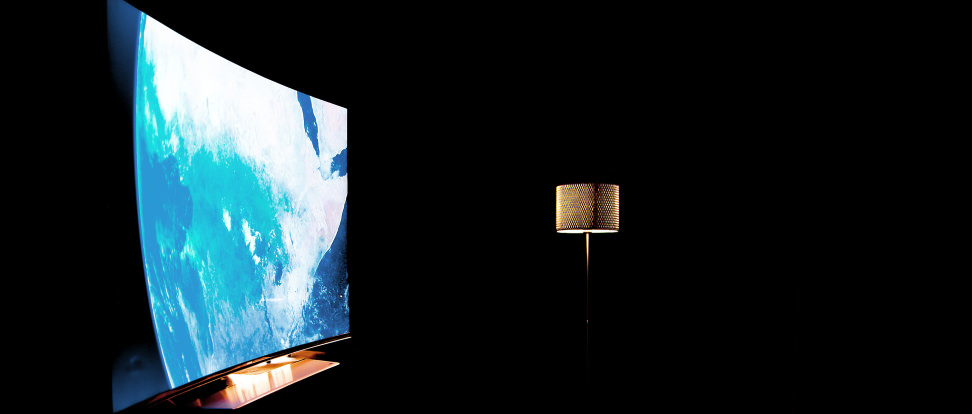 Looking for the next big thing in 4K televisions? The Samsung UN65HU9000 (MSRP $5,999; $4,499 online) should be on your radar.
As Samsung's flagship 4K TV for 2014, this behemoth display is prepared for the content of tomorrow while delivering some of the best smart features and software from today.
It's true—there's really no abundance of viewable 4K content yet. Fortunately, the HU9000 is equipped with Samsung's 2014 upscaling engine, which does a terrific job making sub-4K content stand up to most scrutiny. Its real strength, however, lies in its core performance as a display.
Samsung's new Smart LED feature endows the HU9000 with deeper black levels and better light uniformity than what we found on the company's 2013 4K TV, and stellar color accuracy and dark/bright room flexibility are the cherries on top.
As far as 4K televisions go, the HU9000 could be one of the best we see this year. We're expecting big competition in the form of Panasonic's AX900U, Sony's X950B, LG's UB9800, and Vizio's Reference Series—but for now, the UN65HU9000 is the 4K TV to beat.
The Picture
Edge-lit LCD takes a big step forward
Last year, Samsung delivered a stellar, if very expensive, 4K TV. The UN65HU9000 improves on that model in more than just asking price, though some core performance points are still slightly marred by weaknesses inherent to edge-lit LCD televisions.
Pros
Edge-lit LCD TVs typically struggle in a few key performance categories: consistency of black level, light uniformity, and off-angle viewing. Thanks to the HU9000's Smart LED local dimming, however, you can expect dark shadows and better overall uniformity compared to edge-lit TVs from recent years. Essentially, the typical drawbacks are minimized, making for a very solid TV overall.
The HU9000 gets plenty bright without compromising its black levels.
In the TV's Movie pre-set, I tested black levels that look good in a dim room and great in a brighter room. What's more, the HU9000 gets plenty bright without compromising its black levels—it's flexible enough that you can use it almost anywhere.
As I mentioned, edge-lit TVs like the HU9000 often suffer from light uniformity problems (this refers to when LEDs are visible in areas that ought to be dark).
Samsung's local dimming effectively shuts off LEDs in areas where light isn't needed.
Samsung's Smart LED local dimming effectively helps with this, however. It shuts off LEDs in areas where light isn't needed, while still channeling it to parts of the screen that do.
The HU9000 is also a brilliant performer when it comes to color production, adhering to international color standards almost flawlessly. Viewers can expect grassy green fields, vibrant blue skies, or even the bubbling magma of Mordor to look as intended.
Cons
Viewing angle and motion performance are two key points that the HU9000 hasn't improved. There are also mild drawbacks to the Smart LED feature.
Auto Motion Plus struggles to correct juddering associated with horizontal panning.
But what about the curved screen? The curvy contour does improve off angle viewing with certain "hot spots," but it's nevertheless a double-edged sword: The bent panel can also worsen ambient lighting at times, so that lamps and lights are occasionally stretched across the entire arc of the screen.
Samsung's Auto Motion Plus and Clear Motion modes make a return this year, ensuring decent—but not great—motion performance. To wit, you shouldn't go in expecting the kind of smooth motion panning you'd get from a plasma TV. While Auto Motion Plus can be configured to smooth out the most obvious blurring, it struggles to correct the juddering associated with horizontal panning. Turning on Clear Motion can help combat this, but it also reduces the TV's backlight considerably.
As to the Smart LED feature, its one issue is that it causes light limiting—where different amounts of white on-screen display at disparate luminance levels. For example, patches of light surrounded by dim or dark content are not nearly as luminous compared to when most of the screen is full of bright content, creating a varying contrast ratio from scene to scene. Consistent levels would be ideal, but it's still much better than the cloudy shadows that might result otherwise.
Finally, gamers may want to keep in mind that input lag—perceptible delay between input to a controller and the response on screen—is always going to be an issue when a display is upscaling the source content. Considering that the HU9000 is a 4K TV, most game consoles—PS3, Xbox 360, and anything by Nintendo—will exhibit input lag when used with this TV, though Samsung's Game mode does a very good job stemming this issue.
Who It's For
Overall, the HU9000 corrects numerous weaknesses inherent to LED LCD technology, while maintaining Samsung's usual strengths.
This TV is very flexible in terms of what kind of lighting you can watch it in, with the one caveat that it will look its best with at least some other light in the room. If you crave home-theater worthy black levels, take a look at this Panasonic.
Everyone else: If you're looking to adopt a 4K television, the HU9000's light uniformity and local dimming are surprisingly good additions to the successful formula Samsung crafted with last year's F9000. 4K or no 4K, the HU9000 is stacked with positive traits unusual to edge-lit LCD technology.
For a closer look at the hard data we gathered during testing, see the Science Page.
The Look
What will the neighbors say?
Last year, there was an head-turning trend in the television industry: curved OLED TVs. Samsung's VP of visual display, HS Kim, told us in a recent interview of plans to focus on 4K over OLED—but the curved look hasn't gone anywhere. The 4K HU9000 series is sure to raise eyebrows with its sleek, inward curvature.
The stand mimics the panel with a slight bend of its own. Neither curve is terribly exaggerated, but you'd never miss them, either. There's a certain aesthetic here—the silver stand is complemented by a matching strip that highlights the perimeter of the screen. For a 65-inch TV, this Samsung feels rather understated and classy—no easy feat at that size.
The back of the panel is equally minimalist, since there's only one input port. Wait, what? Yes, you heard right: The HU9000 has just one port on the back which links to Samsung's OneConnect box. That way, instead of a mess of wires cascading from the back and sides of your TV, you can keep the wiry mess on an external box–and neatly store it out of sight.
For a 65-inch TV, this Samsung feels rather understated and classy—no easy feat at that size.
The OneConnect box sports ports for four HDMI, three USB, ethernet in, shared component/composite hookups, a singular composite hookup, a coaxial jack, digital audio out, headphones/mini jack out, IR blaster out, and RS-232C.
Oh, and I should mention—the HU9000 absolutely will not function without its external brain box—so don't lose it, whatever you do.
Included alongside the panel, stand, and OneConnect box are two Samsung remotes—the traditional infrared kind, and a new touchpad remote called Samsung Smart Control. This new controller improves upon last year's model by producing an on-screen cursor (kind of like LG's Magic Remote), in addition to allowing more fluid selection via the touchpad. You'll also find four pairs of 3D glasses and a pop-up, top-mounted camera built right into the bezel.
Despite the curve, the HU9000 can be wall-mounted.
Whether you're jumping through a menu or browsing the Smart Hub, the touchpad acts like a mouse, giving you an omnidirectional control that's impossible on the standard remote. Placing your thumb in the center of the touchpad brings up an on-screen cursor for even more precise selection, although like most technology of this kind, it's not very consistent.
Overall, the UN65HU9000 is a handsome television—even if its curved nature raises a few eyebrows upon first glance—and looks stellar in a spacious, well-lit place. We'd also like to remind readers that, despite the curve, the HU9000 can be wall-mounted if you so desire.
Comparable Products
Before you buy the Samsung UN65HU9000, take a look at these other televisions.
The Experience
Smarter every year
The UN65HU9000 features Samsung's streamlined Smart Hub, new for 2014. Its great streaming apps, snappy interface, and cool extras definitely make this smart platform one the best we've used to date.
Samsung's Multi-Link Screen turns your 4K TV into multiple 1080p TVs.
Like last year's Smart Hub, you'll find all the old guard: Netflix, Hulu Plus, Amazon, etc.
The Smart Hub still executes universal searches, too—just pop in the included IR blaster, answer some simple questions about your cable TV provider, and boom: All your cable content pops up, nice, neat, and organized, in the beautiful Smart Hub. Now all you do is search for a movie or show and the Smart Hub sifts through your streaming subscriptions (Netflix, etc), paid-for live TV, and free providers (Vudu), all in one go.
The 2014 Smart Hub sports some new features, too. There is a whole host of new-and-improved games, plus a touchpad/cursor-equipped Samsung Smart Control that greatly improves the web browsing experience (though it's still not better than smartphones, tablets, or PCs).
Because it's a 4K TV, the HU9000 has a feature that the others don't. Samsung's Multi-Link Screen turns your 4K TV into multiple 1080p TVs—sort of. Similar to the snap feature from Windows 8 or Xbox One, the HU9000 can allocate content to various windows that offer a full 1080p image.
For example, you can continue watching a full HD Blu-ray disc on one side of the screen while you look up its IMDb page on the browser in another. This isn't the most useful feature, but it definitely feels futuristic. Note that you can't put whatever you want in these windows like you could with a monitor—it's only pre-set content, like the browser or certain apps.
Last but not least, Samsung's software menu remains relatively unchanged—and it's for the best. A large, easy-to-read menu populates on the left side of the screen, offering up a ton of options for categories like Picture, Audio, and Network. Users can link the TV to their smartphone, adjust a variety of picture settings, set up external speakers or a surround sound imitator—there's lots to do, and nothing is skimped on.
The Verdict
Edge-lit isn't a dirty word anymore.
Samsung has struck an excellent balance of style, functionality, and pure picture quality with the HU9000. Testing has revealed multiple strengths—among them a strong black level and good light uniformity—with very few weaknesses compared to current competition. Overall, the HU9000 is a better performer than last year's 4K crop, and is notably more flexible than Panasonic's similarly-priced AX800U.
At its current asking price of $4,500, the UN65HU9000 brings a lot to the table. The huge screen, commendable dynamic performance, and stellar color accuracy are boons whether or not you're able to take advantage of the TV's UHD resolution yet. It's worth noting, however, that any objective advantages of a curved screen have yet to surface.
Our editors review and recommend products to help you buy the stuff you need. If you make a purchase by clicking one of our links, we may earn a small share of the revenue. Our picks and opinions are independent from any business incentives.